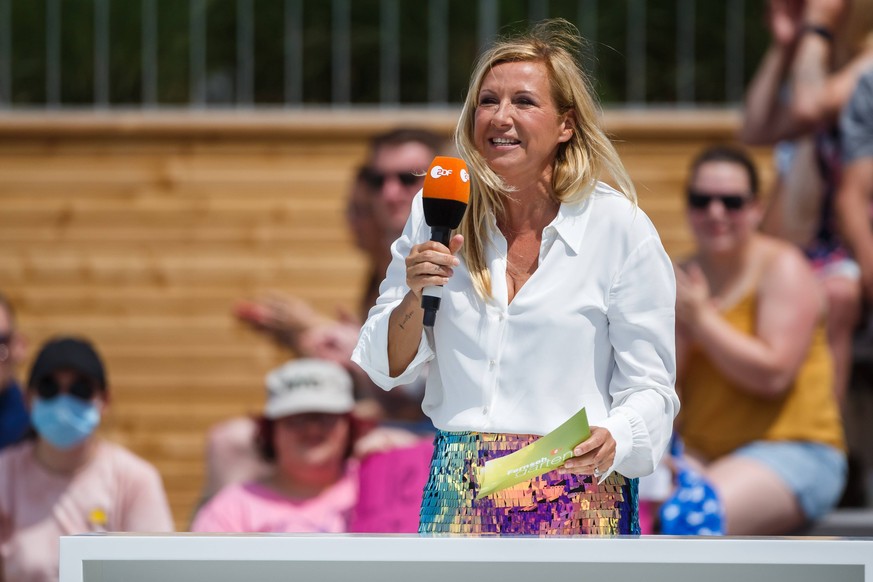 The "ZDF Fernsehgarten" celebrated a big anniversary on Sunday.Image: imago images / IMAGO/Neis
The "ZDF Fernsehgarten" celebrated a big anniversary on Sunday, the 600th edition was staged. As usual, Andrea Kiewel moderated. Well-known guests like Alphaville and Culcha Candela shouldn't have been enough for this occasion, rather the broadcasters had come up with a special show insert: five airplanes provided a befitting "TV garden" lettering in the sky.
However, the action was met with rejection from many viewers. On Twitter, users denounced the spectacle in clear words.
"ZDF Fernsehgarten" collects Shitstorm
"It's called skytexting," beamed the moderator. As the organizer explained to her, the message of the airplanes is made possible by expelled paraffin. Environmentally harmful residues are said not to remain, but the audience in front of the television could hardly be mollified. "And all this for this crap ?!" Asks a user indignantly, for example.
"Far too much money for big crap!", This viewer also thinks. He also points to the fact that Andrea Kiewel is flown in from Tel Aviv for each "TV Garden" edition, which shouldn't exactly contribute to a positive CO2 balance. The 57-year-old goes to Mainz on Sundays and back the same day. "And then the planes with characters, absolute no go!! Cancel the show!", is now being demanded in a tough manner:
#tv garden – way too much money for big crap! Presenter every time flying in and out nowadays? And that with my forced broadcasting contribution? It's not possible! And then the airplanes with characters, absolute NoGO!! Cancel the show!

— Hesch (@Hesch56588398) June 12, 2022
Elsewhere you can read: "Fridays for Future is going crazy with the silly sightseeing flights." There must be something to it…
And this user only recognizes "meaningless signs" in the sky:
The Greta Thunberg meme "How dare you?" fits here particularly well. "Five planes next to each other fart out exhaust fumes for advertising messages", this user teases on top of that. His obviously ironic conclusion: "Super sustainable".
Too much excitement about the "TV Garden"?
In connection with the anniversary campaign, the platform repeatedly mentions Kiewel's flights from Israel to Germany solely for the "TV Garden" – so the frustration builds up over the weeks. However, there are also people on Twitter who find all the fuss a bit exaggerated in the end. "Germany is escalating because the 'Fernsehgarten' writes a few letters in the sky. And I thought we had real worries", says this comment:
Germany is escalating because #television garden write a few letters in the sky.

And I thought we had real worries. Oh.

— Annette half hour ⛽️ (@Halvehour) June 12, 2022
(yeah)
Source-www.watson.de