The Maroon 5 singer finally explained his actions.
Adam Levine is finally breaking the silence. Accused of having cheated on his wife, Behati Prinsloo, the leader of Maroon 5 has published an apology in Instagram "story". "A lot is being said about me at the moment and I want to clarify things. I made a mistake flirting with someone other than my wife. I didn't have an affair, but I crossed the line at a regrettable time in my life," he first wrote.
"It was inappropriate. […] My wife and family are all I care about in this world. To be so naive and stupid to risk losing the only thing that really matters to me is the biggest mistake I could have made. I will never do it again. I take full responsibility," he continued.
What's next after this ad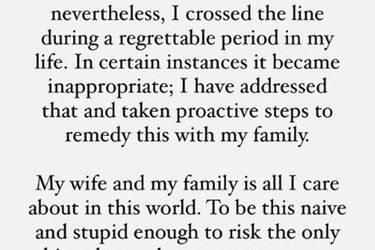 This declaration comes some time after a young woman, Sumner Storh, revealed on TikTok to have flirted with the 43-year-old singer. In her video, she posted screenshots of her conversations with Adam Levine. "Long story short, I was having an affair with a man married to a Victoria Secret supermodel," she captioned her post. She said she wanted to "handle it privately," but felt compelled to sharing the story on social media after a friend allegedly tried to sell the screenshots to a tabloid.
What's next after this ad
@sumnerstroh embarrassed I was involved wa man with this utter lack of remorse and respect. #greenscreen ♬ original sound – Sumner Stroh
The 23-year-old also claimed the relationship lasted "for about a year" until she lost contact with the "Misery" singer. Several months later, Adam Levine reportedly asked her, "I'm having another baby and if it's a boy, I'd really like to name him Sumner." Would you agree?" Reading this message, Sumner Stroh said he felt like "being in hell". Two other women also told on TikTok that they flirted with the American singer.
What's next after this ad
What's next after this ad
Adam Levine and Behati Prinsloo, 34, are parents to two daughters: Dusty Rose (6) and Gio Grace (4). The model is pregnant with her third child.
Source- https://www.parismatch.com/people/accuse-dinfidelite-adam-levine-sort-du-silence-216460