In April 2021, Manuel Rubey took part in the #allesdichtmachen campaign, with which actors had criticized corona measures.
A year later, the 43-year-old describes his involvement as the "biggest mistake I've ever made," as he explains in an interview with our editors.
The Austrian also talks about his two "Country Crimes" in May and explains why he never wants to play Falco again.
Mr. Rubey, in May you'll be appearing in two "country thrillers" (ORF and ZDF). However, in "Flamengirl" (May 23) you slip into a completely different role than in "Vier" (May 25). How did that come about?
Manuel Ruby: I've also seen actors in "Tatort" who reappeared on the screen as a different person in a later episode, but the "Country Crimes" have to be viewed separately from each other. This is one of the big differences to other crime series. "Landkrimi" is only the generic term, because these are completely independent stories. The fact that these two episodes are broadcast in quick succession this time is more of a coincidence. The two cases have nothing to do with each other.
Doesn't this proximity in time tend to confuse viewers?
Normally, care is taken to ensure that you don't appear twice. It's probably an exception. In one case, which takes place in Salzburger Land, I'm on duty as a commissioner, while in the other story I play a Viennese doctor. This also has to do with the fact that "Vier" is Marie Kreutzer's first "Country Crime". We have been very close for many years and often shoot together.
Police uniform or doctor's coat: which work clothes did you feel more comfortable in?
The fantastic thing about acting is that we don't have to commit ourselves. That's why I can't give a general answer to this question – especially since I'm not necessarily nostalgic. I always find what I'm working on exciting, and I can finish relatively quickly when the films are done.
Does that also apply to Falco, who you played in 2008? You will be associated with this role for the rest of your life…
I struggled a bit with my role as Falco in the first few years after the film. I admit that. It wasn't my aim to roam the country as a Falco for the next 30 years. It was important to me at the time to communicate that. But a lot of time has passed since then. I was allowed to take on many other roles and realized that the Falco film also opened doors for me.
You've sort of made your peace with Falco. Would you embody him again?
With the last take I made a vow to myself: I will never act as Falco again. Since then, more than 200 inquiries have been received on the subject – on Falco's birthdays, for commercials or large concerts. I rejected everything and in the end perhaps gave up a lot of money. Nevertheless, I remain consistent, even if I really liked playing the Falco.
Inspector Martin Merana, who you played in "Landkrimi", will not attract as much attention as Falco. How do you introduce him? What qualities do you appreciate in him?
Commissioner Martin Merana is much smarter and above all more analytical than I am. He can think very abstractly and logically. I also like that he is quick-witted and has a dry sense of humour. And he's generous.
Where does the commissioner have deficits?
He's a bit dysfunctional. A lot must have gone wrong in this area in his past. This was discussed in the first two cases, but it will be less of an issue in "Flame Girl".
Even if the stories of the "country crimes" are to be viewed separately from each other, the personalities are already being developed, correct?
Yes, that is certainly the goal – and I very much welcome this development. But we still can't be sure if the stories will continue to be told. It was an important step for Germany to get involved in the form of ZDF, so to speak. We mustn't delude ourselves about that. I like the idea of ​​developing a character over a longer period of time – although I don't want to be tied to one role. A film every year with me as Commissioner Merana would be ideal for me.
Is one film a year enough to bind the audience to the character? Example "Tatort": There are now so many investigative teams that the viewer has lost sight of some of the background stories…
Of course that's true. The viewer's perspective should never be ignored. Admittedly, my approach was rather selfish because it's an advantage if the team already knows each other and doesn't have to reinvent the vocabulary. From the audience's point of view, several films in a series would of course be better, because a year later you can hardly remember the background.
Speaking of vocabulary: is there more restraint when it comes to Austrian dialects since ZDF came on board?
In fact, there are slightly dubbed versions. Sometimes things get heated between those involved – in the sense that there are arguments about individual formulations. How much can you expect of the audience?
What is your answer to this question?
In my opinion, the success of "Landkrimis" is also due to the fact that they dare to be regional within the small country of Austria. In Styria, for example, one doesn't really understand a Vorarlberger anymore. If the viewer then feels the same about one or the other word, I don't think it's that bad. Fortunately, other people ultimately have to decide (laughs).
Is it true that "Country Crimes" are more feminist than other film series?
At least for the two films we're talking about here, that's true. I know both directors (Catalina Molina and Marie Kreutzer; editor's note) well enough to be able to say that value was placed on a young, feminist point of view. I consider this attitude to be of fundamental importance. But it has to be subtle and not seem forced. This balancing act was successful in both cases.
What does linear television have to do in order not to be completely ousted by streaming services?
In the best case, you can learn from each other. The public broadcasters should remember what should distinguish them: namely occupying niches and taking certain risks. I wish that young, up-and-coming filmmakers would be given more confidence that they could try things out. We live in a golden age in the series sector since HBO was able to found a new era with series like "The Sopranos" or "Twin Peaks". I think Shakespeare would be working for HBO today (laughs).
You are a man of clear words, and you raise your voice again and again against right-wing ideas. Current world affairs, say the war against Ukraine, but mostly ignore them. Why?
You are probably referring to a statement on my homepage. However, "ignore" is not the right term, or rather taken out of context.
On your homepage it says: "Dear people, I am now ignoring world events…"
Correct, but what's next? What comes after the comma?
"…because there are no words."
And that's exactly what I mean. I would like to explain it like this: In the current situation, I take the liberty of ignoring world events for a short time in order to be able to refer to art at all in these difficult times. Otherwise one would have to capitulate. My fundamental question, which is behind this and which worries me, is: Am I still allowed to be selfish and point out my films? Or is that presumptuous given the current situation? I'll do some digging though and see if it needs some rephrasing. Because I don't want to be misunderstood. The war in Ukraine occupies me 24 hours a day … and I can contribute nothing more than my hope that we will always reach out to each other.
Aren't you contributing something by using your films to change people's minds in these difficult times?
I hope so, but it's still a tightrope walk. An example: I'm currently on the road with a stage program that gives a lot of reason to laugh. I decided to continue on this path because the feedback encouraged me. Many people find it good to be whisked away into another world for an hour and a half.
A good year ago you were part of the #allesdichtmachen campaign, for which you and other actors were sharply criticized. How do you rate the Corona measures today?
It was the biggest mistake I've ever made. I should have delved deeper into it. I just wanted to point out the importance of art and culture. The whole thing took on a dimension that I hadn't expected. I don't want to have anything to do with it anymore and distance myself fully from the content. I have never wanted to criticize measures, because as an artist it is not my job to evaluate or comment on politics.
Also read:
The six-part ARD series "Die Glücksspieler" that you worked on is about trying to be happier for a year. How happy does this somewhat different series make you?
Director Michael Hofmann is known for his somewhat skewed outsider's view of the world and the characters. I really appreciate his work and I'm incredibly excited to see what journey this series will take. In the best case, it becomes an insider tip that slowly gets around. You have to take a little time for "The Gamblers", the series has a strange magic that is worth staying tuned for.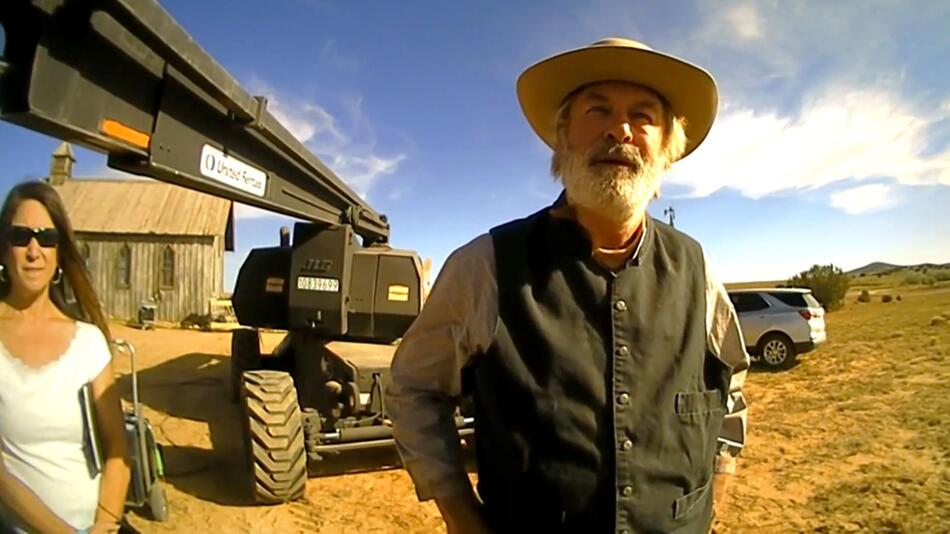 The Santa Fe Police Department has released new video footage of the fatal shooting on the set of "Rust" last October. Bodycam footage shows the chaotic moments following the tragedy in which cinematographer Halyna Hutchins died.
Source-web.de