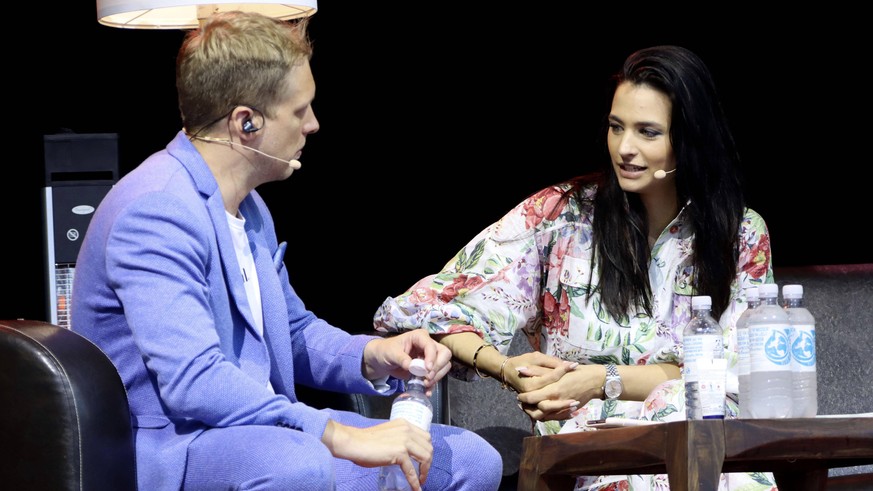 On the occasion of Mother's Day, Oliver Pocher shared a picture of Amira and their children.Image: imago images/ Future Image
This action was probably not well received by Amira Pocher. On the occasion of Mother's Day last Sunday, her husband Oliver shared a photo of the 29-year-old with her children on Instagram. Amira and Oliver always keep them strictly out of the public eye. Not even the names of their sons are known. He also gave his ex-wife Sandy Meyer-Wölden a Mother's Day greeting. Here, too, he showed the three kids together. However, he provided the faces of his offspring with a large emoji.
The comedian married the now 39-year-old in 2010. They finally split up in 2013. After the separation, Sandy moved to Miami with the children, Pocher stayed in Germany. In the meantime, they have grown together with Oli's second wife Amira to form a large patchwork family. The fact that Oli now used his social media account and addressed words to his children's mothers did not meet with equal approval. Amira commented on this in her podcast.
This is how Oliver Pocher explains his Mother's Day post
The comedian wrote about two recordings that Pocher showed with the mothers of his children and their offspring: "Happy Mother's Day, you great moms out there! It is you who make our children the (hopefully) great people who will later raise their children with the important values ​​in this life! (Optionally also your own YouTube channel, Instagram & TikTok account.) Without you we/I would be in a fix."
Pocher now said: "Of course I just wanted to congratulate you at first, then I thought: 'No, there are still three children and they are just as important.' Despite all the love, you have to say that Sandy also has to look after the children 300 days a year, really deals with them and tries to make the best of it."
Amira finally said about Pocher's campaign: "It was certainly a nice thought, but to be honest, I was very shocked at first when I opened Instagram." The 44-year-old then explained his motivation for the rare post: "I somehow felt that way at the moment because I'm also proud of what you do as mothers, how you do it. I have that just felt that way. Sorry for being emotional too."
As he spoke, Pocher was visibly looking for the right words to express his feelings. Finally, Amira emphasized: "That's really very nice. It would have been enough for me if you had just posted me, secretly while you were sleeping."
Oliver Pocher repeatedly shares a snapshot on his account of how exhausted Amira fell asleep on the sofa. "It's the rare moments when I can catch you sleeping. You're practically awake 24/7," says the father of five. By the way, the comedian has since deleted his Mother's Day greeting on his Instagram account.
(iger)
Source-www.watson.de