A well-known misogynistic influencer has been arrested in Romania. Police were able to track him down because he revealed his location over a Twitter dispute.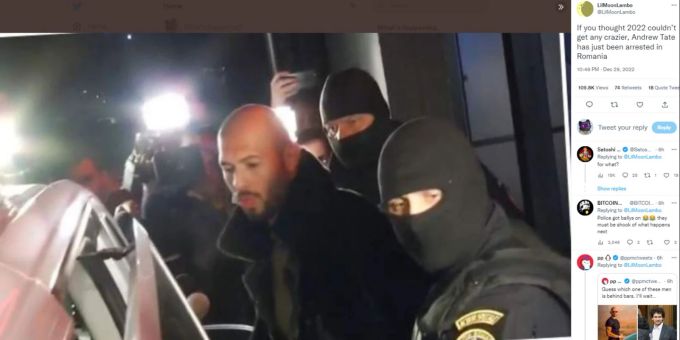 the essentials in brief
Andrew Tate had a Twitter argument with Greta Thunberg yesterday.
In a video, the misogyny influencer unknowingly revealed his location.
He was subsequently arrested in Romania for suspected human trafficking.
That didn't quite go according to plan: two days after letting climate activist Greta Thunberg hang out the car macho on Twitter, former kickboxing professional Andrew Tate was arrested in Romania on Thursday.
The judiciary found out about the alleged human trafficker, rapist and gang criminal because he distributed a hate video against Thunberg that showed a pizza box with a Romanian inscription.
In the video, Tate, in a red boxer coat and with a cigar in hand, commented on Thunberg after she "burned" a swanky tweet Tate's ice cold. Tate went directly to the climate activist to brag about his gas guzzlers.
«Hello Greta Thunberg. I have 33 cars. My Bugatti has a w16 8.0L quad turbo. My TWO Ferrari 812 competizione have 6.5L v12s. That's just the beginning. Please give me your email address so I can send a full list of my car collection and their respective huge emissions," Tate wrote Tuesday over a photo of him refueling a sports car.
The climate activist countered by invoking a well-known stereotype about fat sports car owners. "Yes, please enlighten me. email me at [email protected] ([email protected])," Thunberg tweeted.
Banned from many social media – back on Twitter thanks to Musk
Tate had been banned from social media for misogynist comments and hateful language. So he could not be present on Twitter for years. The ban was lifted by new Twitter boss Elon Musk. After Tate's arrest, this move was sneered at. One user wrote ironically that she had to agree with Musk retrospectively, because "Andrew Tate's Twitter re-admission was a contribution to the fight against human trafficking".
Tate was arrested along with his brother Tristan, the Romanian prosecutor said, according to the Reuters news agency. There was also a raid on the couple's apartment in Bucharest. The investigations against the two brothers have been ongoing since April.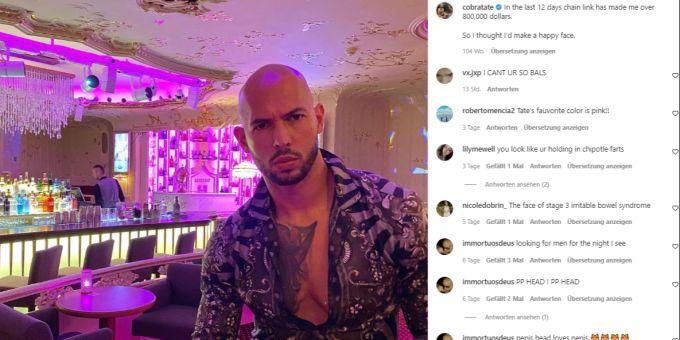 There are four suspects in total. They are accused of forming a criminal gang with the aim of "recruiting, housing and exploiting women by forcing them to produce pornographic content for use on relevant paid websites". Six women were found who had been exploited by the suspects.
More on the subject:
Human trafficking Greta Thunberg Elon Musk Ferrari Bugatti raid Twitter

Source-news.google.com