Actor Austin Butler who played Elvis Presley in the biopic "Elvis" has opened up about his special relationship with Lisa Marie Presley. Their friendship was forged quickly.
With emotion, Austin Butler evoked the special relationship he had with Lisa Marie Presley. Invited on the set of the American show "The Tonight Show Starring Jimmy Fallon" on Tuesday January 31, he fondly remembered Elvis Presley's only daughter. The two had met during the preview broadcast of the biopic "Elvis" at Graceland last June. They hadn't left each other since.
"I had never had such an experience before, of meeting someone and feeling a deep, immediate connection," explained Austin Butler. "He was a person who didn't really have anything to prove and who didn't open up to everyone. She just confided in me, and we got so close so quickly," he recalled. Lisa Marie Presleydied on January 12 of a cardiac arrest, at the age of 54.
What's next after this ad
The 31-year-old actor recalled visiting Elvis Presley's room with the singer: "It was after the movie was shown, and his room is a place most people never go to. chance to see, and she said, 'I want to show you something. After revealing to him a pair of slippers that belonged to his father, Lisa Marie Presley shared some family anecdotes with the actor: "We sat in his room, and up there, he was not Elvis, he was fair [son] dad, see? So having heard these stories… I will really cherish them forever, "he confessed, adding to having" goosebumps ".
What's next after this ad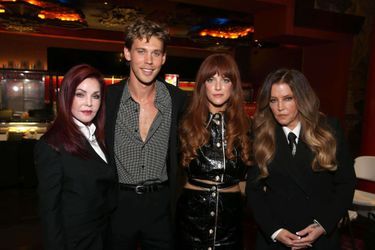 "Everything is so bittersweet"
As for his nomination for best actor oscar for his performance of the King, a role that will certainly have marked his career, Austin Butler said he was "devastated" not to be able to share this moment with her: "It is overwhelming. It's weird at times like this because everything is so bittersweet. There are so many great things happening…but I'm just devastated for her family and that she can't be there to celebrate with us."
Two days before his death, Lisa Marie Presley applauded Austin Butler after he has won the Golden Globe for best actor for the biopic. He had not failed to thank her in his speech, showing her all the love he had for her.
What's next after this ad
What's next after this ad
At the announcement of his death, Austin Butler had a moving thought for the Presley family : "My heart is completely broken for Riley, Finley, Harper [les filles de Lisa Marie Presley, NDLR] and Priscilla [sa mère] by the tragic and unexpected loss of Lisa Marie," he shared. He had gone with his girlfriend Kaia Gerber at his moving funeral at Graceland.
Although the Presley family is discreet, at the start of the week, Priscilla Presley filed a lawsuit for challenge the validity of the will left by his daughterLisa Marie Presley.
Source- https://www.parismatch.com/people/austin-butler-raconte-sa-rencontre-memorable-avec-lisa-marie-presley-dans-la-chambre-delvis-221658