Municipal Civil Protection of Querétaro announced that the Ricky Martin concert that would be held this Friday night, March 18, does not meet the necessary conditions to take place, so it was canceled.
The announcement was made minutes before the Hípico de Juriquilla opened its doors for Puerto Rican fans to enter.
"At the moment; the concert called Ricky Martin, does not meet the necessary conditions because it sees Civil Protection for the opening and start of the show. For this reason, citizens are urged to take due precautions. In a few moments more information », they wrote on social networks.
The public that had their tickets shared that they were in long lines to enter the concert, for which they expressed annoyance since the news of the suspension was released an hour before the show; the official cancellation was made at the time the event would have started.
In addition, local media reported that an hour after announcing the cancellation of the event, Ricky Martin would have decided to leave the place, as reported by some security elements.
A few moments ago Idevymark issued a statement for the cancellation of Ricky's concert and revealed that all tickets sold will be fully refunded. It should be noted that the security protocols were increased after what happened at the Corregidora Stadium on March 5.
Let us remember that this is the second time that the Puerto Rican concert is canceled in the state. The first time was in March 2020 due to the health contingency by Covid-19.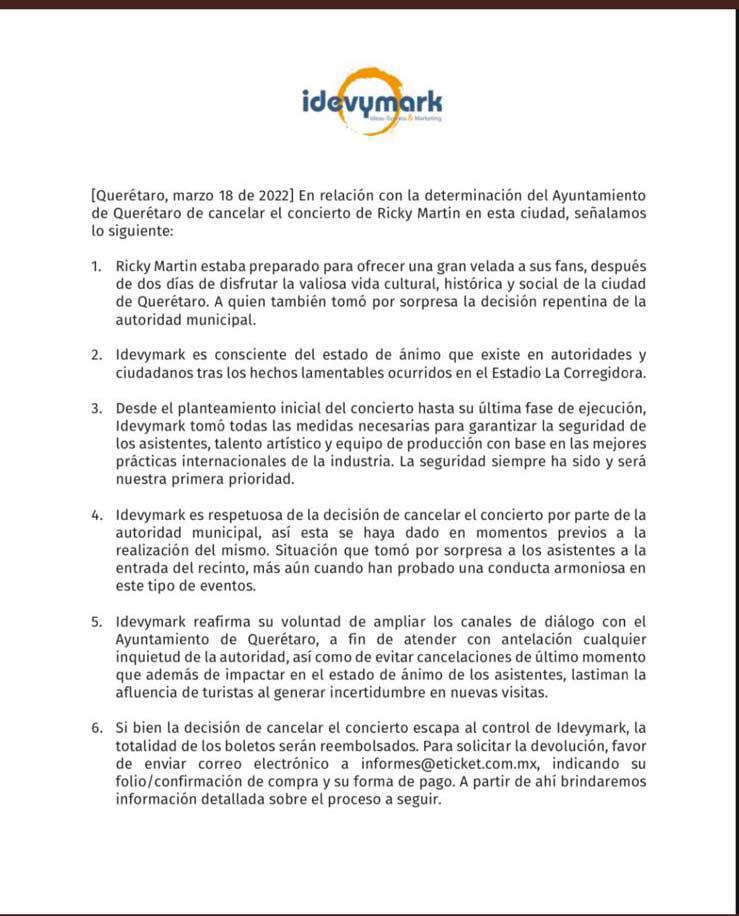 Source-lapagina.com.sv