Nick Carter, one of the members of the American group Backstreet Boys, was accused of rape on Thursday by a former fan with autism.
Nick Carter, one of the members of the American group Backstreet Boys, was accused Thursday of rape by a former autistic fan, who denounced facts dating back to 2001, when she was 17 years old. Accompanied by her lawyer, Shannon Ruth explained at a press conference in California that she had filed a complaint for a rape committed by the singer on the sidelines of a boy band concert in Tacoma, Washington. "Although I have autism and live with cerebral palsy, I believe that nothing has hurt me more in my life than what Nick Carter did to me", denounced in tears this woman, today 39 years old.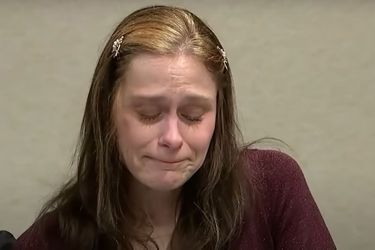 After a request for an autograph, the star invited her on a tour bus, where he gave her a 'strange-tasting' drink touted as 'VIP juice', claimed plaintiff's attorney Mark Boskovich. "After she drank the juice, Carter took her to the bus bathroom, told her to kneel down, and pulled out her genitals and ordered her to perform sex acts," he said. detailed.
What's next after this ad
A "backward little bitch"
According to the lawyer, the teenager, a virgin at the time, cried throughout her ordeal and the singer continued his attack. He then "pushed her onto the bed" at the back of the bus "and raped her, despite her protests," he added. The star, now 42, then called her a "backward little bitch" who "no one would believe" if she came forward, according to the lawyer.
What's next after this ad
Ms. Ruth filed her civil suit in Las Vegas, Nevada, where she and the singer live. She is claiming financial compensation, the amount of which has not been disclosed. According to his lawyer, the complaint includes statements from three other women, who also accuse the singer of sexual assault. They wish to remain anonymous and have not yet lodged an individual complaint.
Nick Carter, whose band produced the songs "I Want It That Way" and "Everybody (Backstreet's Back)", was previously accused in 2017 of rape by American singer Melissa Schuman. In this case, Mr. Carter has always denied the facts and the Los Angeles prosecutor's office did not prosecute him because the facts denounced were time-barred.
What's next after this ad
What's next after this ad
Contacted by AFP, his representatives had not reacted Thursday afternoon to the new accusations brought against him. The singer made no mention of the complaint on social media, where recent posts pay homage to his brother, who died last month. "This accusation is completely false," assured a member of his entourage to the people site TMZ. "Nick is focused on his family and grieving his brother."
Source- https://www.parismatch.com/people/nick-carter-star-des-backstreet-boys-accuse-de-viol-par-une-ancienne-fan-autiste-219712