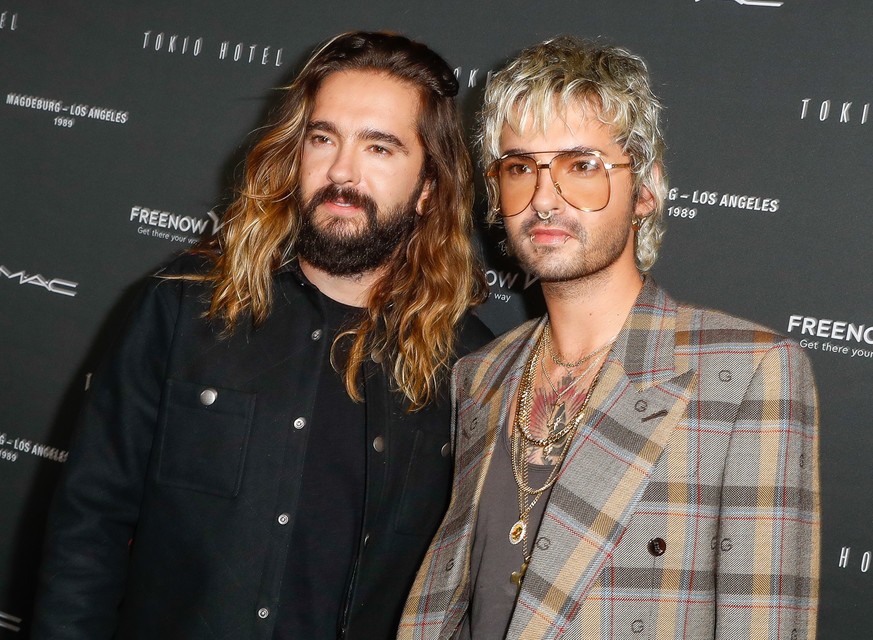 Tom Kaulitz' vocabulary is often too outdated for his twin brother Bill. Image: dpa / Gerald Matzka
03/24/2022, 07:0903/24/2022, 07:10
Bill and Tom Kaulitz have been podcasters since August last year – in their Spotify show "Kaulitz Hills – Senf aus Hollywood" they sometimes reveal quite intimate details about their lives with Heidi Klum and their children and sometimes say themselves quite openly in the face, what bothers them about the other.
The current episode, however, was less about Tom's wife Heidi and more about the two Tokio Hotel musicians. Among other things, Bill jokingly announced in the last podcast episode that he wanted to sell his underwear – but now he has received serious offers. In addition, Tom's stale vocabulary also played a role, which Bill sometimes seems to go against the grain.
Kaulitz brothers argue about the word "make-up"
At first, the twin brothers philosophized about the fact that they had bad skin as teenagers – like most in this age group. But even dermatologists and beauty treatments could not have changed anything. Tom had a special theory to offer: "Of course that was because we sat on some TV show every day and got some cheap powder on our faces."
This in turn gave Bill the idea to address his mascara, which he had put on especially for the podcast recording – However, his brother has no eye for that and said that he would hardly notice "make-up" on his face anyway. That was exactly the right cue for Bill. He complained loudly:
"You also say make-up to make-up. Nobody says make-up to it!"
The guitarist is said to have often asked Heidi if she "wears make-up". The word always makes Bill laugh, he admitted. "It's a synonym! I say make-up and I also say heels", replied Tom. Saying heels instead of high heels – Bill only confirmed that even more: "That's such an old-school macho attitude!", He scolded with a laugh.
As a reason for his amused derailment, he finally gave: "Heel shoes – that's totally outdated. I don't know anyone who says heel shoes. You should develop and learn." But Tom didn't take that, he wanted to keep saying make-up and heels and didn't see anything reprehensible in that at all.
Bill Kaulitz wants to sell used underwear to anonymous users
Later, the Kaulitz brothers talked about Onlyfans. In the past week, the two made fun of it, Bill even offered to sell his underwear. However, potential buyers should not think that this would be a bargain, as the 32-year-old wants half a million euros for used underwear. Now the update was done, Bill said:
"I've received offers in my private messages. But how do we find out if it's serious?"
Eventually, interested parties always contacted Bill with anonymous, private accounts. However, should he find someone willing to buy, Tom advised him directly to seize the opportunity. But there were further problems with the possible processing of the transaction, for example with the keyword payment: "I would say in the suitcase of money. I would send my assistant. But what would I say, what the money is for? He would have to be initiated…"Bill continued to think.
"Here's my underwear, I peed into it a bit" – with these words the singer would have to hand over the offered goods to his assistant. "You put a toenail in it too, as a sign of goodwill," added Tom, laughing.
Of course, the brothers want to keep their podcast listeners up to date about their experiences. In any case, they would not reveal the identity of the buyer, they finally promised, so as not to scare off potential buyers: "We keep it secret, we keep the person anonymous." It remains to be seen whether the project will actually be implemented – after all, the offer last week was actually just a joke.
(cfl)
Source-www.watson.de