Camilla, the wife of the new king, apparently wants to break with a tradition of the queen.Image: IMAGO / i Images
After the death of the Queen, many people are wondering what will happen to the monarchy in the UK – after all, Queen Elizabeth II was the head of state of Great Britain for 70 years. She is now replaced by her son King Charles with Camilla at his side. The royal couple have taken on a number of responsibilities for the ailing queen in recent months, proving they can represent the late century monarch with dignity.
Camilla wants to modernize the monarchy
There has already been speculation that Charles' coronation, which will take place next year, will be slimmer than the Queen's in 1953, to show the world how the monarchy should function in the future.
His wife Camilla would also like to break with tradition in order to modernize the British monarchy: The stand of the ladies-in-waiting is said to be dedicated to the British newspaper "express" to be abolished under their rule.
The loyal ladies-in-waiting were very important to the Queen. Not only were they royal staff, but over the years they became close companions and trusted friends – some of the ladies-in-waiting stood by the monarch for more than 60 years. The women mostly came from aristocratic houses or were related to the Queen. They chose their clothes, helped with bathing and dressing or took care of the organization of the busy schedule.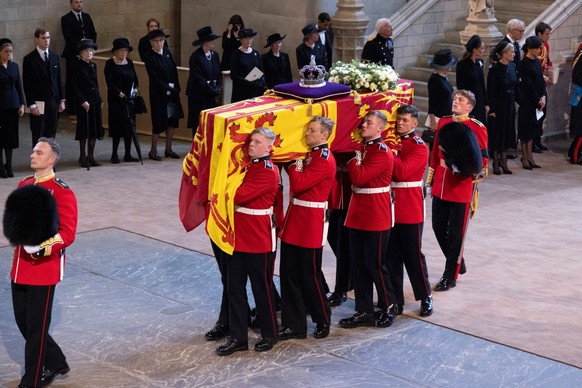 The Queen's ladies-in-waiting are lined up in the backgroundpicture: IMAGO / i Images
Some court ladies say goodbye to retirement
Since Camilla doesn't seem to want to employ any more ladies-in-waiting, the question now arises as to what will happen to the women. By appointing Elizabeth, they pledged to serve the Queen for life. This goes hand in hand with the fact that they are available free of charge and cannot be terminated. Some of the ladies-in-waiting are now well into their 80s and are expected to retire. What will happen to the other women is still unclear.
The historian Marlene Koenig has been studying the royal family for several years. Speaking to Express, she confirmed: "There are some positions that can no longer be filled." Koenig further explained that Camilla had never employed an official lady-in-waiting, not even as Duchess of Cornwall. While her former secretary, Angela MacManus, came close to the role, she was never formally appointed.
Princess Kate also decided against ladies-in-waiting
The day-to-day tasks taken over by the ladies-in-waiting would now be handled by other staff. Camilla isn't the only person breaking with tradition: Princess Kate had also had the opportunity to appoint ladies-in-waiting after her marriage to Prince William – but decided against it.
Source-www.watson.de