Capital Bra spoke about his time with Bushido's label.Image: imago images / Jan Huebner / Lakomski
Rapper Capital Bra makes a rare statement about past trailblazers on his Instagram story. Three years ago, Bushido took him under his wing and signed him to his Ersguterjunge label. However, when the business relationship between Bushido and Arafat Abou-Chaker broke up and the rapper took police protection, there was also a break between Bushido and Capital Bra.
At the same time, the "Benzema" interpreter took the EGJ signing Samra with him, together with him he published successful German rap songs, and a joint tour was already planned. But at the beginning of 2021 the collaboration broke up, Capital justified this by saying that Samra surrounded herself with the wrong people, but had "built up a blatant business outside of music". "Only the best for him and his team in the future," he added to his statement.
Although the 27-year-old now seems to have finally finished with two people from his EGJ past, he is now publishing a rather wistful post about this phase of life.
Capital Bra posts photo of EGJ team with forgiving comment
In his story, the rapper posts a photo with the former label colleagues, in which he proudly poses at the front in the middle. Two men in particular catch the eye in the picture: Bushido and Samra. "This photo is pure goosebumps", Capital indicates at the beginning of his comment. He looks at the old snapshot in Thailand, where he has been with his family for quite some time. He further writes:
"When I came to EGJ I didn't know what to expect. I found a few co-workers my age to play music with and one in particular became more than just a rap partner."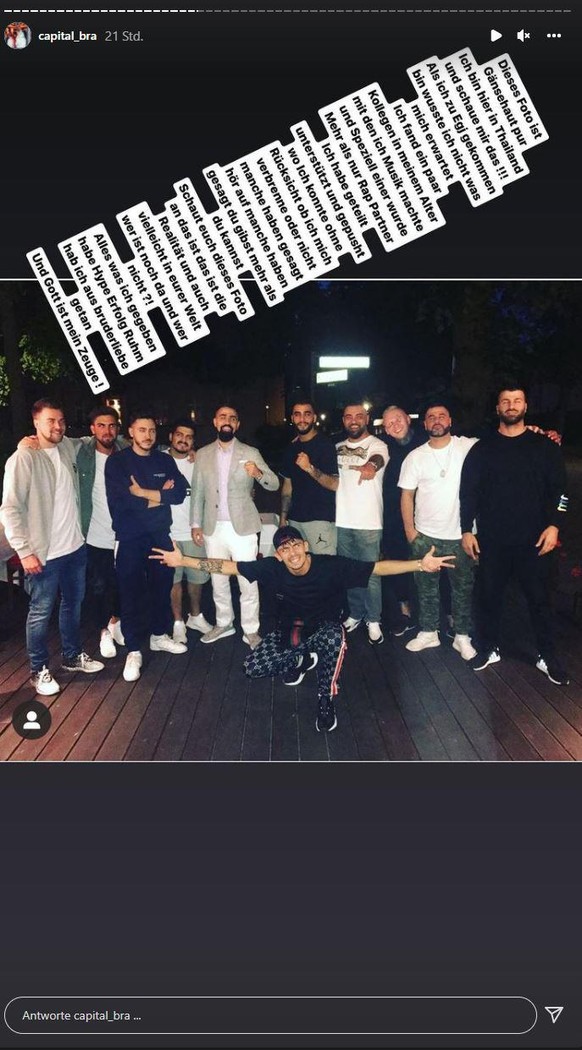 Capital Bra looks back on his time with Bushido's label.Image: Screenshot / Instagram / capital_bra
This certainly means Samra, with whom, in addition to music, he also had a close friendship for a while. While he was under contract with Bushido, he gave everything, as he further states, went to his physical limits: "I shared, supported and pushed where I could, regardless of whether I burned myself or not. Some said, 'Stop it', some said, 'You give more than you can.'"
Finally, the stage star states that most of the people in the photo have disappeared from his life. But still: "Everything I've given, hype, success, fame, I've done for brotherly love", he admits.
Bushido does not look back so positively
Among other things, Bushido did not find such conciliatory words for the separation from Capital in his documentary "Uncensored – Bushido's Truth". For the first time, the former EGJ boss commented on the break in the Amazon Prime video series and said openly: "I completely renounced this contract or this participation after this thing with Capital escalated so much."
According to Bushido, Capital "bought its freedom". Out of the blue he publicly announced the separation from the label, and nothing had been agreed with Bushido himself either: "I also want that whenever he looks in the mirror, if he can even look in the mirror, he just knows he's the cunt and nobody else in this story. He's the cunt, the only cunt. "
Capital Bra played down the alleged dispute behind the scenes, but Bushido and his wife Anna-Maria quickly stopped responding. For his former label protégé, the matter seems to be over, he apparently wants to do without (for the time being) a similarly aggressive answer to the announcement in the documentary.
(cfl)
Source-www.watson.de