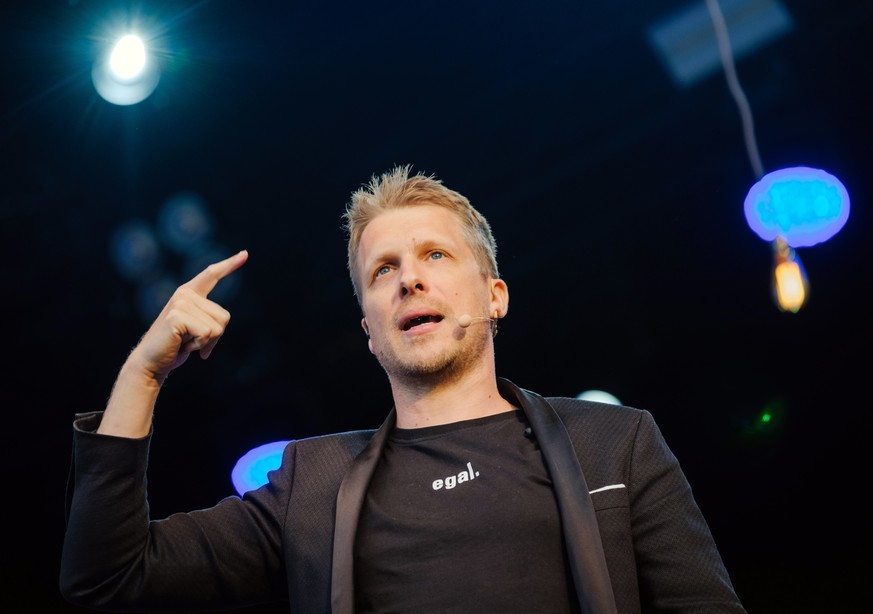 Oliver Pocher has something against influencers who market their children.Image: dpa / Ole Spata
Traditionally, Mother's Day is celebrated in Germany and in some other countries on the second Sunday in May. Mother's Day is a day honoring mothers and motherhood and spread to the western world from the United States in 1914. This year the holiday falls on May 8th.
Of course, numerous celebrities do not miss the opportunity to celebrate this day via social media and to dedicate loving words to their mothers, the mothers of their children or other women on Instagram. Oliver Pocher also used the image and video platform to sing the praises of the mothers of his five children. However, the comedian could not resist a swipe.
Rare sight: Oliver Pocher with all five kids and both mothers
Oliver Pocher has been married to his wife Amira since 2019. Together they have two sons who saw the light of day in 2019 and 2020. Before his marriage to Amira, he was already married once. In 2010 he married Sandy Meyer-Wölden. Their daughter was born that same year, followed by twin sons in 2011. Two years later, they announced their separation.
In the meantime, Oli, Amira and Sandy are a happy blended family with their five children. This is also made clear by the fact that Oliver dedicated his Mother's Day greeting not only to his current wife, but also to his ex-wife. He wrote about two photos that show him once with Amira and her sons and once with Sandy and their children:
"Happy Mother's Day, you great moms out there! You are the ones who make our children the (hopefully) great people who will later raise their children with the important values ​​in this life! Without you we/I would be in a fix ."
He added jokingly, that you can also achieve this on your own YouTube channel or your own Instagram TikTok account. It's no secret that Pocher has something against influencers and celebrities who show their children online.
On the one hand, he and his wife Amira criticize the marketing of children in general, but on the other hand they have repeatedly pointed out possible dangers in this connection in the past. After all, the photos can quickly fall into the wrong hands.
Oliver Pocher was able to move many fans with his post. His followers celebrated one fact in particular: that he thought of both his children's mothers. In this context, a user also praised: "A rare sight, but I think the best thing is that you, Amira and Sandy 'work' so well together. The children will thank you." And another found: "You are just a good-hearted person and you are a great family."
Amira Pocher also wished all mothers and expectant mothers a happy Mother's Day. Apparently, the 29-year-old still has to get used to the fact that she herself is celebrated on the day. "It's been affecting me lately, too. It's not so present for me yet, because my children are still a little too small."she said in her Instagram story.
(swiss)
Source-www.watson.de