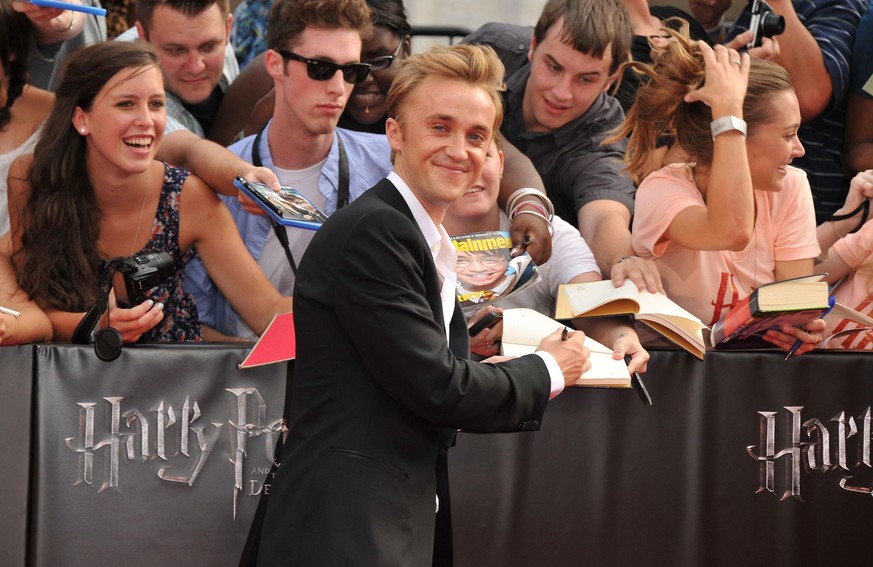 Tom Felton played the villain Draco Malfoy in all parts of "Harry Potter".Image: Getty Images North America / Stephen Lovekin
The first "Harry Potter" film was produced over twenty years ago, and actor Tom Felton was there from the start. But the role of the mean Draco Malfoy was not only good for him, as he now reveals.
In an interview with the "Guardians" Tom Felton unpacked about his childhood as an actor and film star. He also talks about his insecurities, problems in love, missed activities and how his fame was in general.
No luck with the girls
In the conversation, the Brit reveals that, unlike Daniel Radcliffe, Emma Watson and Rupert Grint, he had a relatively normal life back then. Since he didn't cast any of the leading roles, he only had a schedule that alternated between a few weeks at school and then a few weeks on the set. Nevertheless, the role had an impact on his school years and even his love life:
"I went around with my hair dyed and played an evil wizard. It wasn't cool. It didn't do me any favors with the girls."
He also occasionally heard comments and jokes from his friends and through the shooting Missed school trips and parties. A "particularly popular child" he had never been.
Little fame from Malfoy role
The actor reveals that he would still have to get used to his success. That's probably because he never really had a life in the spotlight as a kid:
"Daniel, Rupert and Emma were on the posters, getting pulled out of school and going on press trips. I had a much more normal life."
Despite the bleached hair, he is in all these years rarely addressed in public have been. Only now is that changing and interest in his person is increasing, reports Felton.
Long doubts about renewed occupation
In addition, Tom Felton emphasizes that he was never sure that he would also play in all parts of "Harry Potter". At the beginning he was only planned for the first two parts. Then be later has been scrutinized to make sure he and his co-stars still look young enough for their roles would. It went on film after film, none of them signed for twelve years.
"At one point I just assumed they would replace us with decent actors, but they never did."
In addition, he never believed that he could continue to be an actor as an adult. He didn't have to write "ten pages of dialogue" to be able to audition. It was enough to "appear as a snotty kid" and look right to get the role.
Jason Isaacs was a father figure on the set
Ultimately, however, there was one person who kept encouraging Felton. Fellow actor Jason Isaacs not only played Lucius Malfoy, the father of Tom Felton's character Draco, in all of the films, but is also said to have played that role behind the scenes.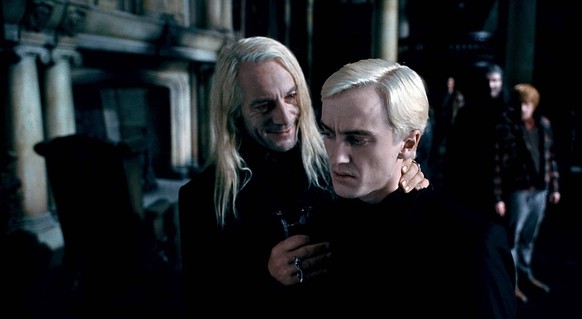 Jason Isaacs and Tom Felton as Lucius and Draco Malfoy.Image: www.imago-images.de / Warner Bros/Courtesy Everett Collection
Felton remembers: "It was a tremendously important relationship for me. He never spoke to me like a child and showed me the way.". Later, Felton also knew from him what he had to do for his career after the last part of "Harry Potter":
"He told me to get in shape, learn an American accent and find a good US agent."
After following that advice, Felton landed the role of Dodge in Planet of the Apes: Prevolution straight away.
No idea about Harry Potter

Tom Felton also has a very specific theory as to why he was chosen at the "Harry Potter" auditions back then:
"I think I got the part because I was being nonchalant and had no idea what anyone was talking about. Wizards in cupboards under the stairs?"
The other children had read the books beforehand and therefore most likely approached the casting differently. He suspects that Director Chris Columbus recognized "this slight disinterest and this arrogance" in him and therefore cast him for Draco Malfoy.
(crl)
Source-www.watson.de