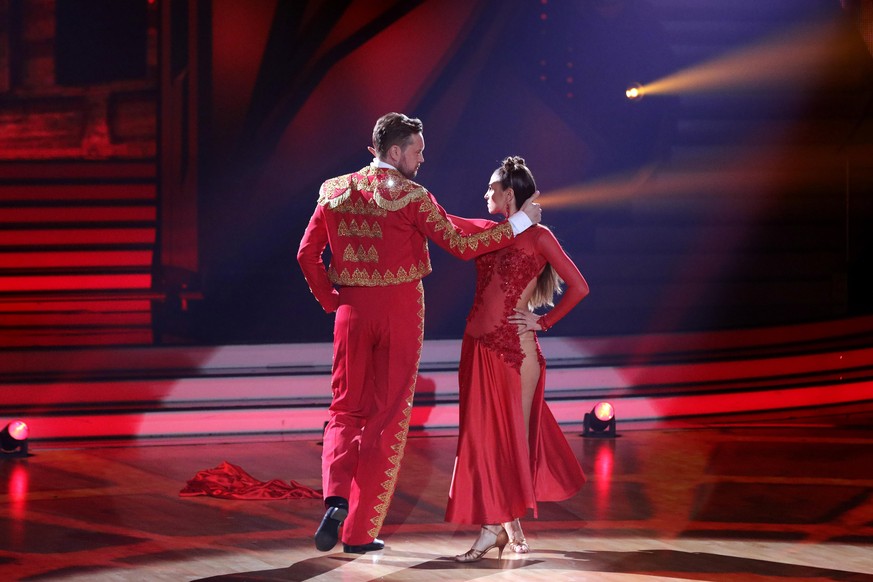 Ekaterina Leonova and Bastian Bielendorfer dance week after week on "Let's Dance". But one thing plagues Bastian before every performance. Image: Getty Images Europe / Joshua Sammer
Eight shows of the popular show "Let's Dance" have now been completed for the candidates. But for author Bastian Bielendorfer, the performances are still a very special challenge. Therefore, the 37-year-old is dependent on his partner, the professional dancer Ekaterina Leonova, before every show. Pictures of the two now show an emotional moment. Because comedian Bastian Bielendorfer has to struggle with something every week.
Actually, the process before a "Let's Dance" dance always looks like this: The viewers get an insight into the training sessions of the dancing couple through a small clip. Dance couples can also watch their first attempts at learning a new dance again in the "Let's Dance" studio in Cologne.
Pictures show intimate moment
However, Bastian Bielendorfer and Ekaterina Leonova have no head for it. In the last moments before the dance, they are busy with something else. Recordings show: Ekat holds Bastian's head and talks to him.
An intimate moment.
The two reveal: Ekat had to persuade him. Then: Bastian Bielendorfer is just incredibly excited before every dance.
Ekat has to set it up before the dance
After the show, they explained in the Interview with "RTL" the situation: "You can put me on the mic in front of 20,000 people, my pulse doesn't even go to 60. But here in the hall… Like a hummingbird, it's hell", Bastian Bielendorfer described how he feels in the final moments before he hits the dance floor. Ekaterina added:
"He just pees his pants and he's shaking really, really badly. And I need to build him up a bit to get him back on the dance floor."
And Ekat's words seem to help him too. Because the Paso Doble worked comparatively well in the last show, Bastian Bielendorfer mastered the dance. The jury gave it 16 points – a good result for him, but he is still aiming for the 20-point mark, which the other celebrities have long since overcome.
"It helps me a lot every time, because I really can't contain it anymore. I get a pulse of 700," says Bastian Bielendorfer. He thinks:
"She is a perfect psychologist."
Bastian Bielendorfer on Ekat
(and)
Source-www.watson.de