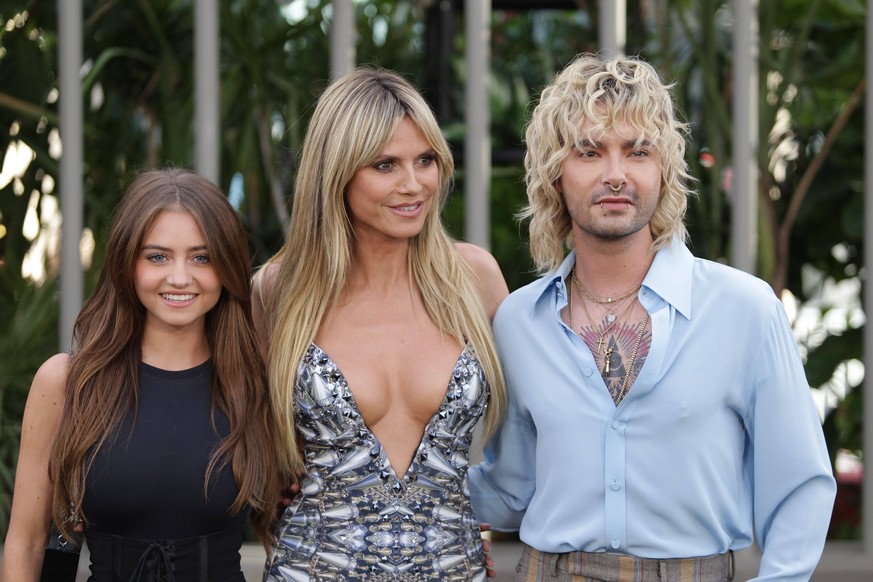 Heidi Klum, her daughter Leni and her brother-in-law Bill Kaulitz beam at the world premiere of "Jurassic World 3: A New Age" in Los Angeles. But where was Tom? Image: imago images / IMAGO/Joseph Martinez
Last week, Heidi Klum attended the world premiere of "Jurassic Park 3: A New Era" in Los Angeles with her daughter Leni and her brother-in-law Bill Kaulitz. It was noticeable that the trio was not accompanied by Heidi's husband and Bill's twin brother Tom. The brothers now revealed why the Tokio Hotel guitarist stayed away from the event and what the consequences of this were on the red carpet in their joint podcast "Kaulitz Hills – Senf aus Hollywood", which appears weekly.
"Get Shitstorm": That's why the fans were mad at Bill
Right at the beginning of the current episode, they started talking about the premiere. In this context, Bill explained that Tom was prevented from attending because he had cluster headaches. These are recurring attacks that have even been dubbed "suicide headaches."
Many fans of the two had already guessed what was the reason for Tom's absence from the premiere. Some fans didn't think it was okay that Bill still went to the premiere, as Tom said:
"You got a shitstorm. A lot of people were mad that you went to the 'Jurassic Park' premiere."
He continued: "I had a headache and I was laying in bed and I couldn't come with you because I said I don't feel like going to the movies and the red carpet. Many have blamed you for not taking care of me."
But Tom defended his brother and made it clear that he didn't blame Bill – on the contrary: "You want to be alone when you have a headache like this and you want to heal yourself." Bill and Heidi also suggested staying with him and taking care of him, but he sent them to the premiere.
Photographers thought Bill was Heidi Klum's husband
And Bill thought it was a good fit, because he and Heidi would have harmonized perfectly in color, even though they hadn't agreed: "It was really amazing. Heidi had such a blue in her dress and we looked great."
Afterwards, Bill shared a funny anecdote about the event:
"Some people thought I was you, though. They thought if there was only one guy, it had to be her husband."
The photographers were very confused and had "Tom, Tom, hello Tom, turn around to us", summoned. "And when I turned around, they were like, 'Huh? That can't be him,'" added the 32-year-old.
For Tom, that's proof of how much they're alike: "The photographers just thought that's Tom with blond hair." Bill agreed, adding, "They thought you shaved off your beard." Such a mix-up certainly did not happen to the Kaulitz twins for the first time – but the main thing is that Heidi can tell the two apart.
(swiss)
Source-www.watson.de