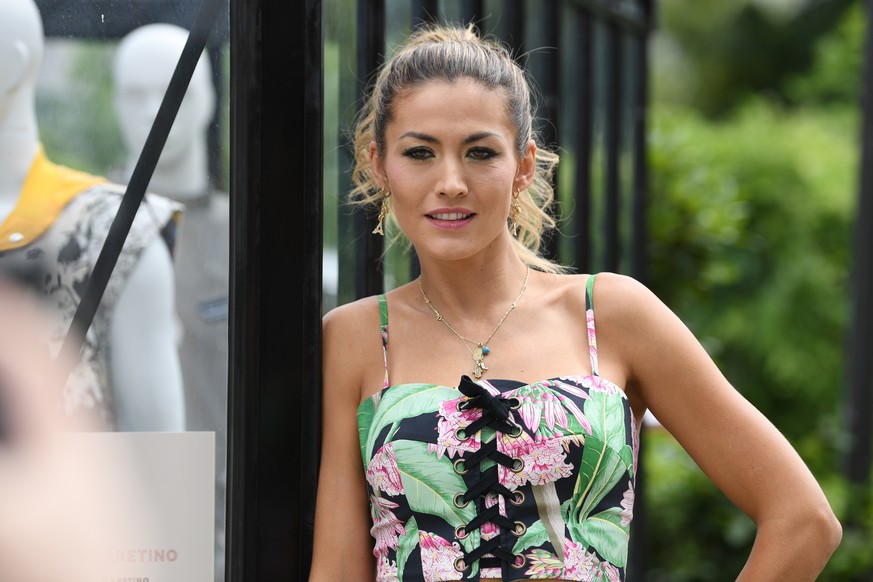 Fiona Erdmann took part in the casting show "Germany's Next Top Model" in 2007. Image: dpa / Monika Skolimowska
05/16/2022, 18:2305/16/2022, 18:43
Fiona Erdmann has become a mother for the second time. On May 14, the former "Germany's Next Top Model" candidate announced the birth of her daughter, whose name is still secret. But the delivery was anything but smooth 😀he little girl had to be brought into the world by emergency caesarean section.
Great joy about little daughter
Shortly after the birth of her second child, Fiona Erdmann contacted her more than 400,000 Instagram followers. "Welcome little Angle" wrote the 33-year-old under her last photo, which shows the whole family cuddling close together. "Leo, Moe and I are over the moon and grateful to be able to hold our little princess in our arms. What a magical moment."
"I'm really blown away and completely enchanted," she enthused in her Instagram story. With her offspring lying on her chest, she said that her daughter looks very different from her first son Leo and instead "totally" resembles her partner Moe. The two have been a couple for five years.
Ex-"GNTM" candidate talks about emergency caesarean section
But although the mother of two is overjoyed and relaxed in public, the birth of her daughter was anything but easy. "My waters burst while I was making our bed and wanted to sleep the first night in our house," she said with a smile on her Instagram story. She and her partner recently moved into their dream home in Dubai.
"The mouse has now chosen its own date," continued the 33-year-old. "An emergency caesarean section was done, with an eight centimeter dilated cervix – I was already in full labor." The emergency caesarean section was unavoidable because Fiona's child was lying the wrong way round in her stomach and could no longer be turned around.
Fiona Erdmann has "bumblebees in Mors" after childbirth
But despite the operation, Fiona seems to be reasonably fit again. "In fact, I'm doing quite well with the caesarean section," reported the former "GNTM" candidate in her story. "Thanks to my mom, I have good genes. Wound healing has never been such a big issue for us."
That's why there is no trace of bed rest with her – the mother of two has apparently already returned to everyday life. "I have bumblebees in Mors," she explained jitterily in her Instagram story. "I'm busy tidying up the place and sorting everything because nobody knows what goes where."
Miscarriage in spring 2021
The fact that Fiona Erdmann is now allowed to hold her second child in her arms is something very special for her, because the model had a miscarriage in spring 2021. Her second son's heart had already stopped beating in the eighteenth week of pregnancy, which is why he had to be delivered in a still birth.
(fw)
Source-www.watson.de