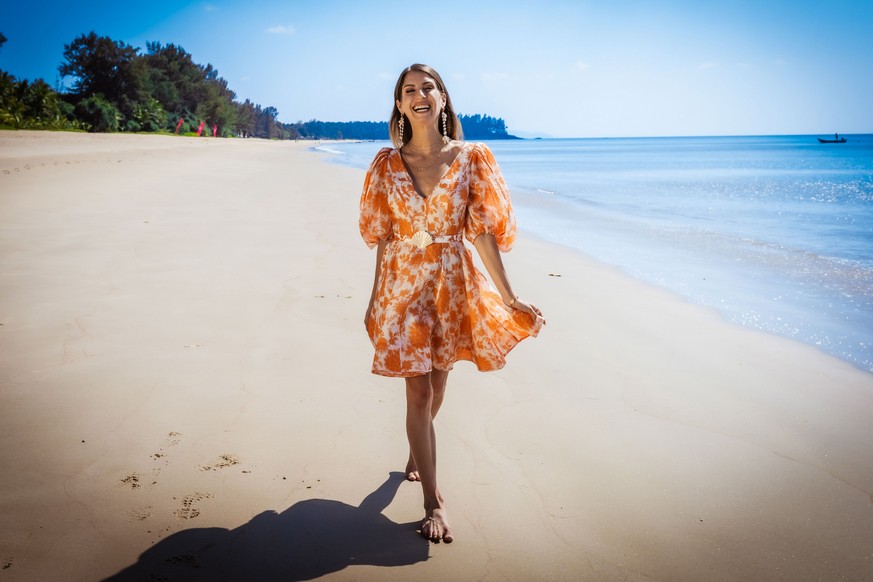 Cathy Hummels is currently vacationing in Miami.Image: dpa / PARIS TSITSOS
Cathy Hummels' latest Instagram post creates a need for conversation among fans and followers. That social media posts from her have the potential to spark lengthy discussions in the comments column is nothing new. On Sunday, the 33-year-old uploaded a picture of herself on the beach – and once again the reactions were not long in coming.
Cathy Hummels: Sunburned on Miami Beach
The wife of Dortmund kicker Mats Hummels is currently on vacation in Miami, Florida. The colorful city on the east coast of America is known for its tropical climate and beautiful sandy beaches. The influencer not only enjoys both herself, but of course also lets her more than 678,000 followers share in her experiences in the form of photos and stories.
Spending a lot of time in the sun can also lead to one or two sunburns. So also with Cathy Hummels. But she seems to be having fun and posts a photo in the ultimate holiday look: In a bikini, sunglasses and cap, standing ankle-deep in the Miami sea. She writes, "Oops… I fell asleep in the sun!!!"
Fans worried about Cathy Hummels
You could now be happy with the moderator about her break, but many followers have other things in mind. Because if the influencer posts a photo of her body, it almost immediately rains presumptuous comments about her weight. So also in this case. "I really like you, but please gain some weight. "Pictures like this make young girls feel 'fat'," writes one user. "A few more pounds on your ribs and you would look healthier," another. Some are also particularly short: "Sorry, but that's not sexy."
It is a constant body shaming that the 33-year-old is exposed to. But the carelessness with which many followers write under Cathy Hummels' pictures does not go uncommented. "This woman deserves such great respect to look so beautiful. You are as great as you are and have really achieved a lot! Don't let it get you down." says a follower.
Others denounce the body shaming of their fellow followers: "Body shaming also works against slim people. Some of the comments here are. You can't say anything against overweight people, but against slim people? Very bad double standards !!!", Cathy Hummels defended.
Already in her book "My detour to happiness" the presenter spoke openly about her problems with depression and eating disorders. But derogatory comments can still be found under their posts. Cathy Hummels is far from being dissuaded from sharing her holiday pictures on social media. She herself has already agreed RTL: "I'm not hiding. I don't need to hide." So it's clear that even harsh criticism of her appearance doesn't throw her off course that easily.
(ckh)
Source-www.watson.de