Six hour surgery
Chiara Ferragni's husband: Singer Fedez had to have his tumor removed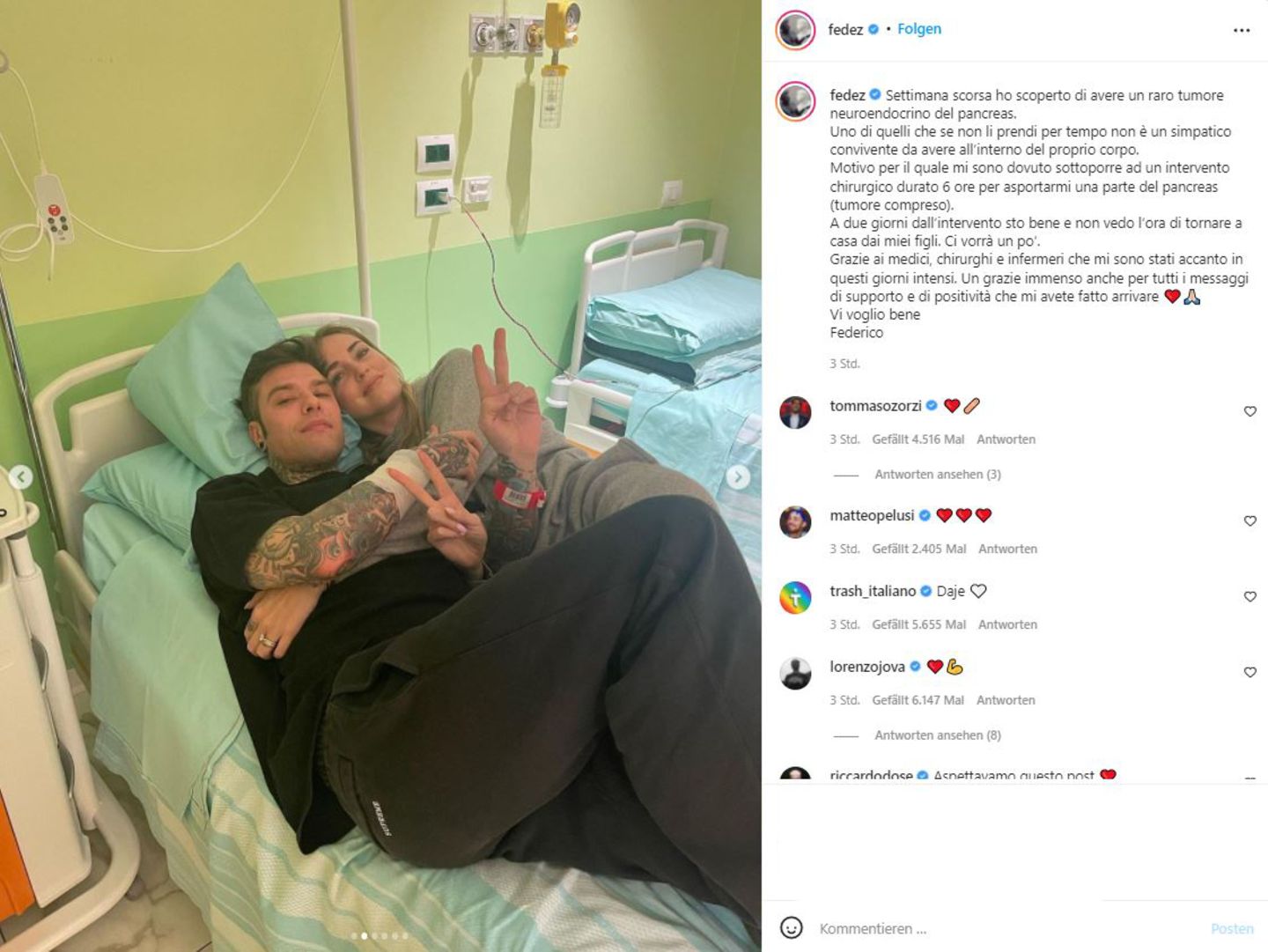 Italian musician Fedez revealed last week that he is seriously ill. Influencer Chiara Ferragni's husband has now given an update.
In the hospital gown he shows the victory sign, a tired smile on his face: The Italian musician and husband of Chiara Ferragni, Fedez, has reported to his fans with a health update.
Fedez gives health update

"Last week I found out that I have a rare neuroendocrine tumor in my pancreas," he wrote on his latest Instagram post. "One of those people who, if you don't notice them in time, aren't a comfortable roommate in their own body," he adds, reporting that that's why he had to go to the hospital to undergo "a 6-hour operation [zu] to remove part of my pancreas (including the tumor)," explains Fedez. He is now looking forward to going home again.
One of the images shows Fedez's wife, influencer Chiara Ferragni, lying in the hospital bed with him. She also shared the picture with her more than 26 million followers. "We feared for everything: his diagnosis, his surgery, his recovery, our life and that of our family," she wrote.
Chiara Ferragni is also in touch

In the week following the diagnosis and before the lavish surgery, the family focused on time together. "We took time off from social media, spent as much time as we could with the kids, did lots of visits and checkups, went for walks, ate ice cream on a bench, spent time with his closest friends, recorded music (he did and I was listening), slept with Leo in our bed (he usually sleeps in his room) and celebrated his fourth birthday," she explained.
Ferragni and Fedez are parents of two children together. Her younger daughter Vittoria Lucia was born in March last year and her son Leo is four years old.
ls
Source-www.stern.de