The Netas Divinas program presented Galilea Montijo as its new presenter, so, at a press conference, the presenter of Hoy assured that she is not afraid to reveal her truth in the program.
This May 4 Galilea Montijo, in the company of Paola Rojas, Consuelo Duval, Natalia Téllez and Daniela Magún gave a press conference on the set of Netas Divinas on the occasion of the presentation of its new member.
During the conference, Montijo was honest about how he feels being part of the program, since it is characterized by the fact that its presenters expose situations that they have experienced and reveal some of their most intimate secrets, which is why they will surely have to talk about the recent controversies in which she was involved.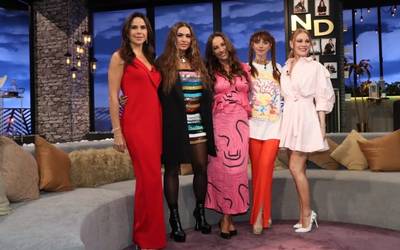 When questioned by the press about how much she fears exposing her personal life in Netas Divinas, she assured that, after what they have said about her, she is not worried about giving her truth about her scandals.
"After everything they've said about me, do you think I care if I'm telling the truth? I mean, on the contrary, you don't know how grateful I am for this space. In fact, I told my husband the other day: 'Hey, how do you see the Netas thing?' it's about you being neat'".
She added that in the conversation with her husband, Fernando Reina, he told her that if she was not willing to speak the truth, it was better that she not join Netas Divinas, because the public would realize that she is not being completely honest and they would stop seeing her.
Reina's words encouraged her more to be the host of the program, because she is willing to talk about the topic that they put on the table.
In this vein, Consuelo Duval made a request to the press so that there are no attacks on Galilea, because now more than ever she will be exposed to the public's opinions about her personal life. Likewise, she stressed that the four presenters receive her in the best way and will be there to support her.
"In recent months Galilea has been exposed and this, that it enters Netas, gives the public a lot of permission to give their opinion without knowing and to attack without knowing. What I want you to know is that these four women receive it with all the love of a woman, of friends, that at no time will their words of 'Galilea no va' permeate our ears, nor waste time".
Duval also clarified that at no time was he upset when he was informed that Montijo would join the program, because he did not think that his partner was taking his place since each one had earned their space in Netas Divinas.
She added that just as Natalia Téllez, Paola Rojas, Daniela Magún and she are already friends, Galilea will become part of their circle and surely the public will be able to see them enjoy their anecdotes in an atmosphere of trust.
The presenter of Hoy, in her presentation, mentioned that one of the things that excites her the most about being part of this project is that all her companions are women with whom she feels identified.
"I am excited to work with women mops, with warrior women, who are finally mothers, of different flavors, colors, but with one thing in common, that we are hard workers," said Montijo.
Source-lapagina.com.sv