The intimate circle of Gerard Piqué's partner, Clara Chía Martí, minimized the impact of Shakira's new song and highlighted the young woman for having dealt with this situation of "harassment" with maturity.
Shakira Y Gerard Piqué They continue to be the center of attention of international newspapers as a result of the disclosures that have been revealed after their separation. Recently, much has been said about the mental health of Clara Chía Martí, which would have been affected by the accumulation of accusations and media pressure that she received after the premiere of the new hit by the Colombian singer, which was aimed directly at her.
Due to this, the sentimental relationship between Piqué and Clara Chía continues to be the target of criticism; However, despite the scandal of an alleged infidelity towards Shakira, the 23-year-old has opted for silence, for which she, to date, has decided not to declare to any media about it.
And well, she would have wanted it that way, but her relatives and close friends did not. Last Wednesday, January 31, the El Confidencial portal brought to light what would be the first testimonies from those close to Clara Chía about her media lawsuit with Shakira.
As indicated to the aforementioned medium, despite the criticism against her, Clara Chía is calm and happy. Regarding Shakira, what has been known is that the 23-year-old's friends refer to her as "Gerard's ex".
"They didn't expect Gerard's ex to do what she did, but that's how she portrays herself. Clara has never said anything nor is she going to say it, she would miss it more, "said one of Clara Chía's closest friends.
Paparazzi denies that Clara Chía is hospitalized
The Spanish journalist Jordi Martin clarified the panorama on the current state of health of Clara Chía Martí, who days ago would have been in a bad mood for not knowing how to deal with criticism in networks as a result of the darts that Shakira threw at her in her new song.
In this regard, the correspondent for "El gordo y la flaca" denied that the young woman had been admitted to a clinical center in Barcelona, ​​as several Spanish media had reported hours ago. "I saw her smiling and happy. She knows that I have information that she and her boyfriend are trying to silence, and I will release it shortly," Martin said.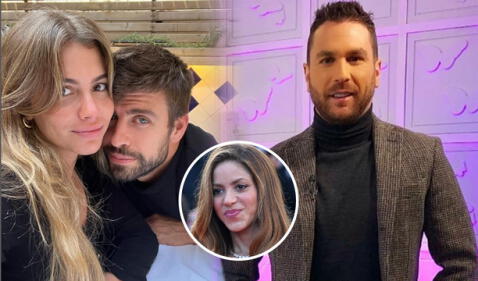 Jordi Martin spoke about Clara Chía's supposed anxiety attack. Photo: composition LR/ broadcast.
Source-news.google.com