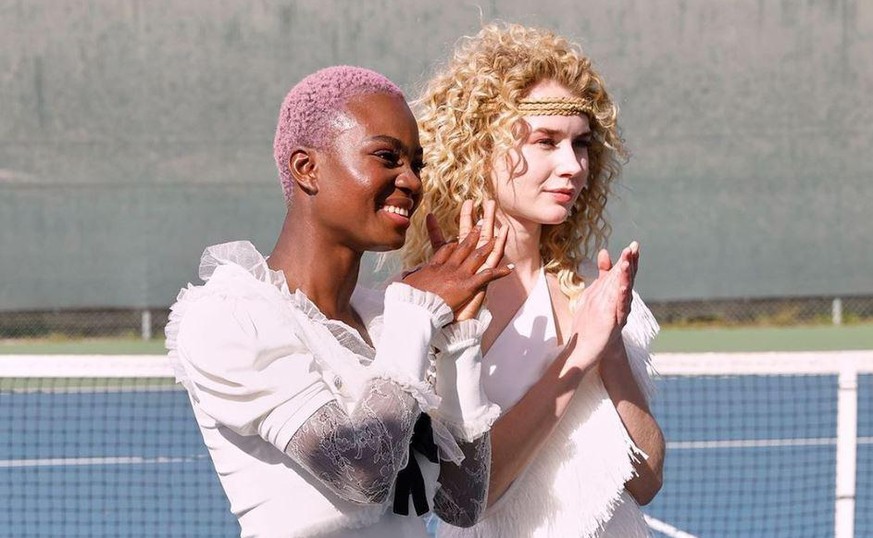 Noëlla and Luca are still fighting for the title "Germany's next top model".Image: ProSieben / Sven Doornkaat
The current 17th season of "Germany's next top model" is receiving a lot of criticism on social media – now the fans have identified another target. This time, chief juror Heidi Klum has made diversity particularly important. All women got a chance in their ProSieben casting show, regardless of their age, clothing size or body size.
In the first place, however, one thing in particular has not been the focus at all: photo shoots. Often a snapshot was taken during a live walk or just video scenes and commercials for fake products were recorded. Of course, none of this finds its way into the coveted model portfolios of the "GNTM" candidates. When Noëlla was supposed to present her extremely thin portfolio on Instagram, the comments were anything but benevolent.
Noëlla shows a measly "GNTM" model portfolio
To classify: Only seven candidates are left, 14 episodes have already been shown on ProSieben. It has actually been part of the standard program of the format so far that at least one photo shoot has to be completed in every episode.
Except for Lena (far left), the candidates pictured are still in the running at "GNTM".Image: ProSieben
In an Instagram post by "GNTM", Noëlla should now present her portfolio to the community: "There's a lot in there, and most importantly, it's good!", the extremely short clip was commented on by ProSieben. Ultimately, the video lasted about 15 seconds and the candidate presented two pictures from the comp card shoot, the result of the nude shoot and the result of the tennis photo session, before she closed the folder again.
That was clearly not enough for the commentators under the post: "Only three photos?" and "It felt like there were only two shoots this season", judged two users. Another wrote: "Unfortunately very, very little for the quarterfinals." And finally, an often liked post reads:
"So sorry, but that's the top 7 with four shooting pictures from three shootings. I would say: Very, very weak for a model series! Yes, dancing and commercials are important, but not so much that only three Shootings come out of it."
"GNTM" candidate is apparently not satisfied with all photos
But it is also true that Noëlla considers, among other things, a picture of a trampoline shoot to be "bad" for her portfolio, which is obviously missing in the clip. In fact, the photo is not necessarily successful either, Heidi made her tremble for the result after the session in the episode in question.
On her Instagram page, which Noëlla received from ProSieben and which is already followed by almost 31,000 people, she still uploaded the picture. But even there, the 24-year-old did not necessarily have positive things to say about it: "Worst Shooting Ever"she commented on a remark at her feet.
Noëlla's "GNTM" book also lacks pictures of group shoots or photos that must have been taken during the live walks. For example, a snapshot of a shoot that took place in a kitchen setting is also on Noëlla's Instagram channel, but not in her portfolio.
It remains questionable how many photos will go into the model portfolio of Noëlla and the other remaining candidates: In the new episode, the "Harper's Bazaar" cover is already being shot, but only the winner of the season will receive the photo at the end. It remains to be seen what other challenges Heidi has come up with before the grand finale and to what extent they will have anything to do with shooting.
(cfl)
Source-www.watson.de