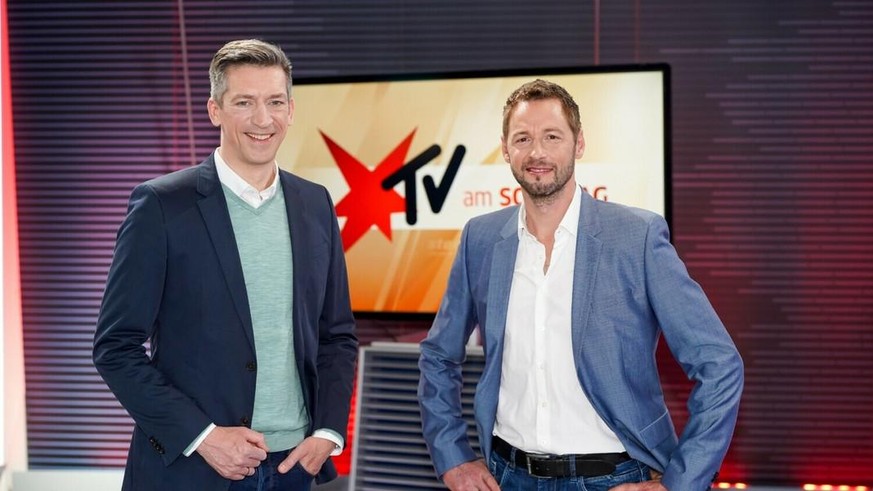 Steffen Hallaschka and Dieter Könnes, the moderators of "Stern TV".Image: RTL / Guido Engels
On Sunday evening there was another edition of "Stern TV", since the end of April RTL has been showing the successful show not only on Wednesdays but also on weekends. Dieter Könnes, who alternates with Steffen Hallaschka as moderator, is new. This Sunday he welcomed, among others, the activist Jacob Heinze, who took a seat in the "hot seat" with a radical demand: he advocates the complete renunciation of meat in Germany – in the form of a legal ban.
The 27-year-old did not receive much encouragement for this, and "Let's Dance" juror Joachim Llambi was skeptical on the show. Finally, there was a lot of ridicule for Heinze on social media.
"Stern TV": Discussion about meat ban
In the fight for more climate protection measures, the activist went on a hunger strike in 2021 until he passed out and had to be hospitalized. Actions like these, which are already referred to in the clip on "Stern TV", show how serious Heinze is with his demands. One of his concerns is that people change their diet, he himself has been vegan since 2013 – "because I couldn't bear the terrible pictures from the slaughterhouses anymore".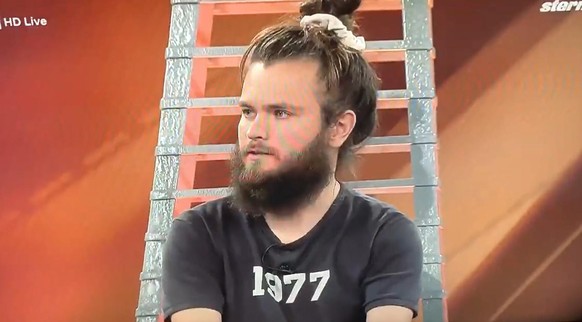 Jacob Heinze in the "hot seat".Image: rtl screenshot
"Excessive meat consumption is fueling the climate catastrophe", he paints a bigger picture on the show. Therefore, clarification alone is no longer enough for him. With the words "I demand a legally anchored ban on meat for everyone" he faces the other "Stern TV" guests, including the "Let's Dance" juror Joachim Llambi, who is known for his clear announcements on Sunday.
First, Könnes asks chef Dirk Müller, who admits that after Heinze's explanations he has "a little" increased heart rate, although he can at least understand the motivation of the "Fridays for Future" supporter. "History has taught us that prohibitions and constraints have never achieved anything," he replies. Rather, one must "go beyond the consciousness of the people". Joachim Llambi sees it very similarly:
"In the end, bans will always lead to paths that cannot be controlled."
In addition, he brings up a second point and says: "We live in a free society. I want to decide for myself whether I'm willing – under certain conditions – to eat meat." The 57-year-old believes that the general conditions in production, including for the animals, need to be improved. Nonetheless, he persists: "I don't want to be banned from what I would like to eat. That would be exactly the same as if we said there will be no more speculoos at Christmas. Your extreme demand is so extreme that it will not be enforceable."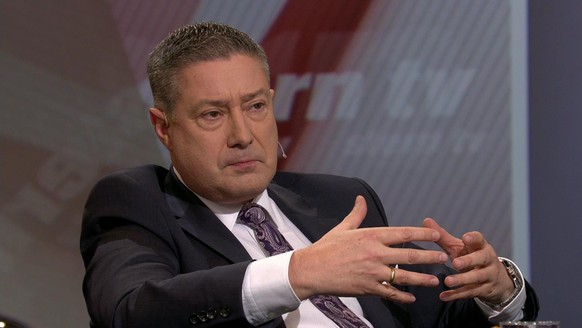 Joachim Llambi has been a guest on "Stern TV" several times.Image: rtl
51 percent of greenhouse gases come from the animal industry, says Heinze, adding even more weight to his point. However, the moderator then displays statistics from the Federal Environment Agency for 2020, which says that agriculture "only" causes 70 million tons of greenhouse gas emissions and is thus far behind the energy industry (280 million tons) or transport (150 million tons). "I am not familiar with these statistics," the activist has to admit at the point. The statistic he quoted would take global emissions into account. "You're calling for a ban in Germany, so it's legitimate that we use the numbers from Germany," Könnes counters.
"Stern TV" guest reaps Shitstorm on Twitter
On Twitter, as in the studio, a fairly clear picture emerges. Most users seem to be on the side of Müller and Llambi here, but formulate their opinion even more drastically. A user, for example, calls Heinze's demand "completely irradiated".
The guy's totally irradiated, and his incompetence is doing his cause a disservice. #startv

— Sukram (@Sukram17850065) May 8, 2022
The following sentence, with which the activist – albeit presumably only inadvertently – equates animals and humans, also provides amusement: "In Germany, two million people die every day. Not just because of illness or old age, but because they are slaughtered."
He's just saying: 2 million people die in Germany every day.

Because they are slaughtered.

What a vegetarian dork.#startv

— ☕Latschenhatscherin (@ranke09) May 8, 2022
(yeah)
Source-www.watson.de