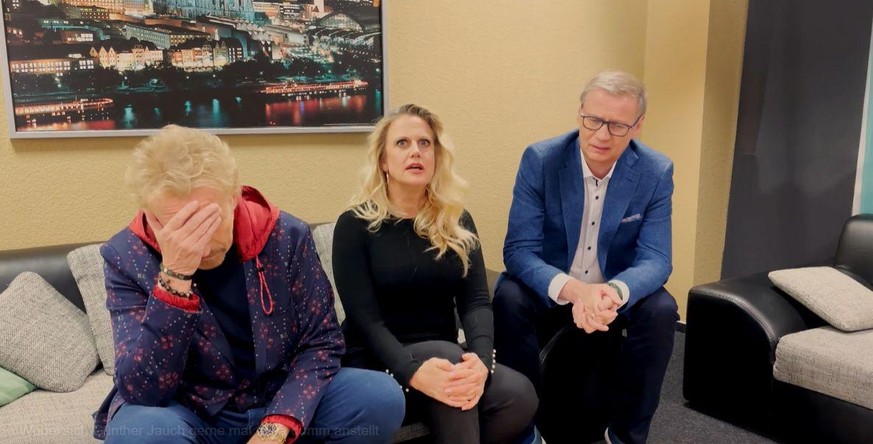 On Saturday, January 15, the three RTL stars can again compete in a wide variety of tasks and games from 8:15 p.m.Image: rtl.de/screenshot
"Because they don't know what's going to happen – The Jauch-Gottschalk-Schöneberger Show" has started a new round on RTL. Under the direction of TV presenter Thorsten Schorn, Thomas Gottschalk, Günther Jauch and Barbara Schöneberger have to prove themselves in the XXL game show in absurd game and quiz rounds in TV prime time.
in the RTLinterview, the triumvirate gave spontaneous answers to quick questions and gave refreshing insights into their private lives.
"I break off contact with tea drinkers!"
Günther Jauch reveals that he does not use Whatsapp and therefore does not exchange messages with his two colleagues. "Most of the year we ignore each other", the 65-year-old confesses with a grin. Schöneberger, who presented numerous other formats on television in addition to the NDR Talk Show, added: "You have enough to do!"
However, Schöneberger does not waste her time with certain people: "I break off contact with tea drinkers!", she replied when asked how she would choose between tea and coffee. Luckily, the two gentlemen also chose the caffeinated hot drink.
On other points, however, the team is completely divided: When Günther Jauch came out as a cat fan, Schöneberger was visibly shocked: "Ewww, honestly?!"
Teamwork makes the Dreamwork
How good that the trio makes a wonderfully well-rehearsed team, at least in front of the camera. Because: You can't play the games as lone fighters.
With "Because they don't know what's happening", the moderator trio really doesn't know what's going to happen: neither who will moderate the evening nor who will play as a team, let alone which prominent candidates they will compete against in which disciplines.
At the beginning of each program, it is decided at random which of the three will take over the moderation; the remaining two form a team and play against two celebrities who change with each show. The two teams duel in different games. At the end there is always a final game, which decides on the victory.
On January 15, RTL will broadcast the next edition of "Because you don't know what's happening!" with Günther Jauch, Barbara Schöneberger and Thomas Gottschalk across the stage.
(abd)
Source-www.watson.de