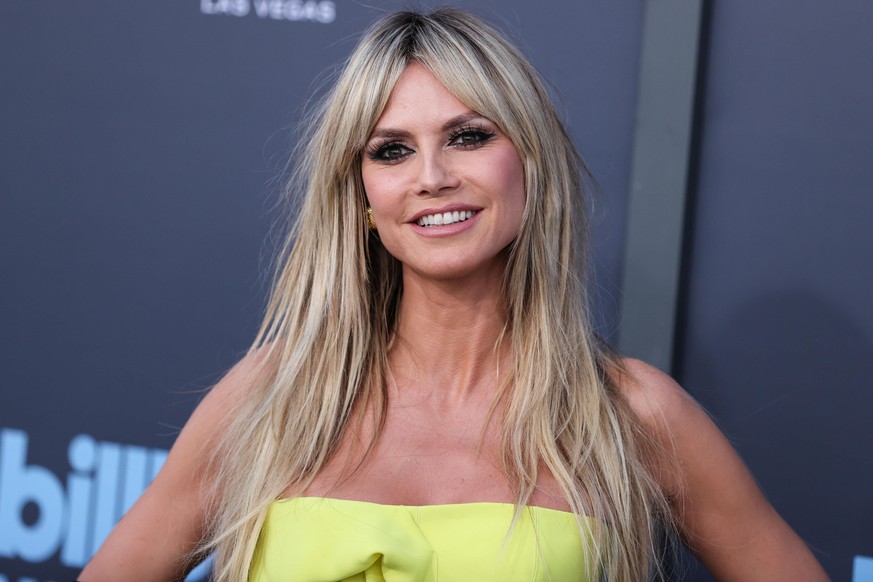 Heidi Klum performed her song "Chai Tea with Heidi" in the finale of "Germany's Next Top Model".Image: NurPhoto / Image Press Agency
The finale of "Germany's Next Top Model" was the top TV event on Thursday evening. But not only winner Lou-Anne was a big topic of conversation afterwards. The live performance by the head of the jury, Heidi Klum, also caused a stir.
Because even before the audience got to see the young models, they had first Heidi and her husband Tom Kaulitz come first. The two of them sat at the piano and provided the opener for the big show. After the first notes of "Chai Tea with Heidi" and a kiss for her husband Tom, the juror appeared on stage in a glittery bodysuit and fringed pants to heat up the audience.
Heidi Klum sings the season song
After the performance, which was unusual for her, Heidi had to take a deep breath. "First a water. My husband wrote it, I'm sorry if it was wrong and your ears hurt."she said after her performance.
Her intuition doesn't seem to have entirely deceived her: Many made fun of Heidi's singing skills online. "My God, now she's singing too," wrote one user. "Who lied to her?" Asked another, probably assuming that Heidi had not received any honest feedback on her singing in the run-up to the show.
My God, now she sings too!
Then a yoghurt klum fresh from the foot! #Heidi Klum

— Holger Hinz #StandWithUkraine (@holgereluard) May 26, 2022
Other viewers were also uncomfortable with the appearance of the "GNTM" judge. "I think every year that the 'GNTM' opener for the finale can't get any more unpleasant and I'm taught better every year," said a user. Another disagreed and recalled 2019, where candidate Theresia Fischer had married live in the season 14 finale.
yes this finale is cringe but let's not forget the finale with the wedding #GNTM

— malin!! harry's house (@heylouitsmalin) May 26, 2022
Think every year that the #GNTM Opener for the finale can't get any more unpleasant and I'm taught better every year.

— Jule (@accioxluck) May 26, 2022
Jokes about Heidi's looks and omnipresence
Others made fun of Heidi and Tom's looks. The performance visually reminded some of ABBA. Another joked that Florian Silbereisen and Helene Fischer had changed quite a bit.
The network also joked about the great presence that Heidi Klum has in the casting show. So one user took the trouble and quickly redesigned the show's logo to "Heidi Klum by Heidi Klum".
Heidi Klum is proud of her appearance
On Friday, the 48-year-old commented on her show on the Internet. For a clip showing Heidi and Tom's duet, she wrote: "This live performance was a big step outside of my comfort zone. And while I'm not a singer and I know I didn't sound perfect, I'm proud on me." Finally, she addressed loving words to her husband. "I love you, Tom," she let the 32-year-old and her community know.
By the way, after the "GNTM" finale, Heidi and Tom are no longer in Germany. As can be seen from Heidi's Insta story, she and Tom are currently in Rome to spend some quality time together. And maybe also to celebrate Heidi's birthday? The model turns 49 on June 1st.
(nick)
Source-www.watson.de