British heavy metal band Iron Maiden will have their own 12 official stamps on British postage.
The stamps will pay tribute to "bona fide rock legends", making the band the fifth musical group to appear on a dedicated stamp issue, after the Beatles in 2007, Pink Floyd in 2016, Queen in 2020 and the Rolling Stones in 2022.
The Guardian explained that eight of the labels feature performances by Iron Maiden and all current members of the band. Featured on the commemorative project are guitarists Dave Murray, Adrian Smith and Janick Gers, singer Bruce Dickinson, drummer Nicko McBrain and bassist Steve Harris.
The other labels pay homage to the band's mascot, Eddie, including him dressed as a samurai warrior from the recent Senjutsu album. The studio album, the group's 17th, was released in 2021 and went to number 2 on the charts.
At this news Steve Harris stated, "We were all absolutely astounded, in a good way, when we first heard about the commemorative project, and we were equally speechless when we first saw the stamps. They look magnificent and really capture the essence and energy of Maiden."
For his part, the manager of the musical group, Rod Smallwood, said, "As a band that has never played by anyone else's rules for more than 40 years, it is very gratifying to see them honored in their home country in this way. We are proud to show how these six band members continue to attract more and more fans every year with their legendary music and shows, which I think these labels really capture well."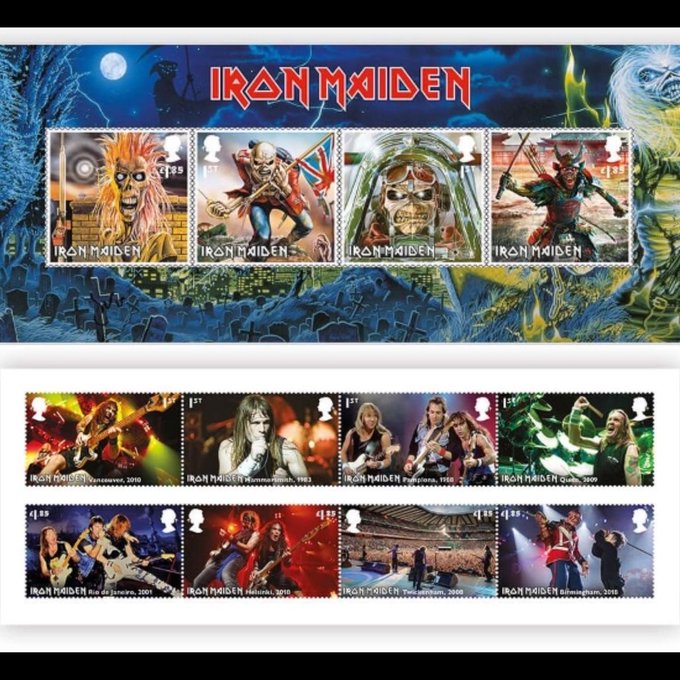 "It's also great that Eddie has also been honored. It is incredible to think that her Majesty, may she rest in peace, saw them and also lent them her iconic silhouette," she commented.
In addition David Gold, the Royal Mail's director of policy and external public affairs, commented that "Few bands in the history of rock music can be called true rock legends, but Iron Maiden are just that, and more."
The British media explained that the Royal Mail stamps are available for order from January 5 and are on sale from January 12.
It should be remembered that the band was nominated for entry into the Rock and Roll Hall of Fame last year, but was excluded from the list of members, following a decision that Gene Simmons of Kiss described as "disgusting".
Iron Maiden was formed in London in 1975 by Harris. According to the Official Charts Company the group has had a UK number 1 hit with the 1988 single Bring Your Daughter to the Slaughter and 35 Top 40 hits throughout their history.
Also, five No 1 albums, including Fear of the Dark, The Book of Souls, The Final Frontier, Seventh Son of a Seventh Son, and The Number of the Beast.
In total, the band has sold more than 100 million records and performed live some 2,500 times in 64 countries. And they are expected to return this year with The Future Past tour.
Source-news.google.com