The couple is on vacation in Washington, DC, and shared some of the adventures they are starring in the American capital.
The journalist Federico Zeledón took a break with his wife Jenny Soto and they took a short trip to Washington, DC, according to their posts on Instagram.
The couple have shared some videos and photos of their journey, as well as tours of historic sites like the Thomas Jefferson and Abraham Lincoln Memorials.
YOU MAY BE INTERESTED: Look at which celebrities went down the aisle in 2022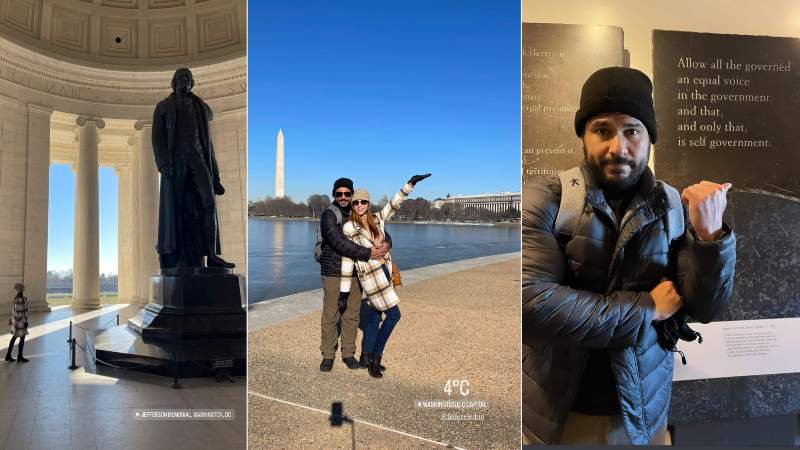 However, one of the contents that attracted attention was the debut of the former presenter in ice skating, where there was no lack of moral support from her supportive husband.
"How do you feel minutes before skating for the first time on ice?" Zeledón asked. "Well here, nervous girl," Soto joked a little.
"I warn you that if she falls, I could not help her because I barely walk, let alone skate," said the host of the Tele2 newscast. "I promise you that I will try to survive," stressed his model.
ALSO READ: La Marielisa, former Salvadoran broadcaster, got married in a beautiful place in California
Before entering the skating rink, Federico gave some indications and stated that he would never be able to do it in his life and that he should not worry because they have travel insurance. How do you think he fared?
Video: Illustrative and non-commercial image/ https://www.instagram.com/stories/jennysotosv/3004254953979798815/
Federico also took the opportunity to take some photos in the park and show his best Grinch side.
Video: Illustrative and non-commercial image/ https://www.instagram.com/stories/fedezeledon/3004297042529408062/
Source-news.google.com