The American actor, hero of Marvel in avengers, thanked those who have taken care of him since his serious snowplow accident.
After a week spent in an intensive care unit, Jeremy Renner thanked on his Instagram account those who have taken care of him since his serious accident last Sunday.
"Thank you to the intensive care team for this new beginning", he wrote in story in caption of a photo showing him with nurses.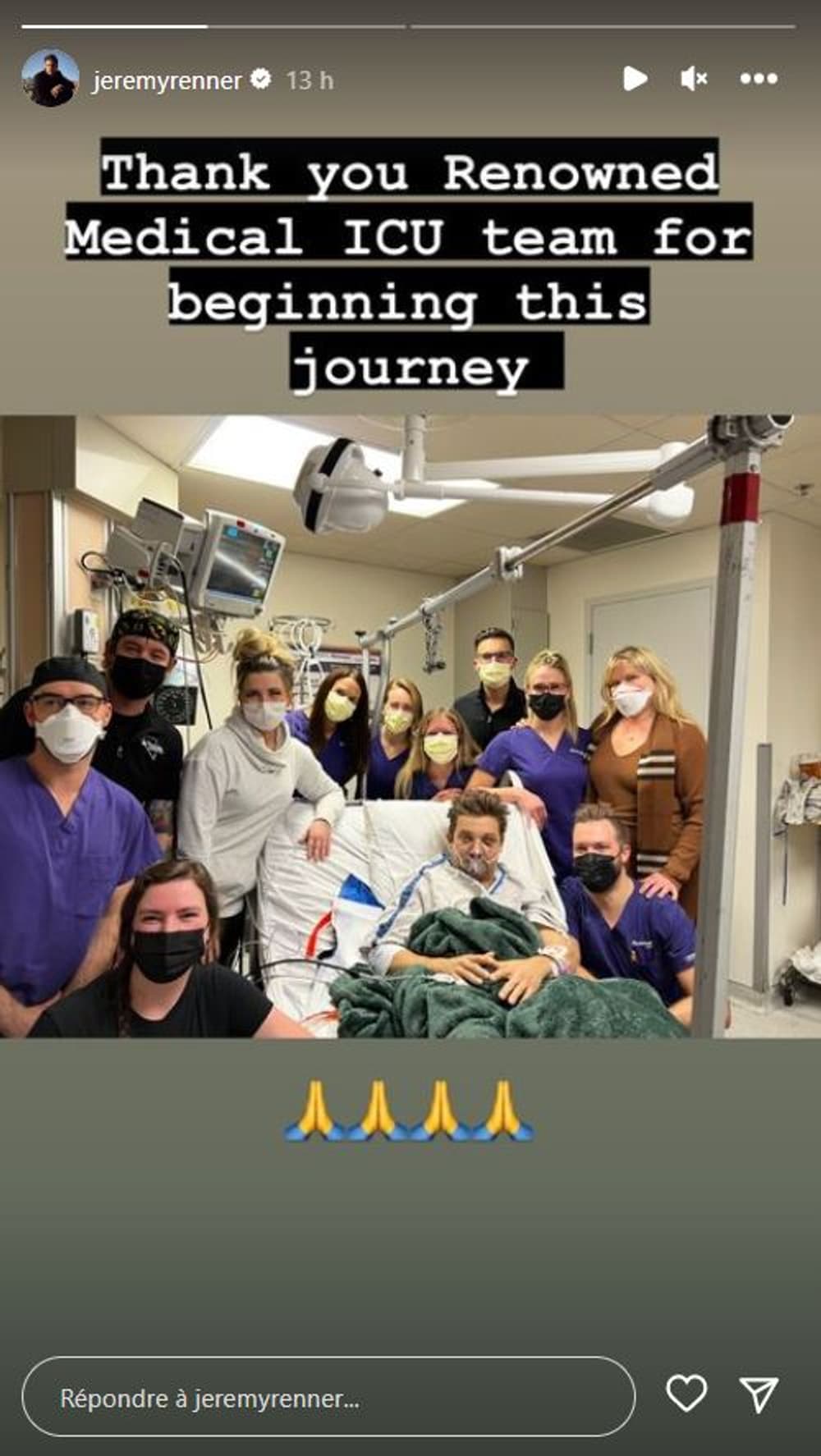 The star ofAvengers: Endgamewho celebrates his 52nd birthday this Saturday, also posted a video on Twitter on Friday where he appears lying in bed, on oxygen, surrounded by his mother and sister giving him a head massage.
"A not-so-great day in the ICU turned into an amazing spa day with my sister and mom. Thank you so much," he says in this video.
Two surgeries
Jeremy Renner was victimized last Sunday of a serious accident while plowing the driveway to his home in Nevada with a specialized snow groomer, weighing about six tons.
According to the first elements of the investigation – still in progress – the actor was driving this snow plow in an attempt to free a snow-covered vehicle when the machine rolled over one of his legs.
Jeremy Renner was rushed to hospital by helicopter and suffered "blunt trauma to the chest" and "orthopaedic injuries", according to statements by his spokesperson. CNN. He has since received two surgeries.
"I'm too beat up to write. But I send love to you all," the actor also wrote in another message posted on his Instagram account.
Source- https://www.bfmtv.com/people/cinema/merci-pour-ce-nouveau-depart-jeremy-renner-publie-une-nouvelle-photo-et-remercie-ses-infirmiers_AN-202301070230.html