The "Bolo" lie is finally exposed on day 13 in the jungle.
But Cecilia Asoro doesn't care – she has to leave "I'm a star – get me out of here".
Meanwhile, Tessa Bergmeier is shocked by hate messages online.
Stay up to date with our live jungle camp blog.
Tessa Bermeier reacts emotionally to severe criticism
Hardly any other camper polarizes in the current jungle camp season like that Tessa Bergmeier. Until she was kicked out on day 10, she caused quite a stir in the camp and in front of the screens. Again and again she quarreled with other candidates and, as a self-confessed vegan, criticized their meat consumption. She received a lot of criticism on social networks for this, some of which even turned into hate and threatening messages.
Shortly after leaving the jungle, Tessa Bergmeier was still relaxed in an interview with our editors and explained that she didn't mind that she was often called a "bitch": "I don't care what anyone thinks. (.. .) I know that I'm straight forward, that I'm honest. And I'm very happy with myself. That's why I don't care at all. You can call me anything."
In the meantime, however, she has realized "the extent of the hatred against me", as she writes in an emotional Instagram post. Comments like "They have to be instructed!" or "They have to go to the pats immediately!" read the 33-year-old who suffers from bipolar disorder. She was "at no time in the camp dangerous or not sane or even ill" and not manic or depressed. "I've been symptom-free for two years." She's even afraid for her children and thinks about "how irresponsible it was to have children" when she thinks about the sick world she lives in. "No one deserves what you do!" She turns to that Instagram post to her haters.(spl)
+++
Cecilia Asoro has to leave the jungle camp
On day 13 of "I'm a Celebrity Get Me Out of Here" must Cecilia Asoro leave the camp. The candidates had wished for nothing more than to finish in the last three. Cecilia Asoro's last minutes came at the end of the jungle camp episode. What will the reality star treat herself to after moving out? It probably won't be a plate of spaghetti Bolognese, and Asoro should be able to do without that for the time being.
Fans also regret the ejection of the participant on Instagram: "It's a shame that , is out," writes a user. Another comment from another user reads: "Another user comments on the kicked-out picture with: "It doesn't matter, for me you were the queen in there." (SpotOn)
+++
The other news from the jungle camp 2023:
Claudia and Djamila clear up their "bolo lie"
Nothing better than the "Bolo lie" could not have happened to the jungle camp. Also the moderators Sonja Zietlow and Jan Köppen is already obvious in the show on Tuesday, with what glee they brought the story to the jungle people.
On day 13 now wants Djamila right once and for all what happened – or rather, what did not happen. "gigi, did you hear about the Bolognese? There was no offer!" And Claudia adds: "We just wanted to do a gag. We didn't think anything of it." Gigi doesn't find it funny: "It's funny something else."
Of course, the topic is also chewed through in a large group – if there's nothing else to eat. Claudia explains how the "Bolo lie" came about. "We wanted to give you a tit-for-tat, maybe it wasn't ok from us. We can apologize if you want." Djamila intervenes: "Actually, it was your idea, but we both did it. Now it has to be the end, because I've only been listening to pizza and Bolognese for days."
For Daddy's Loveday the topic is not off the table yet. "That got me so upset. It would have been nice if you'd said that straight away." And Gigi can't handle the lie either. "For me it was a provocation," he says to Claudia. "That's why we're just avoiding each other now." But this sentence was probably not what Claudia Effenberg wanted to hear. "It's such a hardcore number again, what's the point? I could always start with the old pizza. I could have said, you really ate the pizza: What's worse now? When you're kidding someone or actually eating something?"
The fronts remain hardened. At the campfire, Cecilia digs up the topic again – and takes the side of Gigi and Cosimo. "You made them feel so bad about the pizza and then you come with the Bolognese." Gigi is clear: "It was a provocation, that's it!" In Lucas Cordalis However, Claudia has found an advocate. "Did I say to you, Gigi, that I won't speak to you anymore because you ate a pizza?"
"Bolo Lie" and "Pizza Gate" – nothing better really could have happened to the jungle. (pak)
+++
"Bolo Drama" and "Pizza Gate"
In the jungle camp, after the "pizza gate", the big "bolo drama" is looming. After Gigi Birofio and Cosimo Citiolo had eaten a pizza alone instead of bringing four eggs for the community, Claudia Effenberg wanted to wipe out the two. After their treasure hunt, she suggested Djamila Rowe to claim that the two women skipped a tasty helping of spaghetti bolognese. At first they received a lot of praise for it and especially Cosimo's remorse increased again.
But Djamila Rowe felt guilty and confessed to Cosimo that she was a swindler. Sonja Zietlow and Jan Koppen finally cleared up Claudia's "Bolo lie" in front of the assembled camp residents – and that will cause a lot of stress on day 13 in the jungle camp!
A jungle reporter revealed this in advance at "Point 8": "Some take it as fun, but others are even amused about it. For example, papis, I can tell you, he's very disappointed," she explained. It was already apparent after Sonja and Jan's revelation that Papis Loveday would be stunned by the lie. It remains to be seen whether the remaining candidates will also oppose Claudia … (spl)
+++
Who is Gigi's "Pearl"?
Gigi Birofio went to the jungle camp as a single, even said he wanted to be responsible for the first jungle sex in the history of "I'm a Celebrity – Get Me Out of Here". The 23-year-old's confession at the campfire was all the more surprising, how much he would miss his girlfriend. On day 12 he even talked about wanting to have children soon. But who is his "pearl", as he calls it himself? RTL found her – and in conversation she was surprised by Gigi's words. (pak)
+++
Jana Pallaske flies out of the jungle camp on day 12
On day 12 the prayers are from Jana URGENT Pallaske heard: she was allowed to leave the jungle camp. The actress has been on the jungle tip several times and this time lost out to Claudia Effenberg (who also had to tremble a few times). But the 43-year-old was happy: almost as if she had won the title of jungle queen, she hopped around the campfire a few times when Sonja Zietlow and Jan Köppen told her the caller's decision.
"I'll miss you so much, but I'm just at the end, it was long enough," she finally said in the round. It had become more likely every day that she would give up voluntarily and give up everything. (SpotOn/pak)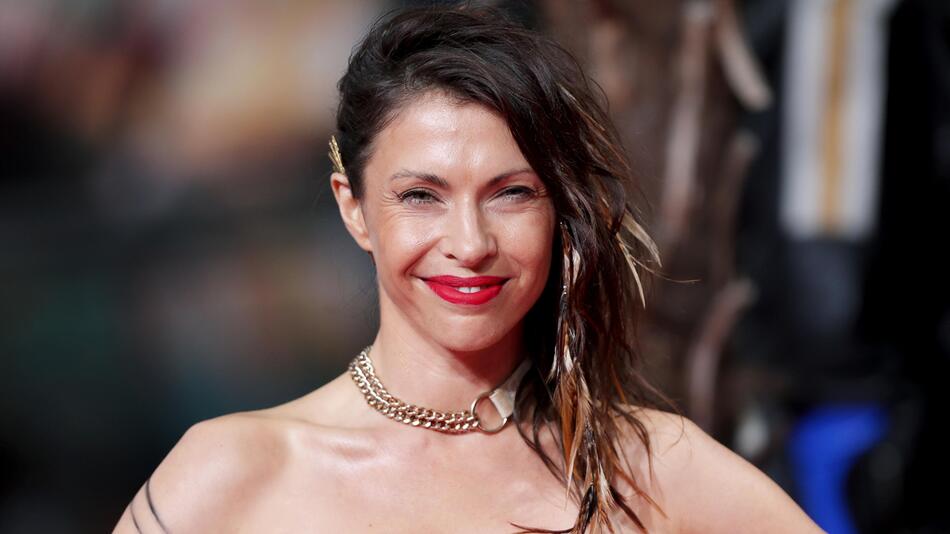 There were only eight left: actress Jana Pallaske had to say goodbye to her fellow campaigners on day 12 and leave the camp. Meanwhile, Djamila Rowe and Cosimo Citiolo struggled with the "wall of shame".
+++
Before she was kicked out: Jana Pallaske talks about her traumatic time in Hollywood
Night watch in the jungle usually means: time for quiet conversations and emotional confessions. On day 12, actress Jana "Urkraft" Pallaske pours out her heart and tells Jolina Mennen how she discovered her closeness to nature. "When I was in my early 20s, I had a band with my boyfriend at the time, a wild rock band. When it all fell apart, it was a collapse of many things for me – as if a circle had ended," says the 43-year-old.
After that she made more films, including in Hollywood and Los Angeles. There, however, she was "completely traumatized," Pallaske continued. She quickly realized that she would not sell her soul for it. "There was just constant sexual assault. It was so common, it was clearly required." Nature then "healed" her from the bad experiences, Jana explains. "In the jungle, I took off my armor piece by piece and felt my wings spread again, how I dared to step into my female power again." (ari/fte)
Also read: Jana Pallaske: "I almost died of anorexia when I was 19"
+++
Buddy Mike Heiter reveals secret: This is Gigi's "pearl"
Actually, he didn't want to get emotional at all, but eleven days in the jungle also leave their mark on Gigi Birofio. The 23-year-old keeps talking about his "pearl" that he misses. "I miss her completely. I would really like to hug her now," he admits in an interview with Cecilia. Later in the jungle phone, a few tears even roll down: "She's the most important thing in my life at the moment. She always wants me to show more emotions." But who is the mysterious lady – or the "little diamond", as Gigi calls her?
Now his friend Mike Heiter, who accompanies him to Australia, is revealing the secret: "Dana Feist is known from various reality formats, including 'Love Island'," Mike told "Bild". Gigi and Dana have dated and spent time together a few times. "Gigi told me it was good for him," explains the 30-year-old reality TV participant. (ari)
+++
"Giant Baby": Cosimo is bullied in the jungle
On the eleventh day in the jungle, some campers made fun of the "Checker vom Neckar" Cosimo Citiolo. Cecilia Asoro called him a giant baby. Model Papis Loveday told Citiolo that he was "very sensitive". "You are the very first artist I know who complains while sleeping." Singer Lucas Cordalis described the 41-year-old as "Princess and the Pea". "Are you a hetzer now or what's that called?" Cosimo Citiolo, previously known by the nickname "Checker vom Neckar", answered him. (dpa/ari)
"Jungle Camp" star Cosimo Citiolo seems to have a penchant for filters. For this he gets a shit storm from his fans.
+++
RTL refrains from being kicked out on day 11 – that's the reason
The next expulsion has been postponed in the jungle camp – all remaining nine celebrities can continue to hope for the crown. On the RTL show, nobody had to leave the camp in the episode that was broadcast on Monday evening.
The moderators Sonja Zietlow and Jan Köppen justified the waiver of being thrown out with the fact that this year one more episode of "I'm a Star – Get Me Out of Here" will be broadcast. This time the final will take place on a Sunday and not on a Saturday as usual. (dpa)
+++
Also read:
The time has finally come: the candidates for the jungle camp 2023, which starts on January 29 on RTL, are known. These celebrities will participate in "I'm a Celebrity – Get Me Out of Here!" alongside Lucas Cordalis, who couldn't be there in 2022 due to Corona. take part.
Source-news.google.com