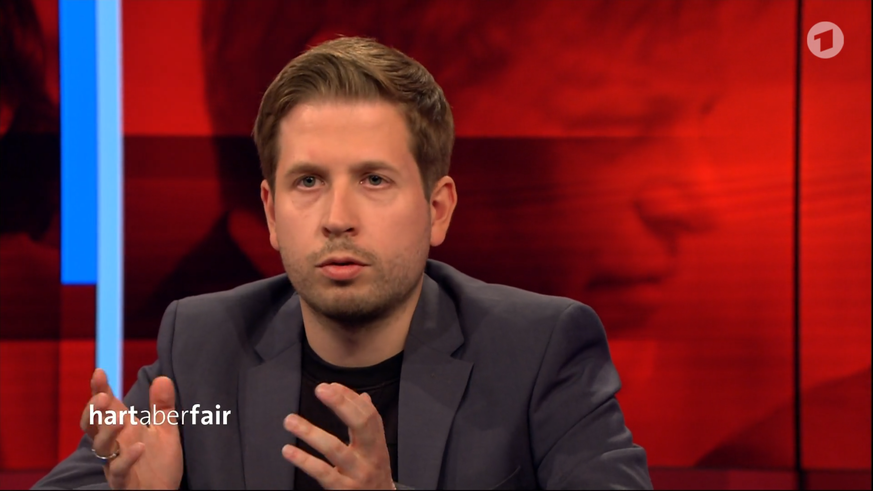 SPD General Secretary Kevin Kühnert speaks plain language about Olaf Scholz and election advertising.picture: screenshot ard
In the NRW state elections on Sunday, a black-green majority has the SPD clearly beaten. Also the FDP suffered significant losses. "Triumph for Black-Green: Was the traffic light just an accident?" Frank Plasberg names the topic he is discussing with the following guests:
Kevin Kühnert, SPD, Secretary General
Omid Nouripour, Alliance 90/Greens, Federal Chairman
Carsten Linnemann, CDU, deputy party chairman
Melanie Amann, member of the "Spiegel" editor-in-chief and head of the "Spiegel" capital city office
Michael Bröcker, Editor-in-Chief of Media Pioneer GmbH
SPD General Secretary Kevin Kühnert has not had a good time. In the NRW state elections, the SPD achieved its worst result ever in its former stronghold of North Rhine-Westphalia, with 26.7 percent. And yet on Sunday evening, according to the first projections, he allowed himself to be carried away to explore the chances of forming a red-green state government. "Of course, the runner-up can also negotiate a government." That sounds much more like a striving for political power than the will of the voters.
"Yesterday I saw a perfectly normal general secretary," Plasberg teases in the direction of the former Juso chairman. Doesn't he actually stand for a different style of politics? After Kuehnert slept on it one night, he sees the world differently. At least a bit.
"We got a bad result yesterday, in case you want that confirmed again. We didn't win the elections, which is why we don't run around powerfully and forcefully and say: 'No one but us can form a government.'"
Kevin Kuehnert
The election in the most populous state of North Rhine-Westphalia is often seen as a "small federal election", i.e. as a reflection of federal politics. Frank Plasberg quickly comes to Olaf Scholz – whether the defeat in the election is also due to his performance as chancellor. Only 39 percent of Germans are satisfied with the work of Olaf Scholz, Plasberg reports a statistic. Kühnert criticizes, somewhat piqued, that there is a more recent survey that shows approval of 50 percent. "You can pick out from the great jumble of numbers what fits exactly into the narrative."
That changes little about the fundamental problem: Scholz apparently still has a lot of room for improvement when it comes to his communication. "It is the case with all of us that we can always improve our communication," the Secretary General defended his chancellor with a platitude. But later he also admits that he likes to listen to Vice Chancellor Robert Habeck (Greens). But the same applies to Habeck: It's not words that count, but political deeds. "He doesn't want to win the Ingeborg Bachmann Prize after four years, he wants to get the best possible result."
Kühnert about Scholz' outburst of anger
Scholz is without question the top politician who can currently speak most calmly without saying anything. Recently, however, there was also a completely different chancellor. Plasberg records the excerpt, which has become quite popular, in which a barely recognizable Olaf Scholz yells at disruptive opponents of arms deliveries to Ukraine at a May Day rally in Düsseldorf. And Kühnert comments a bit proudly: "He can do that too, but I don't think that the Germans want to be ruled by a HB male in the long term." Kühnert compares the screaming Scholz with the advertising figure for the cigarette brand of the same name, who blew up in anger.
Kühnert is certain that the voters deliberately chose Olaf Scholz. "People weren't drunk when they voted," says Kühnert.
"They knew who they were getting. If you choose Olaf Scholz, you get a very sober, factual communicator who prefers to communicate results than processes. But now you can't be seriously surprised that Olaf Scholz is Olaf Scholz."
Kevin Kuehnert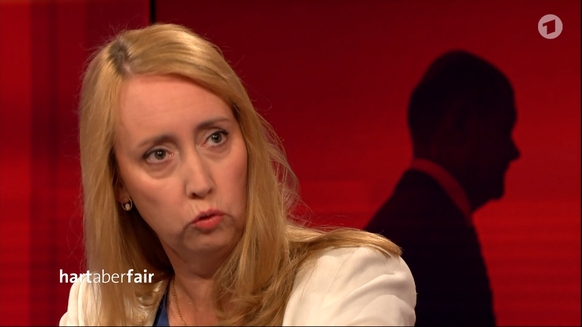 Spiegel journalist Melanie Amann sees Chancellor Scholz as "driven". picture: screenshot ard
Melanie Amann, a member of the "Spiegel" editor-in-chief, formulates poisonous praise for Scholz: "Compared to his predecessor, he is a plain text chancellor." Nevertheless, the following applies to the citizens: "They don't know what he wants and what he thinks." Because he doesn't convey it well. Another disadvantage is the impression that he is "driven by his own people". Germany under his leadership, especially in the Ukraine war, is more likely to be dragged behind.
Michael Bröcker, editor-in-chief of Media Pioneer GmbH, sees the outcome of the election in North Rhine-Westphalia as a sign of the times. And they like the opposing political partners black and green. "I think there is a desire, especially in an industrialized country like this, to reconcile things that don't really go together."
Kevin Kühnert listens to all this patiently. He looks tired. But when he speaks, he is there. He currently sees omissions in the fact that everyday issues, such as rising prices, were hardly reflected and people with money worries were hardly addressed. "That's a point of criticism, I take it seriously and that has to change." You have to talk about "the fact that life is becoming unbearably expensive for the people in Germany".
Lambrecht's part in the defeat
Then there is the part played by Federal Defense Minister Christine Lambrecht (SPD) in the election defeat, who recently aroused displeasure by taking her son with him in the Bundeswehr helicopter. Kühnert criticizes the reporting as not very factual, but then says: "If I had something to say to a member of the party where I think she has to do something fundamentally differently, I certainly wouldn't do it on German television in the evening."
Kühnert's plain text about campaign slogans
Whether it was due to the election advertising, Frank Plasberg starts a last attempt to explain the SPD defeat. He shows an SPD poster with the inscription: "We'll win this for you tomorrow." Kühnert counters Plasberg on the meta level and asks the moderator whether his election advertising was really "the result of particularly witty considerations". Election advertising is always created in the same way: "It's the one-armed bandit of German nouns that is thrown out and in the end something comes up with a future, trust – it's difficult too. When seven decades of election campaigns have produced slogans, at some point there won't be that much left."
Nouripour laughs at Plasberg's mistake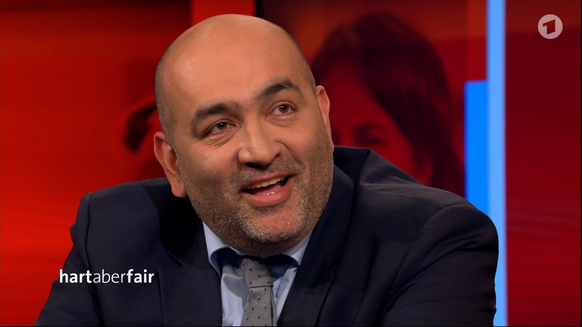 Omid Nouriour has a lot of fun in the studio.null / screenshot ard
Green Federal Chairman Omid Nouripour has a lot of fun on the show. You can hear him chuckling again and again. And he once asked Plasberg: "May I answer that very briefly?" He replies: "Just discuss it, I'm listening, you don't have to ask me." When Plasberg asked whether the Greens didn't have to "bite their asses" because they made Annalena Baerbock the chancellor candidate and not Robert Habeck, Nouripour said: "We have no problem at all and leave our butts alone."
He laughs brightest when Plasberg promises himself and calls him "Omnipur". This is the name of a medicine for ornamental fish. And Plasberg replies: "That's what I'm always afraid of in the editorial office – that's actually a synapse that's wired wrong."
Nouripour sees the election results as a reason to readjust the traffic lights, but "no reversal of fate for the coalition". And from the criticism of Lambrecht, he draws attention to the problems they face in the armed forces expect: "I felt like I was sitting in investigative committees for years, where we talked about burned tax money. The procurement system needs to be massively reformed, for example when we hear from the troops that ammunition is missing in the double billion range."
Linnemann criticizes the political bubble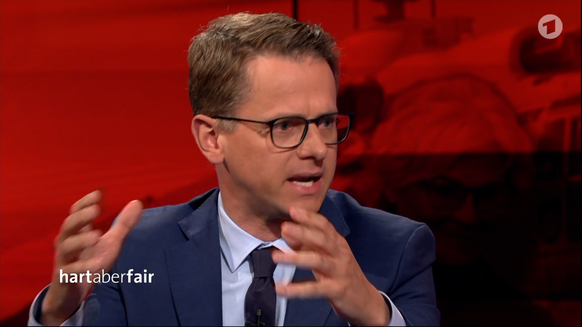 Carsten Linnemann, deputy Party leader of the CDUpicture: screenshot ard
According to Carsten Linnemann, it took a while to get into the opposition. But now he seems to be fine. It's easy to talk from the opposition bank: "The SPD suffered its biggest defeat since the Second World War." He accuses Kevin Kühnert in relation to his statements on the formation of a government in North Rhine-Westphalia: "It damages him politics Overall." Actually, we now need "a major state reform, a federalism reform". Well, for the moment it can also be a bit smaller: When discussing taking Lambrecht's son in the Bundeswehr helicopter, he says that he is there stick to what his grandmother said: "You shouldn't do everything that's allowed. That applies especially to politicians."
"We often live in a bubble. You just need people who ground you. If you're only in the bubble, something like that happens."
Carsten Linneman
Source-www.watson.de