Beauty brand Anastasia Beverly Hills celebrated its 25th anniversary this Sunday. Oprah Winfrey took the opportunity to blow out her candles, surrounded by many American stars.
Anastasia Soare celebrated this Sunday the 25th anniversary of her cosmetics brand. For the occasion, the founder invited many women to her dinner, including Oprah Winfrey, who was celebrating her 69th birthday this January 29, 2023. Snapshots of the evening were shared on social networks. Kim Kardashian posted on her Instagram account a slideshow in which she appears with Jennifer Lopez.
What's next after this ad
The women invited were able to enjoy a meal around a magnificent candle-lit table. Kris Jenner, Priyanka Chopra, Ashley Tisdale, Sharon Stone, Cindy Crawford, Alessandra Ambriosio, Heidi Klum and Sofía Vergara were among the prestigious guest list.
What's next after this ad
In "story", Kim Kardashian posted a "selfie" with Oprah Winfrey. "Happy birthday Oprah. As Sharon Stone said, you mean the world to so many people around the world," she wrote in the photo. The host then blew out her candles on a cake.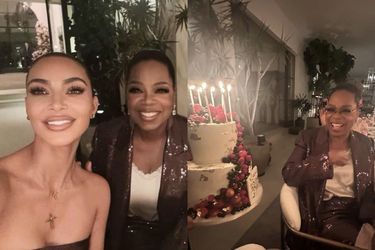 Oprah Winfrey will star in Tyler Perry's new film, "Six Triple Eight" in which she co-stars with Kerry Washington. This WWII historical drama is produced by Netflix. The release date has not been disclosed.
What's next after this ad
What's next after this ad
Source- https://www.parismatch.com/people/kim-kardashian-jennifer-lopez-sharon-stone-les-stars-celebrent-lanniversaire-doprah-winfrey-221611