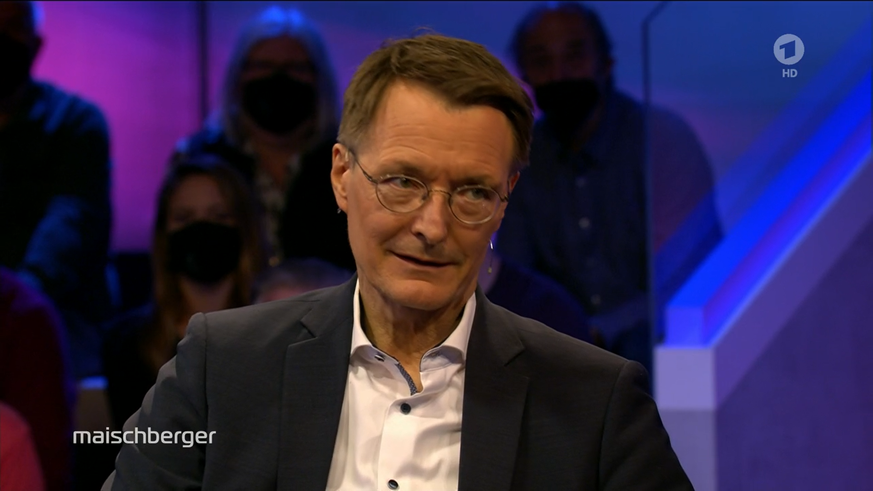 Federal Minister of Health Karl Lauterbach (SPD) does not have it easy. picture: screenshot ard
Sandra Maischberger is just as concerned with Putin's "Victory Day" speech and what can be concluded from it for Ukraine as with Karl Lauterbach's summary of the problems he faces as Federal Minister of Health. The ARD talker has the following guests on her show this time:
Karl Lauterbach, (SPD) Federal Health Minister
Peter Ganea, German law lecturer in Shanghai
Rüdiger von Fritsch, former German ambassador in Moscow
Ingo Zamperoni, ARD daily topics moderator
Ulrike Herrmann, business correspondent for "taz"
Livia Gerster. Political editor of the "Frankfurter Allgemeine Sunday newspaper"
Federal Health Minister Karl Lauterbach (SPD) has to explain himself to Maischberger.picture: screenshot ard
He has not yet had Corona, but he was also careful and has now been vaccinated four times: "I got lucky." Federal Health Minister Karl Lauterbach (SPD) believes that "significantly more than 25 million" Germans were infected. "But a serious estimate is not possible," because of the number of unreported cases.
With Corona, Karl Lauterbach became the most popular and most hated politician at times. Because he constantly warned and insisted on caution when he was only an SPD health politician on talk shows. Now that he's the federal health minister himself, he seems to be less strict.
At the height of the incidences, the federal government relaxed the measures. The reason: the coalition partner FDP insisted on the right and personal responsibility, Lauterbach could not prevail. Nevertheless, he claims: "There are different opinions on the matter, but we still get along well with each other." And he also has a few measures until April 2nd. can extend. He is convinced that that broke the wave at the time.
Lauterbach draws a Corona balance sheet
When Maischberger points out that, according to WHO statistics on excess mortality, Germany has not come through the pandemic well, but is behind Spain, Denmark and also Great Britain, Lauterbach complains that "this is a statistic and not a study" – deaths per 100,000 people would be one more meaningful size. And Germany would be in a better position than its large neighboring countries.
"We haven't come through perfectly, but given the population we have that's old and the large number of people who refuse to vaccinate, we've had relatively fewer deaths (than other countries)."
Karl Lauterbach
At the moment Corona is on the retreat again. As in the past two summers. In the fall it started again and again. Lauterbach himself recently warned of a possible "killer variant". In the third year of the pandemic, it should be all the more important to be able to assess the real effectiveness of all measures. For a pandemic concept that is as suitable as possible. An evaluation study was planned for June 30th. Lauterbach has to admit, however, that most of the results from this will probably take some time to come.
The vaccination requirement has completely failed. Lauterbach downplays his failure, but then admits: "I'm still disappointed – we would all have made it easier for ourselves in the fall." "Party tactics" were also to blame for the failure of the vote in the Bundestag. "That's the way it is." But Maischberger digs deeper. "You can't say that, that was your project!" And Lauterbach replies with a shrug: "I'm not the only government."
As a minister, he has not yet had the luckiest hand. Once he withdrew the plan for a purely voluntary corona isolation shortly after he announced it. Most recently, there was a tumult about the so-called ex-post triage. A first draft provided for treatment to be discontinued in patients with a low chance of survival. Lauterbach divulges that this idea came from Justice Minister Marco Buschmann (FDP), but that was not the result.
Disagreements with the FDP
"These are often proposals that are still being developed." And these negotiation statuses would then be pushed through. Everyone should know by whom. At the end, Maischberger asks him why Lauterbach, who has become known as a warning and loud advisor, is now so much more tame as a minister.
"I'll tell you a secret. As a consultant, I didn't have to come to an agreement with the FDP and had more leeway."
Karl Lauterbach
However, one has to say: Even Karl Lauterbach was never as strict as China with Corona. The Chinese state is still pursuing a strict zero-Covid strategy. "This only pushes the problem forward. It's a race that can't be won," believes Lauterbach. He sees the low vaccination rate in China as a problem. In the event of sudden openings, one would "see a catastrophic development". But you can't see these openings.
Professor in Shanghai: "Just been locked up"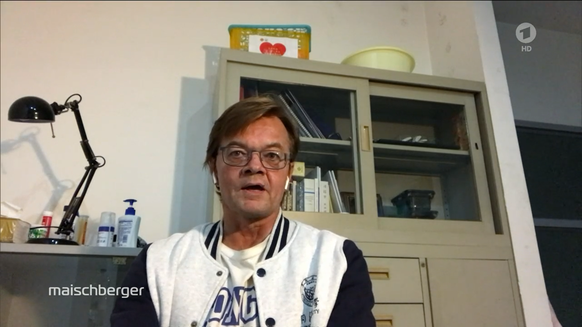 Peter Ganea has been living in his office at the university in Shanghai for two months.picture: screenshot ard
Peter Ganea notices that every day. He teaches German law at the University of Shanghai. When there were 234 cases in a population of 25 million, citizens were sent into what Maischberger calls the "mallet lockdown". He has lived in his office since March 9th. Because he can no longer leave the university. "We just got locked up." Without any announcement. Food is delivered centrally. "Like in prison," says the professor. He didn't think the first month was that bad. "It wasn't that wild, it was bearable." Today he finds the strategy "just pointless demands for obedience".
"It is not foreseeable at the moment that you will be able to go freely to the yard again."
Peter Ganea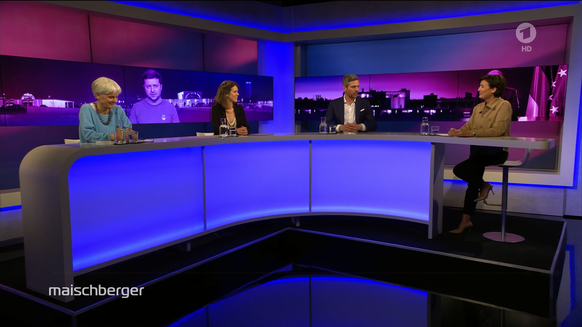 Maischberger (right) and her commentators: Ulrike Herrmann, Livia Gerster and Ingo Zamperoni (from left).picture: screenshot ard
Discussion about trips to Ukraine by politicians
Of course, there can be no political talk show without the Ukraine war. Maischberger's commentators discuss, among other things, the point of trips to Kyiv. The "taz" business editor Ulrike Herrmann thinks that Chancellor Olaf Scholz (SPD) does not necessarily have to hurry. "You can wait a week, it was pretty full in Kyiv – the war won't be over that soon."
Livia Gerster, political editor of the "Frankfurter Allgemeine Sonntagszeitung", is convinced that politicians should continue to travel to Ukraine. "Symbolic politics is also important."
The daily news moderator Ingo Zamperoni, who was in Kyiv himself, says: "This must not degenerate into political tourism – help is more important." But the trips are still important. Mainly as a signal to the Ukrainian people.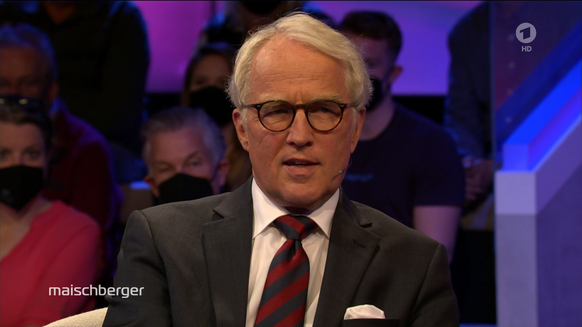 De former German ambassador in Moscow, Rüdiger von Fritsch.picture: screenshot ard
Use as a message to his people Wladimir Putin every year the speech at the parade at the end of the 2nd World War. Former ambassador Rüdiger von Fritsch sees this year as a "speech of helplessness". "You can tell he's also shy of a possible reaction." Von Fritsch sees more hesitation in Putin than most other observers.
The fact that Foreign Minister Lavrov emphasized on Arabic TV that Russia would of course attack Western arms supplies, but only on Ukrainian soil, is another indication that Putin does not want to make any mistakes so as not to jeopardize the support of his leadership. "Everyone supports him, but when he stumbles, nobody takes to the streets for him." Fritsch is certain: "He is now fighting for his own power in the Ukraine."
Source-www.watson.de