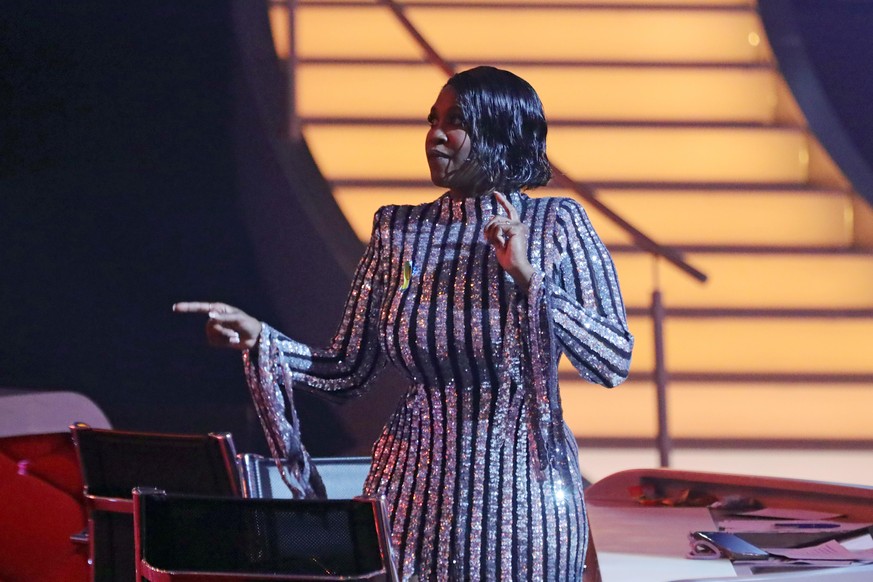 Motsi Mabuse briefly missed the words after the Discofox marathon on "Let's Dance".Image: Getty Images Europe / Joshua Sammer
"Let's Dance" was turbulent on Friday: The Discofox marathon was scheduled for the eighth live show on RTL. The remaining celebrities Amira Pocher, Mathias Mester, Janin Ullmann, Bastian Bielendorfer, Sarah Mangione, Mike Singer and René Casselly had to dance with their professional dance partners to pop hits for seven minutes. After one minute, the judges always chose a couple that was out of rhythm or out of breath.
In the end, Mathias Mester managed to dust off the title "Discofox King 2022" – and with a crazy performance. Even professional dancer Renata Lusin was hardly recognizable for some "Let's Dance" participants afterwards. Juror Motsi Mabuse had to find the right words after seeing the competition, which was quite difficult for her. It was different with Bastian Bielendorfer's Paso Doble, the podcaster and author got a special jury rating, which was supposed to be a premiere in the dance show.
Motsi Mabuse hardly finds words for Discofox marathon
After the couples had danced to "An die Wand" by Dicht & Doof, "Die Nacht von Freitag auf Montag" by Peter Wackel or "Cordula Grün" by Norman Langen, the winners were determined. Renata and Mathias were completely out of breath after various creative shows, and presenter Daniel Hartwich also had to acknowledge: "I've never seen Renata so insane!"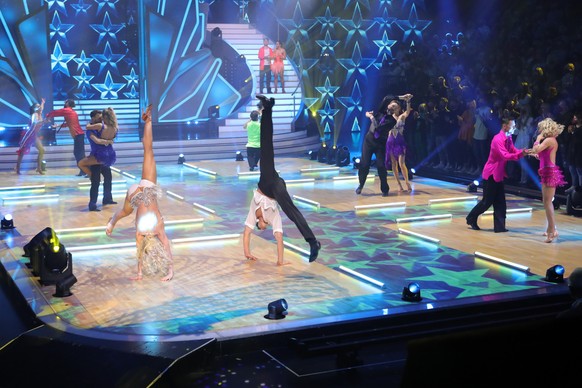 At the Discofox marathon there are no clear rules as far as the choreography is concerned.Image: Getty Images Europe / Joshua Sammer
Motsi Mabuse struggled for words when it was her turn. And initially only brought out the following: "I'm done." Finally, she said of the candidates, who were still out of breath on stage:
"From the Discofox marathon I no longer recognize you. The show could go on for two more hours because you all have too much energy. You're killing me."
Admittedly, the Discofox marathon has very little to do with the performances that otherwise take place on the "Let's Dance" stage. Rather funny poses and especially Ballermann hits get a place on the show at the marathon. So it's quite clear that the serious competition judge Motsi doesn't have too much technical information to say about it.
Bastian Bielendorfer gets the full pack of Llambi
But the jury thought of a lot more about Bastian's dance with Ekaterina Leonova. At just under eight minutes, he got what is probably the longest rating in "Let's Dance" history. At the beginning of the Paso Dobles, which dances a bullfight, photos of Llambi were also used, which Bastian jokingly adored and commented on. Of course, the juror addressed this afterwards in his long speech: "Speechless. It's worth two or three points to me, the one with the longest saber and so on."he recorded the candidate's speech.
Ekaterina Leonova and Bastian Bielendorfer once again gave everything on "Let's Dance".Image: Getty Images Europe / Joshua Sammer
But after that there wasn't too much positive to say: "Then five or six steps came to the middle, but it hasn't started yet, it was just the foreplay. Then it started and then the fun stopped all of a sudden. Then this bullfight took off -Play its run, its climax, its ecstasy and then the bull collapsed laughing. Let's be honest: The choreo was manageable"Llambi judged. Jokingly, he then remarked:
"I also liked how they tried to push their hips forward. The pants slipped down the crotch, there were many beautiful scenes. But in the end I missed this aura, this pride, it wasn't there."
Bastian answered quickly: "I'm a chubby torero from Gelsenkirchen, what did the man expect?" Bielendorfer previously noted that his Paso-Doble role model should actually have been the dance from last year's "Let's Dance" winner Rúrik Gíslason. But he hadn't worn a shirt under his torero jacket, in contrast to this year's candidate. Then he only remarked: "I'm not wearing anything under my pants" and once again had the laughs on his side.
In the end, it was enough for the couple for just 16 out of a possible 30 points from the jury, Bastian and Ekat once again ended up in last place before the audience rating. And yet they made it one step further: Apparently Bastian is so popular with his style that more calls were received for him than for Mike Singer, who had actually delivered a more solid dance performance with Christina Luft. The former "DSDS" judge now had to say goodbye to "Let's Dance".
(cfl)
Source-www.watson.de