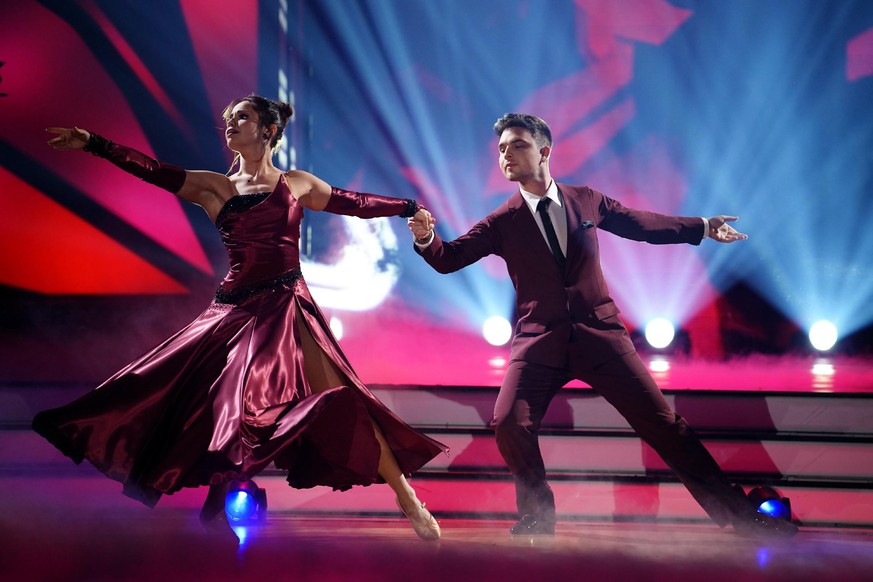 Christina Luft and Mike Singer only got 15 points for their Viennese waltz.rtl/stefan Gregorowius
No question, Mike Singer is not one of the top favorites of this year's "Let's Dance" season – but was this jury's verdict justified? Together, the singer and professional dancer Christina Luft performed a Viennese waltz to "I live for you" by Teesy in the fourth edition of the RTL format. However, the jury was not particularly impressed by Mike's performance. Above all, Joachim Llambi made a tough judgment. As Christina later admitted, the jury's assessment really hit her and she protected her protégé.
Christina Luft criticizes the jury's verdict
Motsi Mabuse initially had words of praise for Mike. In her opinion, the first part was very nice and would have touched people, but then a big but followed: "Only when you started dancing, you can use your standing leg a lot more. Your posture was okay, but it has to get even better." Joachim Llambi went one step further with his judgment and said mercilessly: "That looked partly as if you were the undertaker of Cologne."
Christina's disappointment was already visible during the evaluation. After the show, she said in the "Let's Dance" Instagram story:
"I was surprised myself. I think it was the first time in five years that my face had slipped like that – I felt it myself because it hit me really hard."
In addition, she praised Mike and clarified that he works very hard. "I know that we have improved from week to week and have always taken the jury's criticism to heart constructively"Christina continues.
However, she couldn't do anything with the last rating and also explained why:
"I was looking forward to constructive criticism to work on afterwards, but sometimes it wasn't so constructive that I could work with it. At some point it just hurt. From there it became difficult, there would be I'd be happy to go."
"Let's Dance": Ex-professional gives Christina important advice
Ex-"Let's Dance" professional dancer Oana Nechiti also noticed how uncomfortable Christina felt in the last show. Together with her husband Erich Klann, she talked about it in their joint podcast "Tanz oder nicht" (Tanz or not at all). In this context, however, she would have wished for more attitude from Christina: "I thought to myself, why didn't you say anything? Stand up for yourself and your work. You can be proud of yourself."
Perhaps Luca Hänni's fiancée will take this advice to heart for the upcoming show. Because despite the low score, Christina and Mike made it to the next round of "Let's Dance". Instead, Lilly zu Sayn-Wittgenstein and Riccardo Basile were eliminated.
(swiss)
Source-www.watson.de