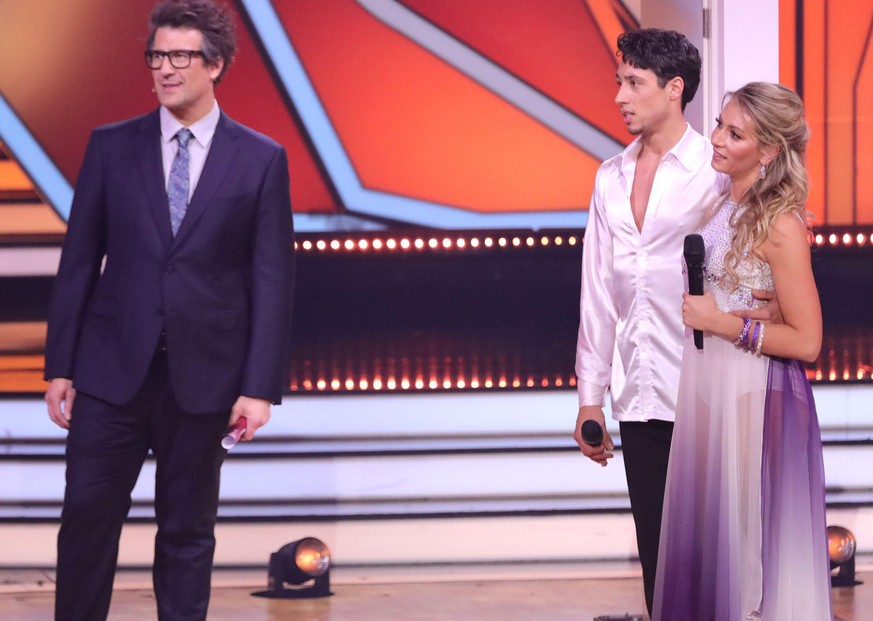 Daniel Hartwich, René Casselly and Regina Luca are seen here during the fourth "Let's Dance" live show.Image: Joshua Sammer/Getty Images
In this year's "Let's Dance" season there were already some candidates who had to sit out due to illness. The reason for this was usually a corona infection. Hardy Kruger Jr. However, after his positive test, he also developed bronchitis and finally had to stop completely.
The failed stars or professional dancers have always been replaced in recent weeks. For example, when Kathrin Menzinger, who dances with René Casselly, fell ill, Regina Luca stepped in for her. The latter now shocked their fans with bitter news. The reason: she had to undergo emergency surgery.
Regina Luca injured herself on the playground
Professional dancer Regina Luca spoke to her fans on Instagram with worrying news. There she suddenly announced: "Sometimes things don't always turn out the way you want them to! It only takes a few seconds and you have a completely different life! Sometimes you have to go beyond your own limits, reinvent yourself and motivate yourself! Sometimes it just hurts to think about the day my accident happened on the playground!"
And further: "Slowly my shock moment is over and I'm trying to get my life under control again! It wasn't and still isn't easy for me to deal with my broken ankle with emergency surgery. It all came so quickly and so unexpectedly. But what can I do but look ahead and strengthen myself for the coming months? My family and friends are with me and support me 24/7."
Her "Let's Dance" colleagues like Christian Polanc, Malika Dzumaev or Christina Luft wished Regina a speedy recovery and a lot of strength for recovery. Isabel Edvardsson also said: "That's a thing, I had something similar a few years ago with my elbows. I wish you a lot of strength and positive thoughts so that the healing goes as quickly as possible!"
In her latest post, the 33-year-old appeared on crutches alongside her family. She finally wrote: "My smile is back when I'm with my loved ones and think of your messages. Thank you for your incredibly beautiful get well wishes and your amazing support! I'm so lucky to have you."
(iger)
Source-www.watson.de