María Elisa Parker is going through a bittersweet moment, as she says goodbye to one of her offspring for the second time to see them grow professionally outside of El Salvador.
María Elisa Parker shared a moment of mixed feelings on her social networks. A few days ago she said goodbye to her daughter, who emigrated from El Salvador to become a professional in the culinary field.
"Goodbye my beautiful daughter @isabolanos0403, you are going to fulfill your dreams! Your daddy and I love you and we wish you the best… we started the year physically separating ourselves from you, but we know that you will succeed and be a successful professional! A part of my heart goes with you… I love you, daughter!" Wrote the popular television presenter.
Also read: Rolando Aguirre, a celebrity surgeon, shows off his Colombian girlfriend in Salvadoran waterfalls
Several celebrities from the national show business appeared in the comments, such as Olga Miranda, who wrote: "It is the best for children, to fly and learn about other experiences that shape them for life! And I know how mothers feel… a big hug" .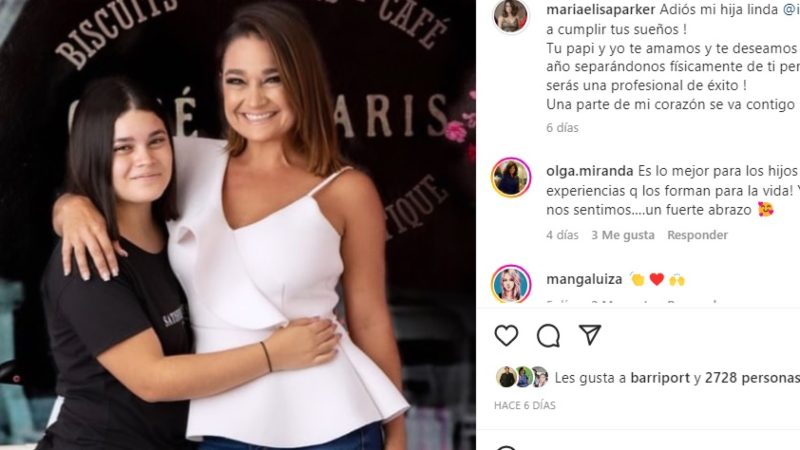 Other comments were: "Happy tour to Isa!", "My God, how time flies. I saw her when I was a baby, may God illuminate her path, may she be full of health and fulfilled dreams, we will soon see that she will be a professional full of success", "congratulations", "success to Isa", "may God bless your life", "blessings and a stage unforgettable is about to start for Isa!!! I wish you all the best!!! A big hug", "what a strong woman, admirable. May God be her company every day and may her mother's love be strengthened always, the reward of this love will be when she sees her fly higher and higher. A hug and a lot of strength."
It was a few hours ago that Parker's best daughter is finally seen with her father posing on a postcard that places them in Paris.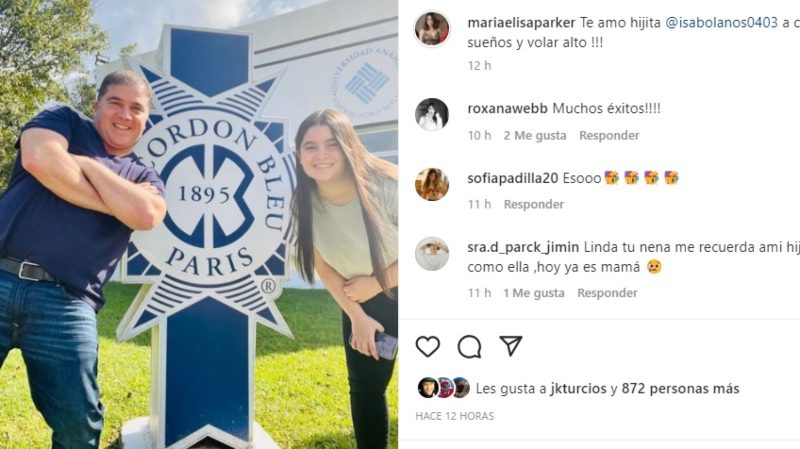 "I love you daughter @isabolanos0403 to fulfill your dreams and fly high!!!", wrote María Elisa next to the postcard where the name of the study center appears: "Le Cordon Bleu París". As is known, this institution specializes in culinary education.
It may interest you: Yanira Berríos exposed! His ex makes public audios where tears and jealousy abound
Without a doubt, María Elisa's daughter begins her own adventure, which her mother shared with her followers on Instagram, who did not miss the opportunity to react to the image.
"Many successes", "soooo", "Your girl is beautiful, she reminds me of my daughter, that's how she was, today she is a mother", "Precious reach high, win Micheline, may God make your face shine", "Successes Isa, she will be a great chef", "congratulations to your girl", "congratulations to your beautiful daughter María Elisa, may the Lord always protect her and learn what is good and be an excellent chef, blessings", were some of the comments.
Source-news.google.com