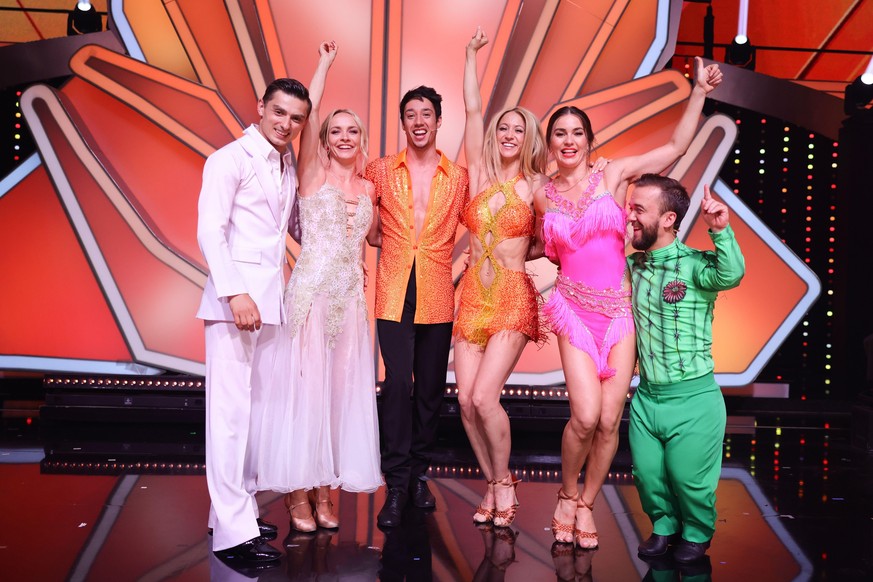 Here are this year's "Let's Dance" finalists.Image: Andreas Rentz/Getty Images
In the eleventh live show of "Let's Dance", Amira Pocher and Mathias Mester had to tremble at the end after René Casselly and Janin Ullmann had already been determined as finalists. Finally, Amira Pocher was voted out by the spectators – and the athlete can still fight for the title "Dancing Star". Juror Jorge González was enthusiastic about Mathias and said: "What I love about you is how you convey your inner feelings. I suffer with you, I rejoice with you. You were very impressive today."
Motsi Mabuse even raved: "For me, these are the moments that make the show so special. Today you showed that everyone can do absolutely everything. Thank you, Mathias, that was so cool." Joachim Llambi saw the whole thing like this: "It was very well danced, it was super rhythmic. You didn't exaggerate either."
The decision was particularly emotional for Renata Lusin and Mathias, who were overjoyed to hug each other after reaching the final. In an interview with RTL they now talked about their most important moment on the show.
Renata is particularly emotional after the decision
On May 20th, Mathias and Renata can stand in front of the jury for the last time alongside the other finalists. Mathias couldn't believe it at first. The 35-year-old said in an interview with RTL: "I expected so much that Amira and Massimo's name would come." And further: "Can you pinch me? Did that really happen?"
Renata also stated that she "still can't realize it". She emphasized: "Guys, this is crazy. I said in the introductory show, my goal is that I want to show that dancing has no norms and no limits. I think this season Mathias showed it extremely awesome, phenomenal. I think you belong in the final."
The 34-year-old finally said with a view to the competition: "You just can't compare him to anyone else because what you're doing is just so high. I see that in training. There are no norms and no limits for you. People see your limitations, but you don't show it. That's the biggest win for me. It's amazing how we flew across the floor in Quickstep. I never thought at first that I could do something like that with you."
This is how Amira Pocher reacts to her "Let's Dance" exit
After leaving, Amira Pocher was looking forward to being able to go about her life again. On Instagram she said: "My first thought was a pity, a damn pity. My second thought was: I have my freedom back, I have my private life back." Now she can cook something for lunch again, go out for a coffee in the afternoon, experience something with the children and visit her family in Austria again. This was not possible for a quarter of a year.
The 29-year-old was "totally fine" that she now had to leave the show in the semifinals. In addition, she had "the fear" that it would hit her. Overall, the time was "extremely exhausting" for her, "but also extremely beautiful". But she is extremely sorry for Massimo, because he really wanted the final. In the final they planned to bring "The Lion King" to the dance floor. "But yeah, it's not supposed to be," she said at the end.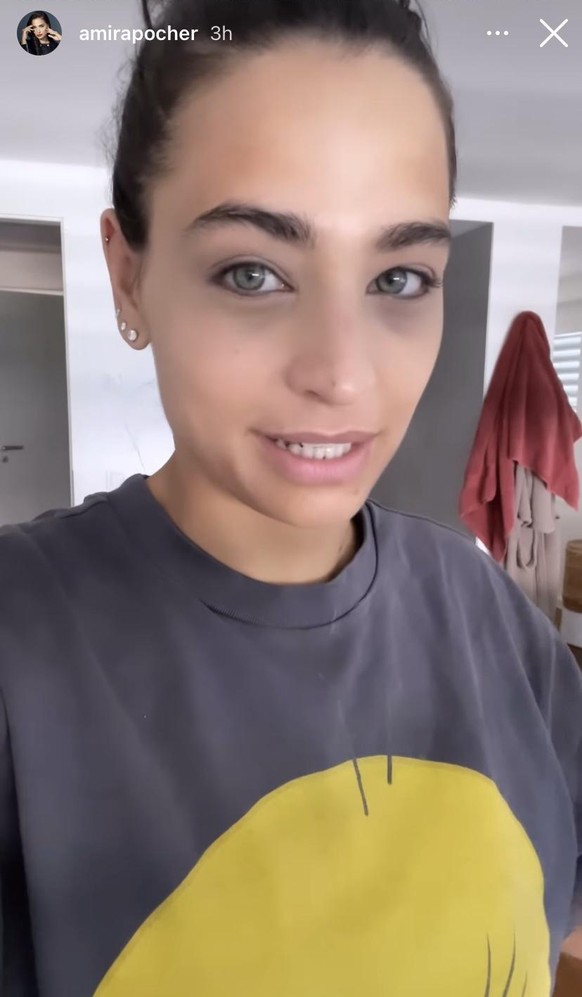 Amira Pocher spoke up in her Instagram story about the show-off.Image: Instagram / Amira Pocher
Incidentally, Oliver Pocher also spoke up and said in his story: "It's a shame that Amira doesn't make it into the final. It would have been really sensational if you could have cleared the final again. But that's how it is in a sporting competition, where the spectators have a say." In the direction of Mathias, he said: "Now please get the pot and bring the trophy home. That's the best story for this show." Finally, he thanked Amira's dance partner Massimo Sinató for the "sensational job".
(iger)
Source-www.watson.de