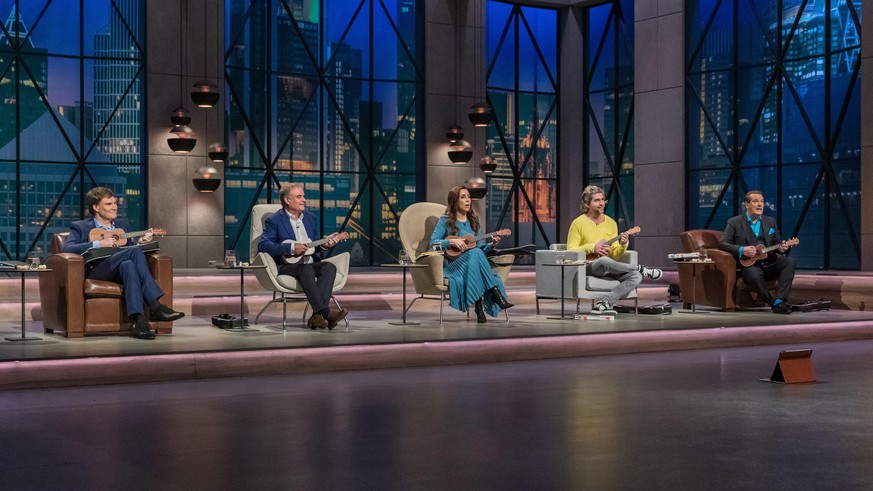 The "lions" (from left) Carsten Maschmeyer, Dr. Georg Kofler, Judith Williams, Nils Glagau, and Ralf Dümmel will soon be seven. Image: RTL / Bernd-Michael Maurer
The jury of the Vox show "Höhle der Löwen" is getting reinforcements: the audience can look forward to a new face in the twelfth season of the investment show, which is expected to be shown on TV from next autumn. According to "Picture" the investor Janna Ensthaler becomes a new member of the jury.
Among other things, the Hamburg native launched the cosmetics start-up "Glossybox" and now works as managing director of the Berlin food and green tech investor "Green Generation Fund". She is the daughter of the former "Stern" editor-in-chief and former RTL board member Rolf Schmitz-Holtz and is now a mother herself.
Season 12 already in the can
The new "Lion's Den" season is said to have already been turned off. It allegedly took twenty days of shooting. In addition to newcomer Janna Ensthaler, the new episodes will feature Judith Williams, Ralf Dümmel, Nils Glagau, Carsten Maschmeyer, Georg Kofler and Nico Rosberg on the jury and evaluate the business ideas presented to them.
The latter, Nico Rosberg, will probably cut back on the show in the future, writes "Bild". For organizational reasons, the ex-Formula 1 world champion should make fewer TV appearances in the future.
(nick)
Source-www.watson.de