Updated on 05/06/2022 at 21:48
"Dirty Dancing" star Jennifer Gray has been through a lot.
She was in a serious car accident and a nose job put the brakes on her career.
Now the actress opens up about how these events have changed her life.
"Dirty Dancing" star Jennifer Gray opens up about the events that changed her life forever. The 62-year-old opened up about her most painful moments in interviews for her autobiography, Out of the Corner: A Memoir. This includes a car accident in which two people lost their lives.
"The car accident in Ireland was one of the three biggest traumas of my life, maybe the biggest", she said "Entertainment Tonight". The accident happened just weeks before the release of her now legendary 1987 film Dirty Dancing.
Two women died in a serious car accident
The actress was out with her then-boyfriend Matthew Broderick. Broderick was behind the wheel when the car went off track and crashed into another vehicle. The two women in the other car died in the accident. Broderick, who has been married to "Sex and the City" star Sarah Jessica Parker since 1997, and Jennifer Gray were seriously injured.
"It's very hard to describe when you have a near-death experience and you're present at the death of other people," Gray told Entertainment Tonight. She continued, "Just being alone on a country road in the middle of nowhere with no one else around or conscious was pretty terrifying… It led to so many other things in my life."
She was the only witness to the accident. Broderick survived, "but he was unconscious and had amnesia and was very badly injured. I thought he was dead," she added. "I didn't even know there were two other women who were tragically killed at the time." This experience changed her life a lot and is still relevant to this day.
She also denied claims that she didn't say everything at the time. "I haven't withheld any information that people seem to think I have because they wanted an answer. There was no answer because it was an accident," Gray explained. Broderick was "a great driver and no one was drinking. It was just an accident. It was tragic and I think about family in Ireland all the time."
Jennifer Gray thought Patrick Swayze was a 'macho'
Jennifer Gray became famous a short time later with "Dirty Dancing". The fact that she was supposed to play a budding couple with Patrick Swayze (1952-2009) did not initially cause enthusiasm for the actress. She had not previously had good experiences with the star who died in 2009. The two were already in front of the camera together for "Red Dawn" in 1984. In the show "The View" Gray now said that she perceived him as "macho" at the time and that he played pranks on her. She really didn't want to work with him again.
But Swayze made up for it. He had "tears in his eyes," Gray said, apologizing to her during the test shoot for "Dirty Dancing," saying, "I love you and I'm so sorry." Today she raves about her former co-star: He was "such a good man and such a kind person," she said "Entertainment Tonight".
Gray will reprise her Dirty Dancing role as Frances "Baby" Houseman. So far she hasn't revealed too much about the project, only that the new film will not try to copy the original.
Nose surgery: "Unforgivable crime committed"
After hitting the big time with 'Dirty Dancing,' the actress had two nose jobs done. Apparently, the reactions to this follow her to this day. According to US media reports, she writes in her autobiography that it felt as if she had "committed an unforgivable crime". Because of the lack of role offers, she had sought advice. She then learned that she suffered from a deviated nasal septum, which also affected her breathing. She had an operation in her late 20s and was initially very satisfied with the result. A year later, as a result of the first surgery, another intervention became necessary.
When the bandage came off, the shock followed: "I couldn't understand what I saw," she reportedly wrote, "I knew something bad had happened." The proportions on her face were no longer correct: "It was like I was on mushrooms and had a bad hallucinogenic trip." People wouldn't have recognized her – as if she'd lost her career and identity overnight. But it also gave her the chance to rethink her life without considering the opinions of others.
This is what Jennifer Gray says about ex Johnny Depp
Before Jennifer Gray married actor and director Clark Gregg in 2001 (the marriage lasted until 2020), she was also in a relationship with Johnny Depp. The two began dating in 1989, a few months after her split from Broderick. The relationship with Depp is said to have lasted about a year. "We were young… For me, this guy was the answer to my problems," she told Entertainment Tonight. "This guy was sweet and loving and romantic and crazy about me and beautiful." It was "necessary," she explained of this time in her life. "I was bleeding inside and this guy saved me and just made me…not feel what I was feeling."
In her book throws the actress according to "Independent" Johnny Depp, who is currently in the middle of a defamation lawsuit against his ex-wife Amber Heard, said he was "insanely jealous and paranoid". Amber Heard described something similar about Depp. "All I can say about this process is that I'm sorry for everyone involved," Gray said. "I just think it's sad and I wish it was resolved and I just wish everyone the best."
© 1&1 Mail & Media/spot on news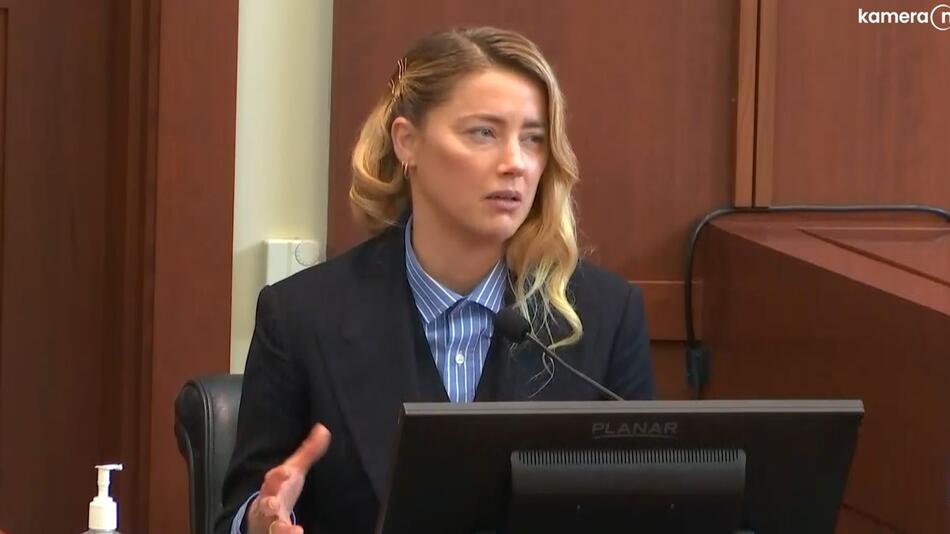 Johnny Depp is suing Amber Heard for defamation for $50 million. On Wednesday, the actress testified for the first time in civil proceedings – and described frightening details.
Source-web.de