Did René Casselly infect the other candidates in the "Girls vs. Boys" duel with Corona? RTL / Stefan Gregorowius
Last week, professional dancer Kathrin Menzinger failed in "Let's Dance" because she was infected with Corona. Regina Luca danced with Kathrin's partner René Casselly as a substitute. Although they only had a few hours to practice their rumba, René and Regina received 26 points from the jury and the circus acrobat and "Ninja Warrior" winner made it through to the next round without any problems.
Nevertheless, the spectators will have to do without René next Friday, because now the 25-year-old has also been hit: he has Corona. The fans of the show are not surprised by this news and some suspect that René won't be the only Corona case this week – for a reason…
"Let's Dance": René Casselly has Corona
On Monday, RTL announced René's failure on the official "Let's Dance" Instagram account:
"Unfortunately, no good news for René Casselly: He tested positive and will be out of show 5. We wish you a speedy recovery and a speedy recovery!"
Under the post, many users spoke up directly and expressed their different thoughts on the latest Corona failure on "Let's Dance".
It became clear: the fans are slowly no longer understanding how corona cases are dealt with on "Let's Dance". "Why isn't the show just paused?"for example, one user asked in the comments and another suggested: "Maybe in the future it would be more intelligent to quarantine the dance partner of a person who tested positive instead of assigning him a new one."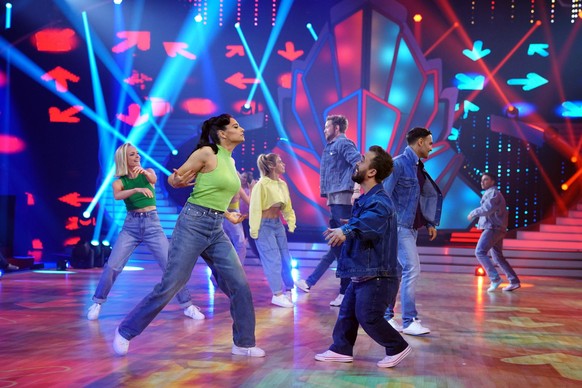 For the "Girls vs. Boys" duel, the candidates had to train together in two large groups.RTL / Stefan Gregorowius
Other viewers also expressed a grave fear in this regard: "Then let's hope that not ALL men have it on Friday." This assumption by some users has the following background: Last Friday there was the "Girls vs. Boys" duel on "Let's Dance". During this challenge, the men and women danced together on the stage for several minutes. In addition, there was joint training in the respective group beforehand.
Kathrin Menzinger: "We still have a lot to do"
In a video message that RTL also published via social media, René himself spoke up:
"I'm incredibly sad. My heart is bleeding. I would have been so keen to dance with Kathrin again. The arms have to rest for another week. I hope we'll be fit again soon."
He went on to say that he wished the other couples a lot of fun and success in training and promised to keep his fingers crossed for everyone from the sofa. Kathrin also left a message on the image and video platform and was dismayed: "I was so hoping you wouldn't get it. Get well soon, partner, get fit soon. We still have a lot to do." Other "Let's Dance" professionals such as Renata Lusin also joined the recovery wishes.
(swiss)
Source-www.watson.de