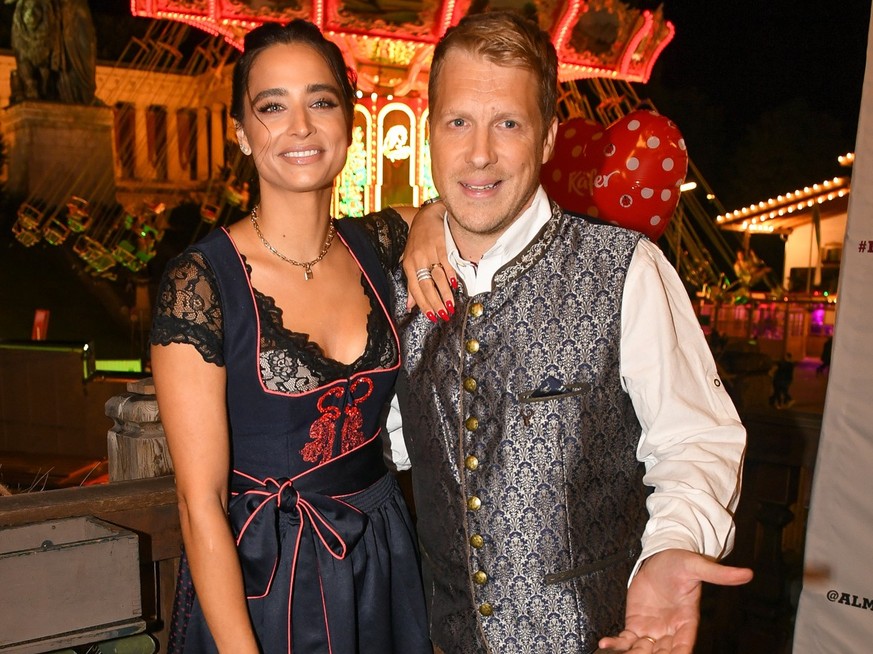 Amira and Oliver Pocher were at the Oktoberfest on Sunday.Image: Hannes Magerstaedt/Getty Images
09/23/2022, 15:4909/23/2022, 16:18
Oliver Pocher has been married to Amira since 2019, the two met and fell in love in 2016 and now have two sons together. He had three children from his marriage to Sandy Meyer-Wölden. In the meantime, they have grown together into a large blended family. However, before the comedian got together with Sandy, he was with the first Bachelorette that existed in Germany for four years: Monica Ivancan. In 2009 they separated.
Pocher was in a relationship with one or the other celebrity lady in the past. From 2002 to 2004 he went through life with Annemarie Warnkross, now called Carpendale. After Monica came Sandy. Until 2016, his heart belonged to tennis player Sabine Lisicki. At this year's Oktoberfest, the father of five children met three of his ex-partners. One of them, however, seemed anything but enthusiastic about the encounter.
Oliver Pocher reports on meeting Monica Ivancan
In the latest podcast episode of "Die Pochers!" Amira and Oliver talked about their visit to the Oktoberfest. The two were invited to the Käfer tent by Victoria Swarovski. Lots of celebrities hang out there every year. Pocher joked that for him it was "the Oktoberfest of ex-friends". Amira was amused about it: "All your ex-girlfriends were there. Actually, we should have gotten our own table. Only Annemarie Carpendale was missing."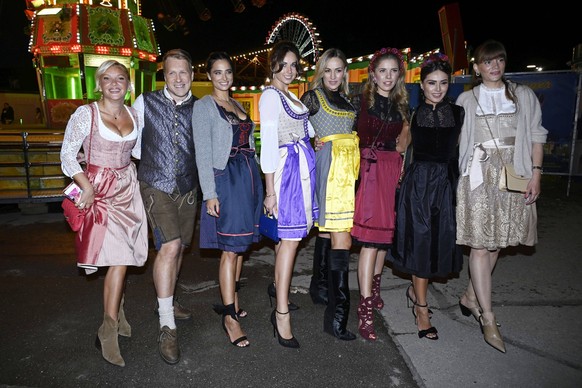 Amira and Oliver were photographed with other stars at the Oktoberfest.Image: IMAGO/Future Image
Visiting the Oktoberfest is already a tradition for the comedian. He said he's been going there for about 15 years. "In the tent, you really have to say, there was a curious mixture," he stated. Finally, the 44-year-old said: "This ex-girlfriends meetup was really, really entertaining. I knew Sandy came from America especially to be there. She was sitting at the table with Monica, who even after ten years can barely open her mouth to say hello, which I don't understand either."
He was visibly irritated by the reaction and said: "Maybe there's a classic reason for that, but I didn't do anything anyway. If so, I'd have to think about whether to say 'hello' or not. That's it doesn't matter either." Rather, after more than ten years, it would show "a certain immaturity on her part" if she didn't greet Pocher.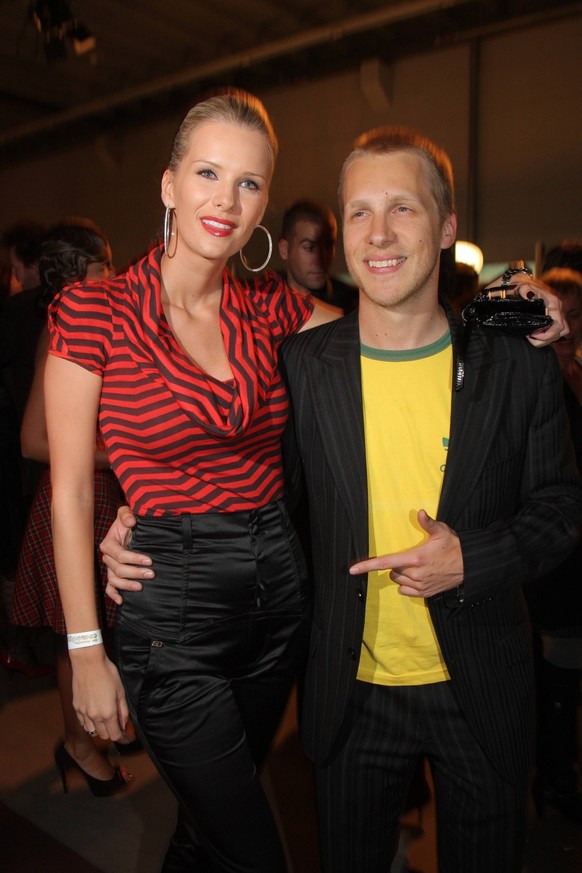 The recording of Ivancan and Pocher dates from 2007.Image: imago images/Eventpress
When Amira interjected whether he might have misinterpreted it or not heard a possible greeting because of the volume, he said: "No, I didn't miss that. I didn't hear that." In any case, the moderator was able to gain something positive from the situation: "But the women all understand each other, that's a good thing." In the tent, the comedian then chatted briefly with his ex Sabine Lisicki. "I found that, I have to say, from Sabine as well, very confidently, very well and that was the first time that we've seen each other again in years."explained Pocher.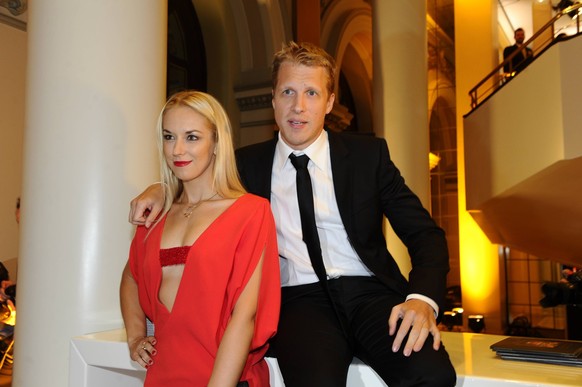 The two were a couple from 2013 to 2016.Image: imago/Spöttel Picture
Referring to his other ex, he said: "Monica may be next time, maybe I caught her on a bad day." By the way, he has "a great relationship" with her sister Miriam. With the words "I have the feeling, strangely enough, that Monica's sting is deeper than vice versa", he summarized the situation and added:
"Maybe it's an insecurity of some sort, I don't know what it is. I'll lay it out for her in the remote analysis now."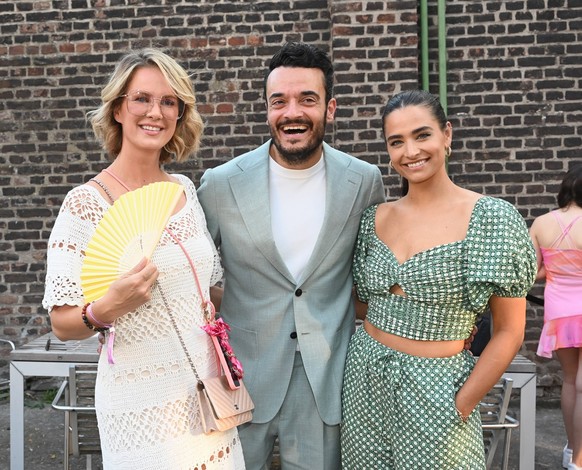 Monica, Giovanni and Amira met at an event in August.Image: IMAGO/Horst Galuschka
Amira reveals that she already knew Monica
Incidentally, Amira already met Monica at another event hosted by Jana Ina Zarrella. The two would also follow each other on Instagram. When she said she didn't know exactly what had happened to them either, Pocher emphasized that "nothing at all" had happened. Monica told her in August that she was totally relaxed. And further:
"I said, 'I'm even more relaxed, I'm friends with Sandy. I don't have a problem with that at all, you're even further behind.' I really liked Monica, she was really nice to me and we got along really well. I'm assuming that your ex-wives are all very likeable too, because you were with them and you're a likeable guy too. You have a sense of humor."
After all, according to Amira, Pocher's ex-partners have one thing in common: "They have a good sense of humor. Monica has an extremely good sense of humor, I already know that because she is Jana Ina's best friend. Sandy also has a good sense of humor, is super intelligent. Unfortunately, I never met Sabine. I also know that she is a very, very dear person, for whom I am also incredibly sorry that everything turned out the way she did. Hats off that she treated you so confidently at the Oktoberfest, I think that's really good."
Oliver and Amira met many celebrities in the marquee.Image: Hannes Magerstaedt/Getty Images
Finally, Pocher made it clear: "I don't have any problem with Monica either. Monica, if you should hear that, next time just say 'hello' normally. We really saw each other again for the first time. That will happen at some point regulate. I think that's how you have to deal with it and say 'hello'. Everyone has their own life, I wish everyone the best."
Source-www.watson.de