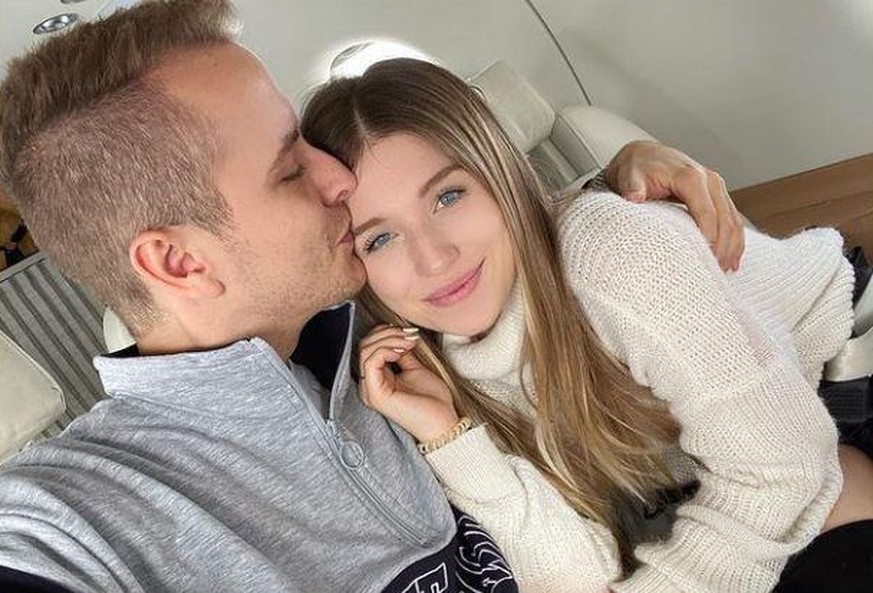 Julian and Bibi are no longer a couple.Image: Instagram/ Julian Classen
The fact that Bibi and Julian are no longer a couple caused a tremor among their fans. The two have millions of followers who have taken them with them through their everyday lives over the course of their relationship – be it on vacation or building a house. Julian Claßen announced the love off like this: "I'll make it short and painless: Yes, it's true, Bibi and I broke up. Bibi broke up." He wanted to put an end to the speculation. He emphasized that the children would always come first.
Shortly thereafter, Bibi's statement followed: "Yes, we are no longer together. Of course, the children are always and always our top priority. I would like to ask you for your understanding that everyone needs their privacy." So far, they have not said why the two are no longer a couple.
In the latest episode of the podcast, Amira and Oliver Pocher spoke about "the breakup of the year". They particularly criticized the handling of it.
Oliver Pocher draws a comparison with his own separation
Oliver Pocher initially said, "there were some who first said it's fake, they want to launch a new product". At the latest after the statements of the two, it was clear that they would be separated.
Amira particularly noticed Bibi's type change: "She cut off her hair, I think she's getting a bit rebellious now, she's going through a blatant type change." However, the moderator finds it particularly bad that any gesture, for example by Julian, is currently being analyzed in order to supposedly determine that he was lying because he laughed.
"Guys, take a close look, he's laughing with shame. That's a completely different facial expression than joy. You can really see that he's suffering." She finds it exhausting that the two would now be so much in focus. After all, despite public figures, they are just two people who have been together for 13 years. "Of course it can happen that paths separate sometimes. I find it incredibly disrespectful to always try to allow yourself to be judged," says Amira.
The two would "just not make a big deal out of it". The presenter emphasized: "They both made a statement about it and otherwise do everything as usual. They are not the ones who photograph and post themselves." Because of this, the mother of two sons noted: "Why do you then take the right, if there is no fodder, to be so indignant about it and then also to be insulting?"
With a view to Bibi's supposedly new friend, the 29-year-old said about the rumors of separation: "You just don't know. Then why is there speculation, why is she then made a bad guy and why are things being dug up that aren't on the table at all It's something else when people make a 30-minute statement. Then you have enough food, then you can say: If you talk about it publicly, then of course we can also comment on it. But if they don't seem to want that of their own accord, then you just have to respect that."
Pocher saw the whole thing like this: "The biggest sufferers will be the children one way or another. I also know how it is. I've had a breakup where the kids were a similar young age. It's definitely mediocre." By that he meant the marriage-off with Sandy Meyer-Wölden.
The happy family pictures of Bibi and Julian always had an aftertaste for the comedian. "I also did that once as a post: Those who are always super in love are where the shit is most steamy. That's nothing either, no matter how it came about, what from one to the other day, but it has most likely been rattling for a long time."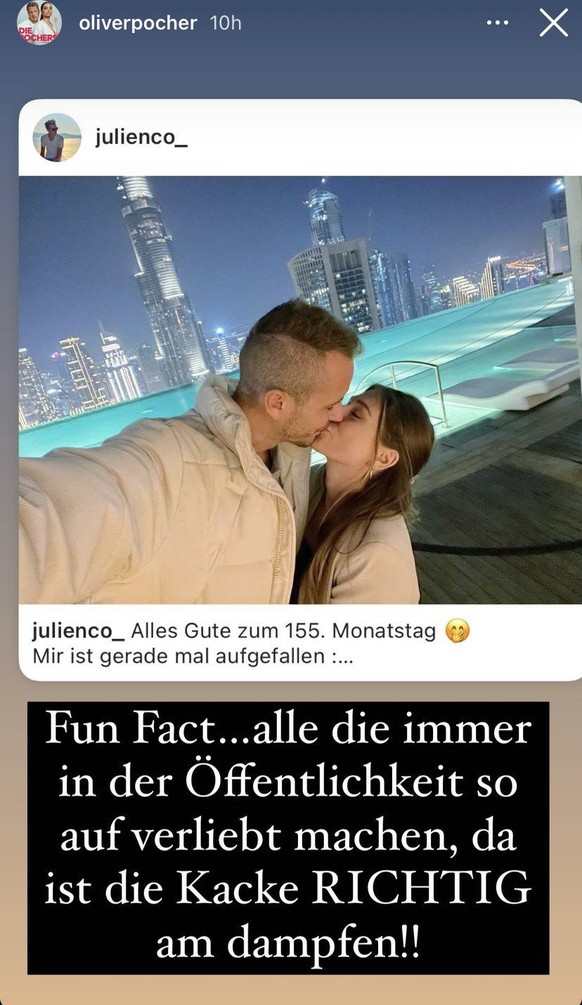 Oliver Pocher posted this post on Instagram.Image: Instagram / Oliver Pocher
The two were convinced that Bibi and Julian would also make a YouTube video. "That makes millions of clicks again," says Pocher. If this case occurs, according to Amira it is a different initial situation: "If this is really discussed publicly, of course we can all tear our mouths apart and give our two cents. Of course I'm not hoping for a War of the Roses. I trust the two of them to have a certain level of common sense, they have something in their heads."
And further: "I think they will do it quite sensibly. I hope so and wish it for the children. But until then, shut up is the order of the day. Just let them do it, they probably don't know themselves right now how to proceed."
Pocher added: "They are the greatest in this industry. Because they have turned their private lives outwards to such an extent, there is of course a pressure situation. Anyone who is always celebrated for their great relationship, the Maldives and the house must then comment on it. Even if it's more complicated, you have to say: That happened, sorry guys, that's how it looks."
Either way, according to Amira, they deserve respect and privacy. The "Let's Dance" star emphasized: "You don't know if that happened overnight. Perhaps Bibi herself doesn't yet know what she wants. How are they doing with the house? You have to think first."
(iger)
Source-www.watson.de