Joko and Klaas can be seen here alongside Steven Gätjen and Alexander Klaws.Image: screenshot per seven
04/27/2022, 00:3504/27/2022, 00:39
In the second episode of the fifth season of "Joko and Klaas against ProSieben", the two entertainers tried to repeat their victory from last week and fight for 15 minutes of airtime. Most recently, they used it to draw attention to the devastating effects of the Ukraine war. From a bunker in the embattled city of Kharkiv in eastern Ukraine, the singer Alex and his bandmates were connected, who addressed the audience with a concert and moving words.
If Joko and Klaas lose now, the two will have to serve a hefty fine from the broadcaster instead of surprising their fans with slightly different television entertainment. Of course, they had to face one or the other nasty task again. Stars like Caro Daur and Riccardo Simonetti also made an appearance. However, surprise guest Alexander Klaws caused a stir.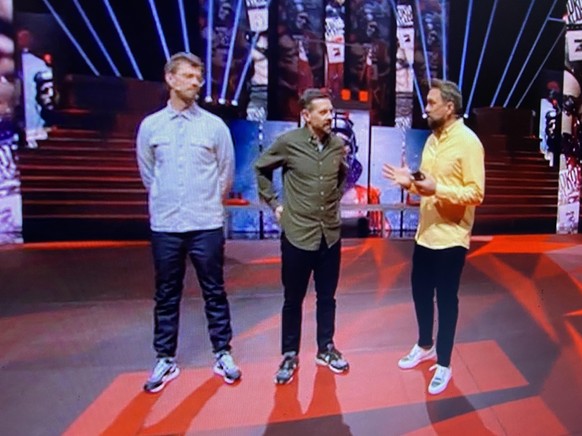 Joko and Klaas tried to win against their home broadcaster.picture: screenshot per seven
Alexander Klaws' appearance caused malicious comments
On April 13, "Die Passion" was broadcast on RTL. The first "DSDS" winner and musical actor Alexander Klaws played Jesus. Overall, the reinterpretation of the passion story of Christ brought a lot of ridicule and malice. Snarling comments quickly followed on social media, and it emerged that most found the show rather embarrassing. The fact that Klaws of all people played in the fourth game together with Roman Weidenfeller against Joko and Klaas, brought viewers back on track and they fondly recalled the feeling of innocence from a few weeks ago.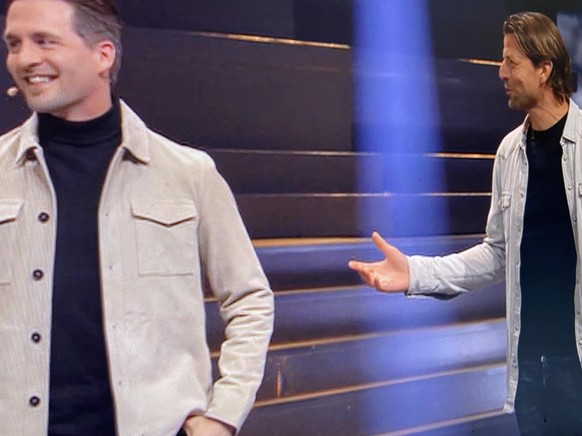 Alexander Klaws was in a good mood next to Roman Weidenfeller.Image: screenshot per seven
Since the ProSieben show was recorded, however, there were no digs or pointed comments from the stars of the show or moderator Steven Gätjen towards the rival broadcaster RTL and Klaws' performance as Jesus. The audience in front of the television at home made sure of that. "Is 'The Passion 2.0' coming?" Asked one user, for example. Another ranted: "That's what I call a leap in level."
last week still the passion, today at jk, that's what I call a leap in level #JKvsP7

— nina ∆ • / kath (@ keinxnacht ) April 26, 2022
He escaped his tormentor RTL by faking his death!
Hallelujah – a miracle has happened! #JKvsP7

— Lorenzo of Matterhorn (@DansBeau) April 26, 2022
Alexander Klaws there & no allusions to the Passion possible because it was recorded so far in advance.
Too bad#jkvsp7

— Gwen (@talking_jkstuff) April 26, 2022
Steven Gätjen, on the other hand, asked innocently: "Have you ever made someone disappear?" Klaas was quick to allude to Alexander's past and quipped: "It often worked for the 'DSDS' winners." But of course the singer is also known as the "Masked Singer" winner, because he was in the garbage can as Mülli Müller.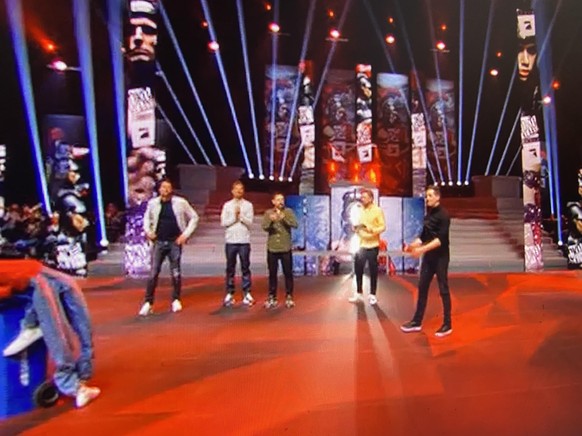 The doll was in this garbage can.Image: screenshot prosieben
And it was precisely this that was fatal to him in the show game "Make someone disappear". Twitter users were quick to joke that his experience as Jesus was of no use to him here. And just as little, by the way, his strategy in "Masked Singer". The aim of the game was to hide a doll in the studio that the ProSieben stars had to find, and of course it was their turn the other way around.
Isn't that a bit unfair, Jesus can also turn water into wine, making a doll disappear shouldn't be a problem. #JKvsP7

— Kia (@Seavvy) April 26, 2022
If Alexander Klaws can't bring the doll to life, I'll become an atheist #JKvsP7

— alina 🇺🇦🕊 (@alinaction_) April 26, 2022
Joko and Klaas came up with the actually quite simple but glorious idea of ​​stuffing the doll in a bin. It took them 4 minutes and 23 seconds to find them there. Klaws raged: "Are you serious, what a shitty ton? It annoys me that we walked past it twice." However, the others didn't even manage to find the hiding place in the allotted time on the second attempt and so the point went to Weidenfeller and Klaws.
Joko and Klaas tried themselves as catwalk models
However, not only the game of hide-and-seek provided laughter, but also the disguise skills of the entertainers. They had to tailor a show outfit for each other and then stroll down the catwalk in Heidi Klum style. "They only get one advantage if they appear here and do an elegant catwalk: Here are my girls Joko and Klaas," says Steven Gätjen. "I look like the pigeon woman from 'Kevin Alone in New York'," said Klaas about his outfit. Joko, on the other hand, was happy: "It's so over the top, I almost feel good." The two mastered the challenge with flying colors and managed to get the point.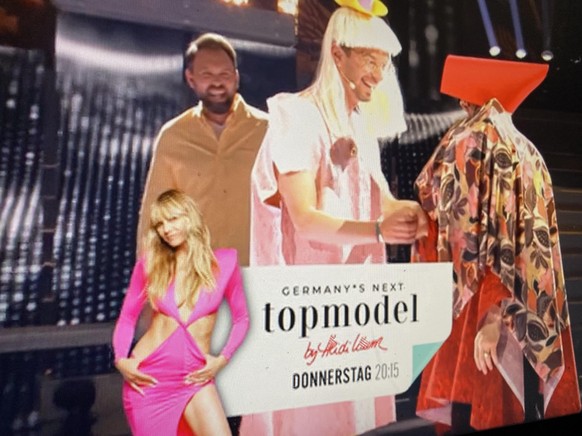 The broadcaster promptly showed advertising for "GNTM" on the catwalk.Image: screenshot prosieben
Best the advertisement for #gntm when Joko and Klaas appear in the great outfits #JKvsP7

— La Ti Na (@LaTiNa63901652) April 26, 2022
In "Tempus Fugit", "Time flies", the two also triumphed. They had to solve eight tasks in 15 minutes. Especially the robber's ladder for a Ferrero kiss, which was lying on a high wall, achieved great enthusiasm among the spectators. The two made it clear that, according to Klaas, they were "Germany's stupidest burglars" with their approach. They made it anyway.
Overall, Joko and Klaas had problems facing the games. In the end, they only gained a two-point advantage. They also failed because of the challengers Caro Daur and Riccardo Simonetti in the game "Is that art or can it be an app?". Here they had to draw their game partner the symbols of various apps such as Spotify, Instagram or WhatsApp, which they had to guess.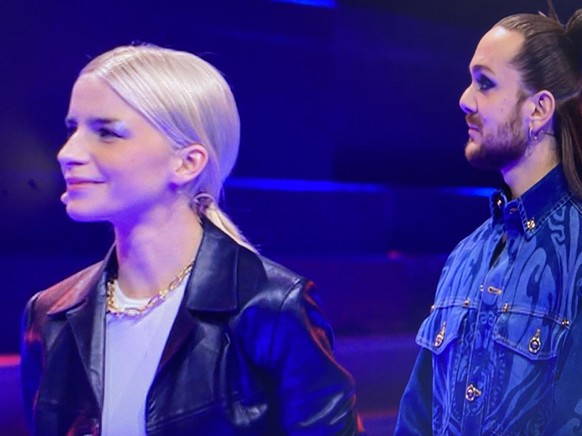 Caro Daur and Riccardo Simonetti won against Joko and Klaas.Image: screenshot prosieben
In the end, ProSieben won three times in a row, and the final game couldn't pull anything out of it either. "You can tell from the good mood of Joko and Klaas: It didn't work out," said Steven Gätjen after losing the last game. Not much was running on the flowing line either, although the show was celebrating its 30th anniversary. Joko promised: "We won't stop until we've done 1000 shows." So the two still have a lot of chances to win.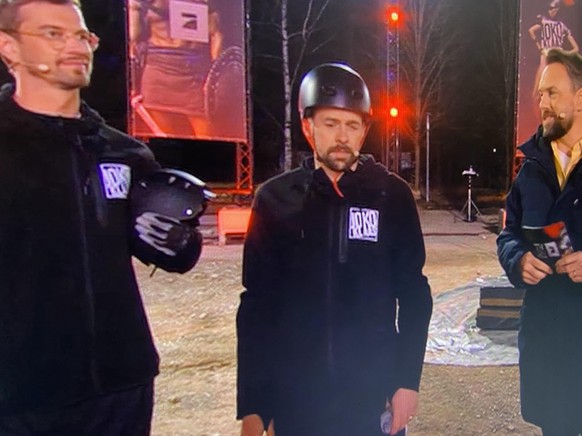 It was here that it dawned on the two that they would have trouble conquering the station.Image: screenshot prosieben
But until then, they must endure their punishment in any case. For a week now it's time to dress up as an imp and moderate the ProSieben commercials.
(iger)
Source-www.watson.de