"Trooping the Color" parade
Queen bans more than 20 royals from Buckingham Palace balcony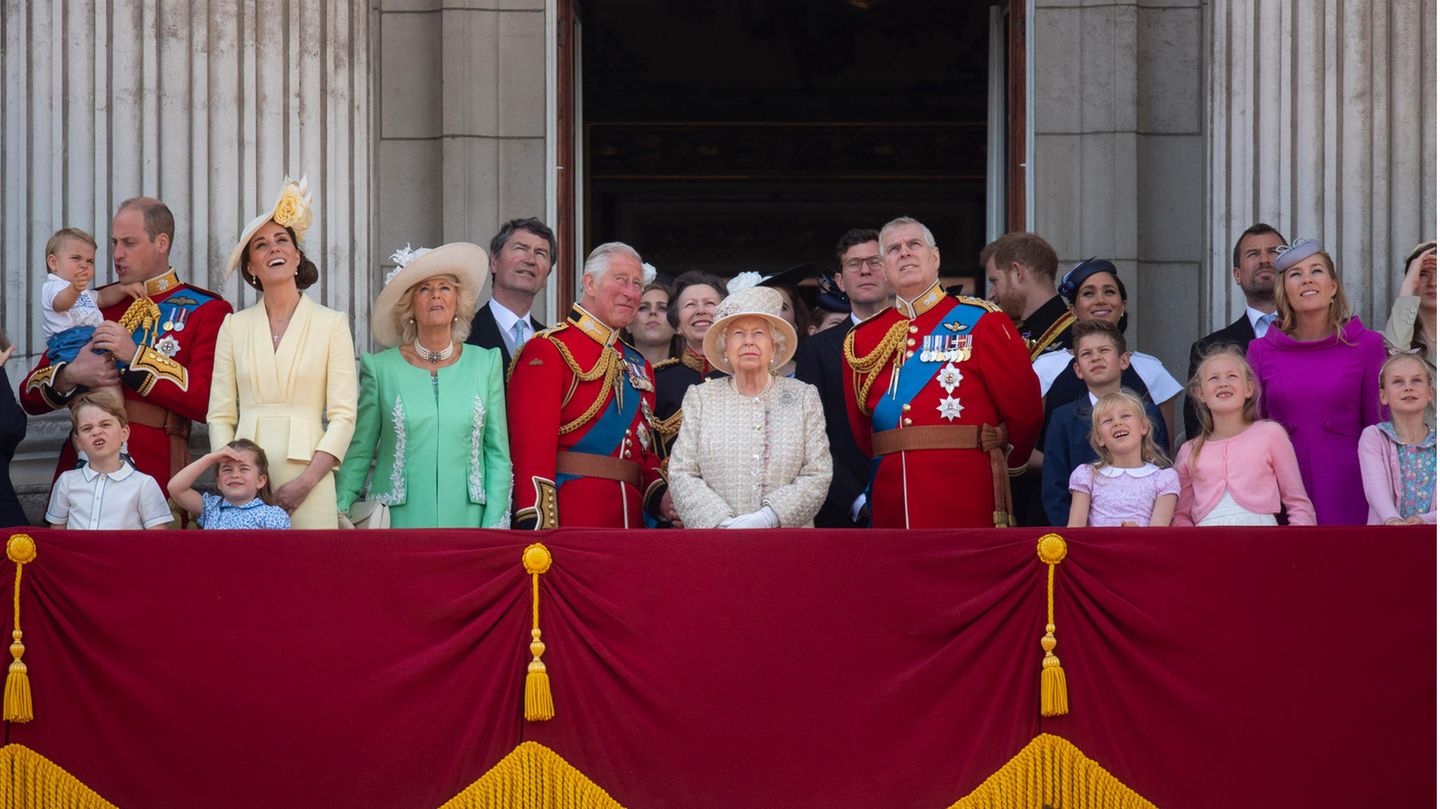 It's a beautiful tradition: the members of the British royal family follow the military parade on the balcony of Buckingham Palace, crowded together. But this year some were unloaded.
It was a surprise announcement from the Queen just weeks ahead of the grand celebrations of her 70th jubilee. After careful consideration, she decided that only members of the royal family "who are currently performing official public duties on behalf of the Queen" will be allowed to attend the "Trooping the Color" military parade this year. This was announced on Friday by a spokesman for the royal family. Almost at the same time, Prince Harry and his wife Meghan announced that they would travel to London with their children Archie and Lilibet in early June.
With her decision, the Queen not only banned her grandson and his family from the balcony of Buckingham Palace, from where the royals traditionally watch the ceremony, but also over 20 other members of the royal family. These include, for example, her granddaughters Princess Eugenie, Princess Beatrice and Zara Tindall, along with their husbands and children. Beatrice, for example, became a mother for the first time last year. Their daughter Sienna Elizabeth has not seen the public until now.
Only 18 Royals are allowed on the balcony with the Queen

The Queen may have made her decision because of Prince Andrew, who has been considered persona non grata since his involvement in the Jeffrey Epstein sex scandal. Nevertheless, the 96-year-old has not completely distanced herself from him. In March she attended the memorial service for Prince Philip at his side – incomprehensible to many. Andrew will not be allowed to perform at the 70th anniversary celebrations.
With her decision, the Queen has ensured that the balcony of Buckingham Palace is significantly emptier than in previous years. Only 18 royals are said to pose there, including William and Kate with their three children, Charles and Camilla, and Prince Edward with his wife Sophie and their two children. However, the Queen made an exception: her daughter, Princess Anne, is allowed to accompany her husband Sir Timothy Laurence – although he is not officially a working royal. The Queen appreciates him as a support to the Princess Royal on official occasions, the statement said.
Source: "Daily Mail"
boom
Source-www.stern.de