The Dutch royal family met for a photo shoot. Queen Máxima immersed herself in the autumn theme in terms of colour.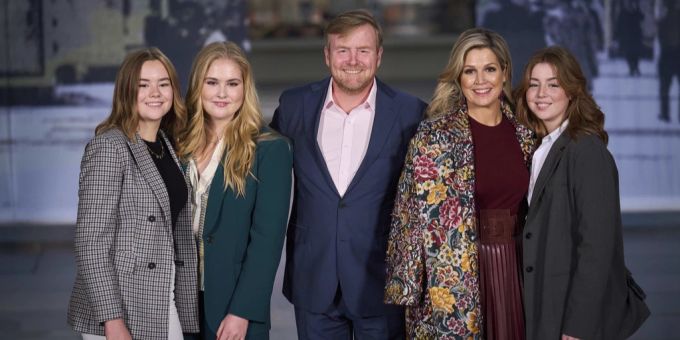 the essentials in brief
The autumn photo shoot of the Dutch royal family was coming up.
Queen Máxima in particular stood out with her choice of clothes.
The Dutch royal family dressed up for an autumn photo shoot. Queen Máxima (51) and her three daughters posed in colorful outfits for photographers in the Nieuwe Kerk. This is the second oldest church in Amsterdam.
Catharina-Amalia of the Netherlands (18), Alexia of Orange-Nassau (17) and Princess Ariane of the Netherlands (15) all opted for the same trousers and blazer ensemble, albeit in different colours: Catharina-Amalia in teal, Alexia in grey and Black and Ariane in a plaid blazer with white pants.
Highlight of Oscar de la Renta
But the eye-catcher was Queen Máxima. She appeared in a burgundy pleated leather skirt, along with a top and statement belt in the same colour. In addition, she combined suede pumps, also in the dark burgundy red.
The monochrome outfit was broken up by a coat with a striking floral pattern in muted autumn colors. The coat is from a previous Oscar de la Renta collection.
King Willem-Alexander (55) also made a color statement during the photo shoot: he opted for a bright blue suit with a white shirt.
More on the subject:
autumn

Source-news.google.com