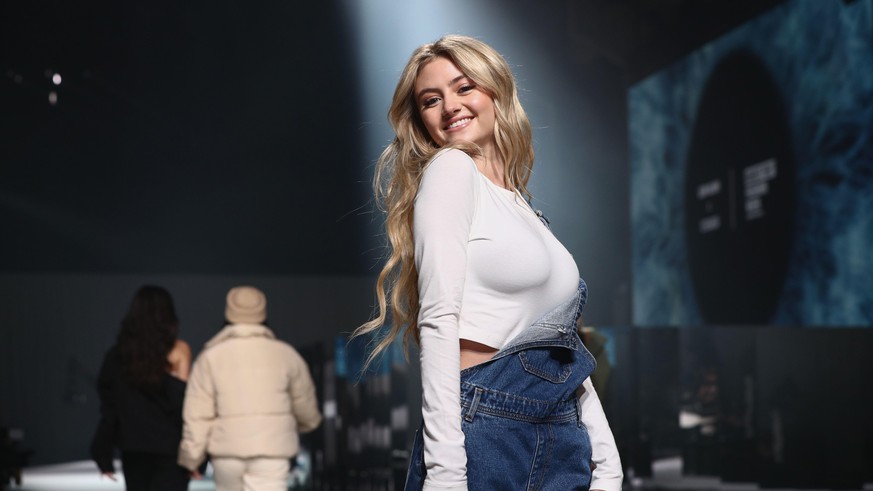 Leni Klum takes off in the model business and diligently collects admirers.Image: Sebastian Reuter/Getty Images for ABOUT YOU
Heidi Klum's eldest daughter Leni started her modeling career some time ago. The first cover shoot for the January/February issue of "Vogue" 2021 came close to being a model. On the cover of the fashion magazine she was seen together with her mother.
Since then, a number of other jobs, advertising campaigns and even a first appearance as a guest judge on Heidi's "GNTM" casting show for Leni have followed. She also recently graduated from high school and revealed that she doesn't want to be just a model now, but also wants to study and plan to work as an interior designer later.
With her appearance, the 18-year-old not only convinces fashion brands and customers, but has now also done it to a German rap newcomer. He now tried to draw attention to himself on social media and quickly linked Leni.
Rapper Lil Shrimp attempts initial contact
Leni's new admirer is Lil Shrimp, who entered the German rap scene three years ago at the age of just 13. Of course, he had problems being taken seriously by his peers at this age, most rappers did not believe in the teenager's long-term career.
Meanwhile, Lil Shrimp is 16 and recently celebrated viral success with the song "Slide", which went through the roof, especially on Tiktok. He also won fans with the 50 million views the track garnered: The still very young artist is now followed by almost 40,000 subscribers on Instagram. A few days ago, Lil Shrimp also announced that they had closed a lucrative label deal.
Finally, when he recently started a question and answer session on Instagram, one fan wanted to know if he currently had a crush on anyone – and after a little hesitation, he admitted he had a crush on Leni Klum: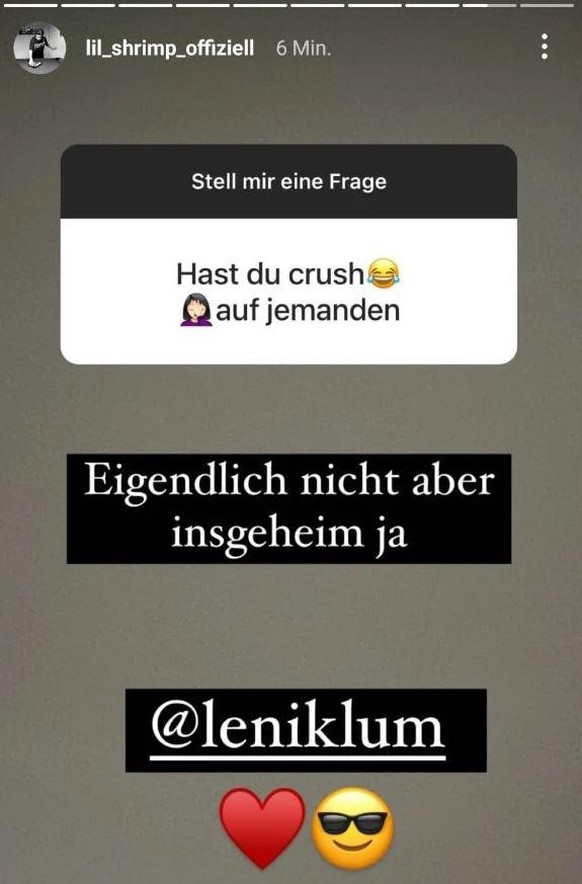 Lil Shrimp confesses his love to Leni Klum.Image: Screenshot / Instagram / lil_shrimp_official
The newcomer started a first contact attempt by linking Leni directly in his story. However, it is doubtful whether she saw the post among her 1.4 million followers, at least she did not react to the advances.
Leni Klum is already taken
In fact, Leni has been open about already having a boyfriend in the past: she took her partner Aris Rachevsky to the red carpet for the first time last October at the premiere of the Netflix film "The Harder They Fall".
Again and again she posts photos that seem to be in love with the offspring of a Russian tsar family – unfortunately, Lil Shrimp probably has bad cards. In addition, Leni Klum is often in Germany for work-related reasons, but not too long ago she gave her mother's home country a harsh rejection.
She has problems with German food in particular and is therefore not considering moving to Germany in the near future, as she told "glamour" stated: They bother "all those sausages" and dumplings wouldn't have done it to her either. "I'm just not used to it," was her conclusion. So if the rapper doesn't end up in the USA, a face-to-face meeting will probably not work out for the time being.
(cfl)
Source-www.watson.de