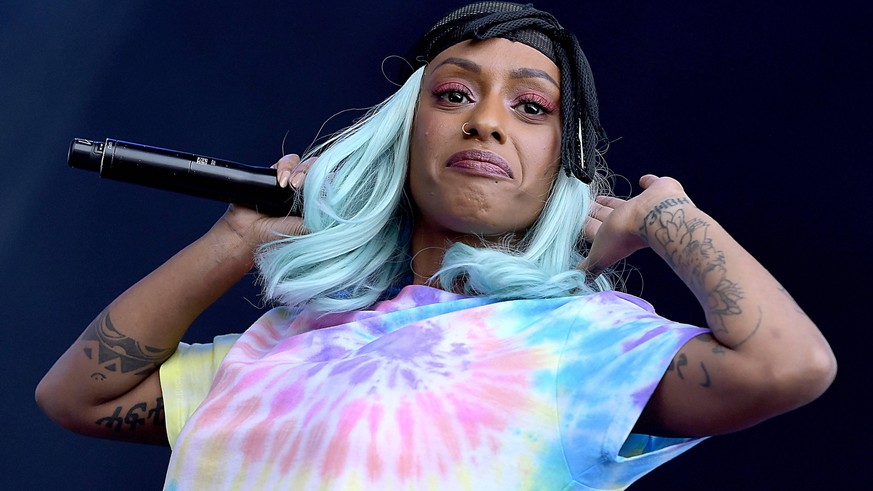 Nura has recorded a number of songs with male rappers – many of which she seems to regret.Image: imago images / Jan Huebner
Nura takes a clear stand on feature partners she has worked with throughout her career. The rapper is best known for the duo SXTN, which she and Juju performed as until their breakup in 2019. Together they celebrated great success with the album "Leben am Limit", among other things, which has meanwhile gone gold.
As women in the male-dominated rap business, they easily made their breakthrough at the time, and now both interpreters are still regularly in the charts as solo artists.
The topics of racism and feminism play an important role in Nura's texts and on her social media accounts, and she regularly points out the discrimination against women and/or minorities in Instagram stories. When the artist was recently asked which songs she now regrets, her fans got a clear answer.
Nura names features she no longer celebrates
"Which songs or features you sing don't you celebrate anymore?" Was the question from their community in a question and answer session on Instagram. Nura did not provide an exact explanation, but listed the following tracks: "In Love with a Gangster", "Comfort Zone", "31er", "In Berlin", "Focus", "Take off your shirt" remix, "Tennis", "Nutella" and "Real Men".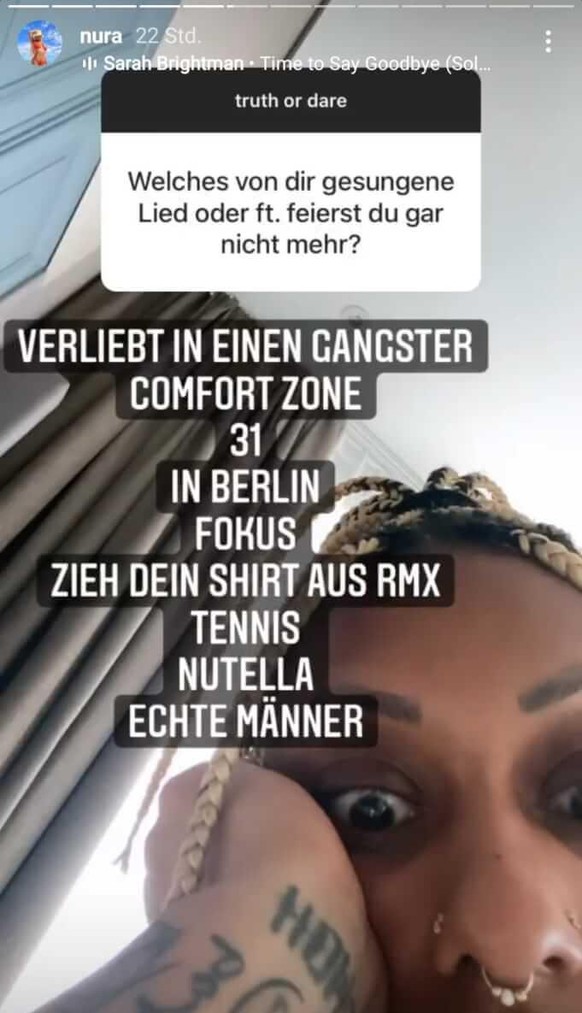 Nura listed a number of songs that she no longer stands behind today.Image: Screenshot / Instagram / nura
One thing in particular is striking: They are features with male rappers throughout. Manuellsen, Bausa, Frauenarzt, 18 Karat, AchtVier or Spinning 9 are behind the song titles.
All of them have already attracted negative attention in the past with lines of text that despise women. For example, Bausa contributed a German part for a version of "Vossi Bop" by Stormzy, which caused displeasure in the German rap scene. He raps in his part: "I don't leave no whore's daughter unfucked / everyone wants my dick / even lesbians get turned".
Maybe it's lines like these that Nura can't reconcile with her artistic work and her general attitude – which means she can no longer celebrate the songs she shared with Bietigheim-Bissinger, among others. Feature parts, which she does not list in this breath, are also worth mentioningincluding the song "Chaya", which Nura recorded together with Trettmann, or "Babebabe", a feature with Samson Wieland, who died in 2018 and performed under the pseudonym Sam.
By no means can Nura be assumed that she generally means all male rappers with her post, but that she could have selected very specific artists for the list.
Sharp criticism of Dieter Bohlen and Julian Reichelt
Aside from her music, the 33-year-old recently criticized male celebrities. A video also made the rounds on Instagram this week, in which Dieter Bohlen sits next to Katja Krasavice and explains to his fans that their conversations are only about "sex and doggy style". Together with Pietro Lombardi, the two recorded a cover version of his modern-talking hit "You're My Heart, You're My Soul".
The corresponding clip obviously didn't go past Nura either. She fought against the pop titan, who was dismissed from the juries of "DSDS" and "Das Supertalent" last year because of nasty sayings. Dieter Bohlen makes the music that she celebrates the least and Nura added:
"In addition, he is the biggest sexist and bully."
When asked which was the most unpleasant celebrity that Nura had dealt with in her career so far, she responded in a question and answer session – where she finally thought of the former "Bild" journalist Julian Reichelt.
Although she has never worked with him, she still had to read "garbage" about herself on the platform. "I wouldn't call him 'celebrity'. I just call Julian Reichelt sausage. He and his clown club write a lot of rubbish and do hate speech."she openly answered the question of her fans.
(cfl)
Source-www.watson.de