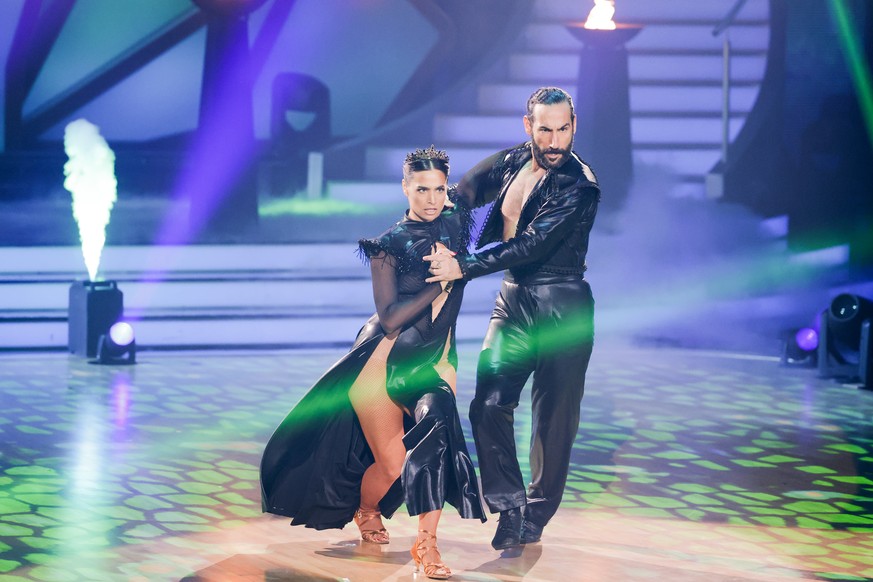 Amira Pocher and Massimo Sinató were able to enjoy a high score in the tenth show of "Let's Dance". Image: dpa / Rolf Vennenbernd
Only three more shows, then the "Dancing Star 2022" is finally fixed. These five couples still have a chance of winning the title: Sarah Mangione and Vadim Garbuzov, René Casselly and Kathrin Menzinger, Amira Pocher and Massimo Sinató, Janin Ullmann and Zsolt Sándor Cseke as well as Mathias Mester and Renata Lusin. In the tenth edition of "Let's Dance" all duos have to be on stage twice. In addition to the individual dances, the trio dance is also on today's program.
Before Amira Pocher dances a samba with Massimo Sinató and Andrzej Cibis, she first performed a Paso Doble on the dance floor. For her performance, Oliver Pocher's wife received a proud 28 points. However, many fans in front of their home screens could not understand the rating – for a reason.
Undeserved 28 points for Amira Pocher?
Last week, Amira had delighted the jury with her "Magic Moment". Her dance was about her non-existent relationship with her father, who left the family when Amira was three years old. After more than 20 years, she recently saw him again for the first time. The soulful performance got 30 points.
And this Friday, too, the jurors were more than satisfied. Jorge González praised: "Amira that was very sexy, dramatic. I believed everything you did." The tension between you was right, the intensity was right. Something happened last week. You came back stronger than before," said Motsi Mabuse more than satisfied. And Joachim Llambi then judged:
"Really great drama, you are the drama queen. When a dance like the tango or the Paso Dobl comes, these expressive dances, you shine. There were a few mistakes, but that wasn't so bad because it was like a play performed. You got us hooked, that's wonderful."
Despite the "few mistakes", Mr. Llambi awarded 9 points. This was met with incomprehension by many viewers. Mainly because Sarah Mangiones Charleston had only been criticized for "a few mistakes" before, but she still had to settle for 22 points. And after René Casselly's jive, Llambi said: "You're taking the risk, but we also have to evaluate it when it goes wrong."
Complaints then piled up on Twitter. "Dance mistakes are always ignored by Amira, right?" Commented a user on the social media platform. And another said: "Oh yes, with Amira, the few small foot defects are not bad, but with others the mistakes are ridden around." "Say to Amira that the show is great and the step mistakes don't matter, but criticize René's steps, despite the mega show"was also a dissatisfied comment.
9? Despite several criticisms?
Amira also 9 despite little criticism?😂 #LetsDance

— JSFL01 (@Jannick01S) May 6, 2022
Llambi: Saying to Amira that the show is awesome and that the step mistakes don't matter, but complaining about René's steps despite an absolutely mega show🤨🤨🤨 #LetsDance

— Laura (@Laura5295717) May 6, 2022
Kathrin and René a thousand times better than Massimo and Amira. But unfortunately not the jury's favorites, so probably not 30 points.

— letteloopi (@letteloopi) May 6, 2022
Giving Amira 9 points and Sarah 6 is just incredibly cheeky…
You notice once again extremely who should go to the final #LetsDance

— Oliver (@Olli0590) May 6, 2022
Whoever naturally liked Amira's dance was her husband Oliver Pocher. On Instagram he wrote about his wife's dance: "Strong performance by Queen Amira, and the samba is still to come."
(swiss)
Source-www.watson.de