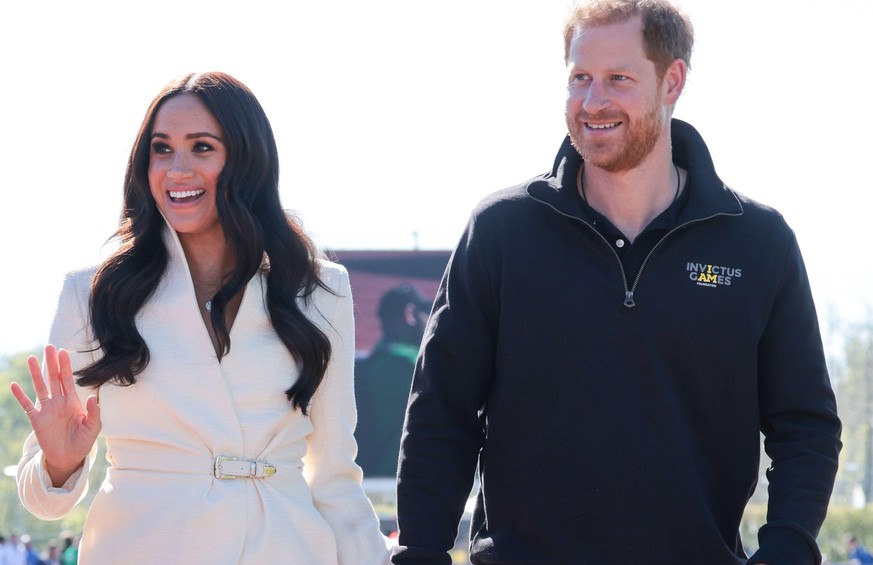 Meghan and Harry showed up here together at the Invictus Games.Image: Chris Jackson/Getty Images
Ever since Harry and Meghan retired from being senior royals, they've been building a new life for themselves in the United States. The two now live financially independently and have made mega deals with Netflix or Spotify. They also expanded their small family with Lilibet Diana. The daughter was born in June 2021. The couple recently made a surprise stopover in England as they headed to The Hague.
Harry has hardly traveled to his homeland in recent months. The 37-year-old even skipped the memorial service for his late grandfather, Prince Philip. The relationship with his father and brother William is more than strained, not least because of the controversial interview with Oprah Winfrey. The couple made serious allegations against the royal family.
Harry finally gushed about the recent encounter with the Queen: "I was with her, it was great, so nice to see her." The prince also said he wanted to make sure the monarch was "protected and had the right people around her." On the occasion of their 70th throne anniversary, Harry and Meghan will travel to England again. This time even the children should be there. A royal expert has now said how current Harry's relationship with his family can be.
How Harry and his family should relate to each other
Richard Fitzwilliams commented on "Us Weekly"Meeting the Queen does not mean that tensions between him and his family are over. "I would say that the crack has definitely not healed," said the Royal expert. This is even "pretty clear". The reason: They still have a lot of work to do before the tensions can be overcome. "It's really an extraordinary situation," he said. Harry's memoirs would also play a crucial factor in this:
"Whatever he writes, it will cause problems."
Now her next visit to England is imminent. A spokeswoman for the couple said: "Prince Harry and Meghan, the Duke and Duchess of Sussex, are thrilled and honored to be taking their children to the Queen's Platinum Jubilee celebrations."
However, the Queen announced through a representative of Buckingham Palace that only royals who perform official duties are allowed to take part in the parade. So the couple will not stand on the balcony and wave to the fans. However, expert Fitzwilliams can well imagine that Harry and Meghan could attend the Thanksgiving service.
(iger)
Source-www.watson.de