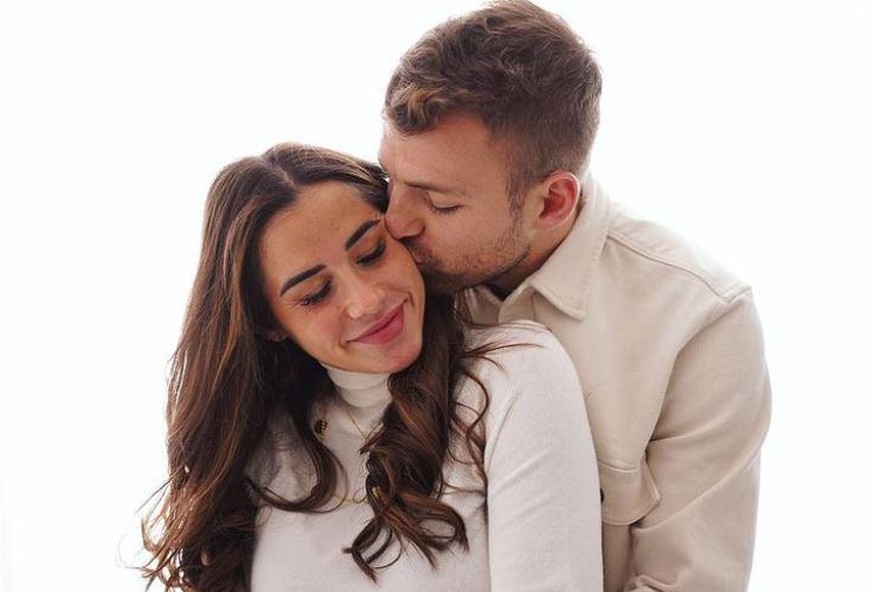 Sarah and Julian Engels became parents of a daughter at the end of 2021.Image: Instagram/ Sarah Engels
In June last year, Sarah Engels made it public that she and her husband Julian were expecting a child together for the first time. In May they already said yes romantically. On Instagram, she regularly took her more than 1.8 million subscribers through the ups and downs of her pregnancy.
In December, the singer finally proudly announced: "Our little princess Solea Liana Engels. On December 2nd, 2021 we were finally able to hold you in our arms and from now on we will never let you go. Dad, mom and your big brother love you infinitely and are full of happiness and pride." Over half a million people heart-marked the post. Since then, fans have been wondering when they'll finally see the child.
Sarah recently said: "Honestly, there is no plan that we follow. We just always act out of the gut." Shortly thereafter, friend Julian shared the first frontal snapshot of Solea. Annemarie Eilfeld, who once became known through "DSDS" like Sarah, explained why she sees the decision critically. Sam Dylan also made it clear what he thinks about it.
Sarah and Julian Engels' decision raises questions
In an interview with "celebrity flash"Annemarie finally said about the latest picture of Sarah and Julian's daughter: "My child will definitely not be shown when I have one." And further: "Up to a certain age, when my child says, 'I want to,' I have a duty to protect my child." Accordingly, it would be out of the question for them to voluntarily make a picture of their offspring publicly available to hundreds of thousands of followers.
Reality star Sam Dylan also spoke to the celebrity portal and emphasized: "Why? You're so successful! You must be making millions! Let your child be a child." In any case, he does not want to market his offspring in the future or hold the child in the camera.
Sarah Engels has already clashed with Oliver Pocher in the past. The comedian criticized the way the musician staged the announcement of her pregnancy in the wedding video at the time. In his screen control, Pocher fumed: "Taking the kids out a bit. Not like the Harrisons always show the kids full on camera. A bit of privacy for the kids. I know it gets clicked because the music doesn't interest that many people, but this whole family shit, it works wonderfully. But you don't have to."
At the time, Sarah defended herself against the allegations and said: "How much envy and resentment can a person actually be shaped by?" On the one hand, according to her, they want to stop hate and bullying and then there are people like Pocher. "Why the hell are people like that given the space and freedom for everything we've been fighting for years?" the artist says.
(iger)
Source-www.watson.de