Beatrice Egli won the tenth season of "Deutschland sucht den Superstar" in 2013. Image: imago images / imago images
interview
Since her victory in "Deutschland sucht den Superstar", Beatrice Egli has continued to climb the career ladder: Her albums regularly land in the top ten of the German charts and she plays to sold-out venues on tours. It has long been an integral part of the Schlager industry. In addition, she has already proven her talent as a presenter in several formats and has even had her own show with "Die Beatrice-Egli-Show" since this year.
Now there is also a documentary about the 33-year-old. For a year, the singer was accompanied by a camera team. The result can be seen in "Beatrice Egli Unlimited", produced for the CH Media streaming service. Beatrice talks to watson about how this documentary helped her to think about herself. She also addresses her fight against body shaming and what she thinks of comparisons with Helene Fischer.
watson: A documentary about you came out in early June. What can your fans look forward to?
Beatrice Egli: The documentary gives an honest look at my life so far. In all its facets. We see excerpts from my childhood, my musical beginnings and my recent ascent of the Matterhorn. I talk about the ups and downs of my journey and give my family, friends and fans an unprecedented behind-the-scenes look.
"It would be boring if we all looked the same."
Did you see a different side of yourself while filming the documentary?
Of course, I reflected a lot more during the shooting and was therefore able to show the viewers this other – very private – side. For example, you can see me reaching my limits when climbing the Matterhorn, and you also find me more vulnerable and open than usual in some events of my career so far. What touched me personally the most emotionally, however, were the words of my family and friends , which have actually mirrored so many beautiful things for me that you usually don't even see in yourself.
You also have a new single: "It doesn't matter". Have you always lived this motto?
Both in my youth and in my musical beginnings, I came into contact with the topic of bullying and body shaming, which I took very seriously at the time. As I can now say: luckily! Because I was able to learn a lot from it and draw strength from it.
"I'm a singer. What does the figure, the style of clothing or the hairstyle have to do with my voice?"
How did this process look like?
At some point it 'clicked' that these comments about my appearance had absolutely nothing to do with my skills and my role as a moderator. So today I can stand by myself and hopefully give this kind of self-love to many people on their way: "Come on, get up, go out and show yourself, look at how beautiful you are!" It would be boring if we all looked the same. So let's get out there, make the world colorful and diverse and celebrate beauty in all its facets.
Despite resistance, Beatrice Egli prevailed on "DSDS".Image: Getty Images Europe / Sascha Steinbach
You talked about "DSDS" in the podcast "Bully Whisper". You were told during production to lose weight. Did you also experience such sayings from the jury or how did the jury, especially Dieter Bohlen, react to you and your character?
I find any comment about my character inappropriate. Because I'm a singer. What does the figure, the style of clothing or the hairstyle have to do with my voice? I am always grateful for any form of constructive criticism. But only if it's beneficial to my role as a singer and entertainer, if it's about my abilities as such. In retrospect, I'm very, very happy that I've always stood by myself and stayed true to both the hit and my curves, although I was advised against both at the beginning – and I was allowed to go my way anyway (or maybe because of that). and now I can carry both the love of music and the love of myself out into the world and share and celebrate with so many wonderful people.
"Doubts are, I think, quite normal and of course they come up again and again."
You've always been consistent in your career when it comes to your direction. Were there moments when you were tempted to give in to the pressure?
It was always clear to me that I wanted to sing hits. I grew up with Schlager, from a young age there was always German Schlager radio at home and in my parents' butcher's shop. You could almost say that the love of hits was born in my cradle. So it was always clear to me: Either it works with my kind of music or it doesn't. Since I was little, I've always worked on myself and I'm so grateful that I've always met great people on my way, who have supported me unconditionally in this decision to make German hits.
Did you sometimes have doubts?
Doubts are, I think, quite normal and of course they pop up again and again. However, I now get a lot of motivation from it and then I am happy about every small sense of achievement. For example, when I play a concert and see a huge hall full of people singing along to all my songs, I am so grateful, touched and full of happiness that I can do what I have always wanted to do.
Next year it will be ten years since you won "DSDS". Are you planning something special for the anniversary?
It's really indescribably beautiful that I've been on stage for almost ten years now and can do what I love more than anything. For me, every live show, every performance is like a small anniversary, which makes me infinitely grateful to be able to stand on this very stage.
How has "DSDS" changed in your eyes over the past ten years?
It's nice that there have been different styles of music to be heard in recent years and that the candidates have been able to present themselves in all their facets. I am very pleased that the wonderful Ramon Roselly, for example, also took off with Schlager and that we now meet on the big Schlager stages from time to time.
"I think it's important that we women encourage each other and support each other in our uniqueness."
Your first show recently premiered – will there be more editions of it?
I don't want to and I'm not allowed to reveal too much, but let me say this much: It was a great pleasure for me to host my own Saturday night show and to invite wonderful guests to my place. The fact that more than two million people tuned in to their living rooms and let us sweeten their evening makes me immensely happy. So of course I would be very happy if it said again very soon: "Welcome to the Beatrice Egli Show."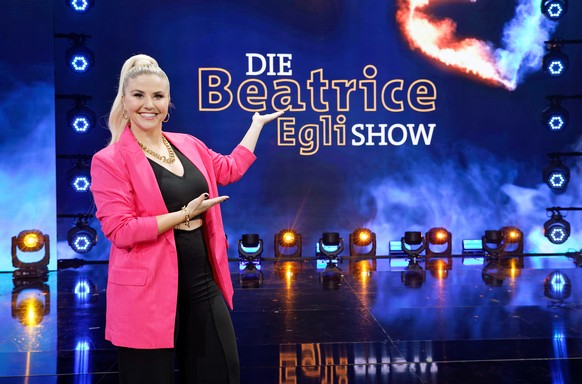 Beatrice Egli moderated her own show in April.Image: dpa / Manfred Vogel
Vanessa Mai said in an interview that she was always being compared to Helene Fischer. What are your experiences in this regard?
"Comparison is the end of happiness and the beginning of dissatisfaction," says the philosopher Søren Kierkegaard. I am completely with him and for this reason there is no "comparison" in this sense in my life. There is enough space for many great hit women in our business and I think it is important that we women encourage each other and support each other in our uniqueness. I celebrate a clear cooperation and no opposition and I am very happy that I get to feel exactly this way of thinking in my entire environment.
Source-www.watson.de